Stug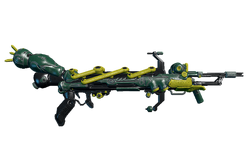 基本属性
详细参数
普通攻击
蓄力攻击
其他
Firing a sticky, toxic, explosive compound, the Stug Gel Gun offers multiple ejection modes, delivering maximum damage in all situations.
The Stug is a Grineer pistol that deals Corrosive damage and was released in Update 11.5. It has a similar firing mechanism to the Ballistica; a quick tap fires a single weak "blob" and holding down the firing button creates a larger, stronger blob.
This weapon can be sold for 5,000

‍ 5,000 .
Characteristics
编辑
This weapon deals primarily
Corrosive damage.
Advantages
Disadvantages
Notes
编辑
Trivia
编辑
Media
编辑
See also
编辑