血色面紗見證了他們周圍一切的腐敗。他們以榮譽為號召,通過強大的暴力凈化來治癒太陽系。不惜一切代價,不惜流盡鮮血。

蛻變總是很突兀,且經常伴隨着傷痛,但其也是維繫星系中的平衡的必要手段。血色面紗認為自己只是促成這蛻變的一件工具。
T與此集團結盟的Tenno在得到"崇敬的"稱號後將能購買一些血色面紗偏愛武器的能力強化mod。這些武器包含黑暗匕首,安博勒斯,以及Mire.
在收集足夠聲望並取得"崇高的"稱號後, Tenno將能用聲望值當作貨幣來購買血色面紗偏愛戰甲的能力強化mod,這些戰甲包括Ash,Ember,Loki,Nekros,Saryn,Volt,和Zephyr.
Offerings
編輯
Specters Of Liberty
編輯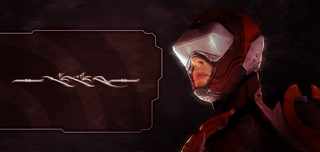 In the Specters Of Liberty event, an individual who identifies herself as Cantis contacts the Tenno asking for desperately needed assistance in freeing hostages that the Corpus and Grineer have captured. Grineer and Corpus groups have taken members from the Red Veil hostage in an attempt to force them into submission.
Hostages from the Red Veil were encountered in Rescue 2.0 missions, in which tight security and special Wardens take extra precaution against the player's arrival.
In exchange for such a daring task, players will be rewarded Specter blueprints in which they can use to craft Tenno holograms for use on their clan's Solar Rails, or to help fight in other missions by placing the holograms in the player's equipment gear section.
The Avalanche Offensive
編輯
The Red Veil's involvement in the Avalanche Offensive is fairly minor, consisting of Cantis informing the Tenno of an unusual amount of Arctic Eximus training on Mars. After the Tenno resolve the threat Cantis thanks the Tenno, also rewarding them with an Affinity Booster, which the Corpus were using to improve their training.
Trivia
編輯
The Red Veil was the very first Syndicate introduced in the game, during the Specters Of Liberty event.
They are the first faction introduced that openly support the Tenno and work toward a mutual benefit.
Cantis' picture has a word written in Orokin next to it. It appears to spell out "netyirc", possibly meaning "network".
Red Veil hostages are fully voiced and have their own 3d HUD model.

They will offer to cover your back by asking for your secondary weapon from you to use, although they still will prefer taking cover and leaning around cover instead.

It is believed that they are the main manufacturers of Wraith weapons, primarily due to the similar decals and color of the Rakta Syandana and the Wraith weapons.
The mask/helmet of the Red Veil's representative bears a striking resemblance to the Stalker's helmet, namely the two "eyes" on the sides of his face, and the singular "eye" in the middle.
The Grineer-based Weaponry that has been modified (ex. Strun Wraith, Gorgon Wraith, etc.) under the Red Veil possibly originated as part of the shared terms with the Steel Meridians, an exiled Grineer sub-faction, forementioning the abundance of the weapons distributed to participating Tenno.