Zakti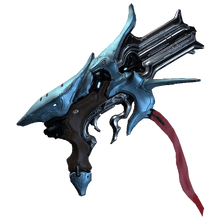 Statistics
Utility
Normal Attacks
Miscellaneous
Characteristics
This weapon deals primarily
Gas damage.
Advantages:
Very fast reload speed.
Good status chance for the dart explosion.
Disadvantages:
Very small magazine capacity.
Low critical chance and critical multiplier.
Weapon Loadouts
Notes
Dart explosions open enemies for finishers for a brief time regardless of status
Trivia
Zakti is the first weapon to have Gas as its primary damage type.
Media