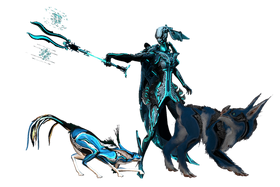 The Winter Solstice Skin Bundle can be purchased for 350 Platinum

 350 from the Market. This bundle includes the following items, with individual prices listed below:
Notes
[
]
The total cost of purchasing these items individually would normally be  425. Purchasing the bundle would remove  75 from the total cost of all the items purchased individually– an approximate savings of 18%. It would cost  345 for the items separately without the boosters boosters offering a difference of only  5
Patch History
[
]

"Ah, have you come to make a donation to my newest 'enterprise'...?"
Patch history is needed. Click
here
for instructions.
See also
[
]