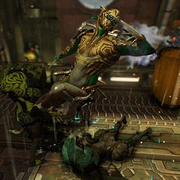 Warframe Augment Mods are a special category of mods. When installed, Warframe Augments alter a Warframe's powers (including passive abilities) to perform additional effects, enhancing or modifying that power's utility. Each Warframe Augment modifies a single specific Warframe power, and can only be equipped on the Warframe that possesses that power.
Each Syndicate offers its own set of Warframe Augment Mods, conforming to their list of favored Warframes. Each Warframe is favored by two Syndicates, who may be allied, neutral, or even opposed. In addition, the Conclave offers any Warframe Augment Mod that is allowed in PvP, regardless of Warframe. Some of these Warframe Augment Mods can only be equipped in PvP, other Conclave Augments can be used in PvE (might have tweaked effects) and can also be bought with Cred in Nightwave. Like Weapon Augment Mods, Warframe Augments can be freely traded between players after purchase, regardless of Syndicate affiliation.
Warframe Augment Mods can be acquired by reaching the highest rank with a particular syndicate, with each mod costing 25,000 Standing

 25,000 to purchase.
Lists of Augments
[
]
View PvE Augments from Syndicate Offerings List
▾
▾
The following Syndicates favor particular Warframes:
View PvP/PvE Augments from Conclave Offerings and Nightwave List
▾
▾
Warframes
Augment Mods

 

Atlas


 

Chroma


 

Ember


 

Equinox


 

Excalibur


 

Frost


 

Ivara


 

Loki


 

Mag


 

Mesa


 

Mirage


 

Nekros


 

Nezha


 

Nova


 

Nyx


 

Oberon


 

Rhino


 

Valkyr


 

Volt
Notes
[
]
There are 3 groups of syndicates that each consist of syndicates that are all non-hostile towards each other, which means you can be boosting relations with all syndicates within a group in parallel without losing standing with any other syndicate within the group:

New Loka, The Perrin Sequence, Red Veil are all non-hostile towards each other.
Arbiters of Hexis, Cephalon Suda, Steel Meridian are all non-hostile towards each other.
Red Veil, Steel Meridian is the smallest group, as each member is hostile to 2 different other syndicates.

Further, each of the 2 bigger groups can be expanded by one additional syndicate that while cannot be farmed directly and will be hampered by 2 of the 3 core group members, nevertheless can be slowly farmed as an ally of 1 of the 3 core group members:

New Loka, The Perrin Sequence, Red Veil adds Steel Meridian as a catching-up syndicate (indirectly farmable via Red Veil).
Arbiters of Hexis, Cephalon Suda, Steel Meridian adds Red Veil as a catching-up syndicate (indirectly farmable via Steel Meridian).
Patch History
[
]
Update 27.4 (2020-05-01)
Conclave Mods Converted to PVE
The following Conclave Mods have been converted/balanced to PvE Mods! If you already own these Mods they will automatically be available in your Arsenal. You can still obtain these Mods via Conclave, but will also be added to Nightwave Series 3: Glassmaker Cred Offerings.
Warframe PVP to PVE Mods (listed at max Rank):
Rumbled (Atlas, Rumblers Augment): Atlas becomes a Rumbler with Rock Armor that can absorb up to 300% of max Health worth of Damage.

Please note that this Augment did not convert correctly and we will be fixing it in a near Hotfix!

Prism Guard (Mirage, Prism Augment): Prism follows above Mirage. Duration changed to 4s.
Purifying Flames (Ember, Fire Blast Augment): Allies hit by the expanding ring of fire will be granted 4s of Status immunity.
Power of Three (Ivara, Quiver Augment): Quiver fires three arrows and consumes 20 more Energy.
Deceptive Bond (Loki, Decoy Augment): 50% of damage Loki takes is transferred to Decoy, and vice versa.
Singularity (Nyx, Absorb Augment): Create a ring every 3s that drags in enemies at 15m/s.
Recharge Barrier (Volt, Electric Shield Augment): Allies that pass through have 35% Shields restored.
Purging Slash (Excalibur, Slash Dash Augment): Allies in the path of Slash Dash have 4 debuffs removed and 100% Shields restored.
Update 15.0 (2014-10-24)
Last updated: Hotfix 29.0.5 (2020-08-28)
See also
[
]