"You're not supposed to be in here! You're going to ruin the surprise!"
For the quest, see Vox Solaris (Quest).
For the character, see Vox.
Vox Solaris is a covert operation known only to the leaders of the Solaris United, with a known association to The Quills. They co-ordinate and orchestrate the anti-Corpus resistance of the broader SU, and specifically they organize Tenno Heists to take down the gargantuan Profit-Taker Orb and Exploiter Orbs roaming the Orb Vallis.
To fully access this Syndicate, the player must complete the Vox Solaris quest and The War Within. After becoming an Old Mate in Solaris United, Eudico will hand out Heists against the Orbs, while Little Duck sells wares and will only interact with the Operator.
To earn standing for Vox Solaris, players must find and collect Toroids dropped by enemies within the Spaceport, Enrichment Labs, or Temple of Profit in Orb Vallis, dropped by Raknoids, or looted within specific Orb Vallis caves, which can then be traded to Little Duck for standing.
Fully-constructed and max ranked Amps can also be traded in to Vox Solaris for standing, whether or not they have been gilded.
Trade-In
Standing gained
 

Vega Toroid

 1,000
 

Calda Toroid

 1,000
 

Sola Toroid

 1,000
 

Crisma Toroid

 6,000
 

Lazulite Toroid

 12,000
Operator Amp
 Variable
Ranks
[
]
Rank & Title
Sacrifice
Benefits
Standing


(Minimum to Maximum)


5 - Shadow
 1,000,000
 99,000
Access to tier five wares
One free Rank 5 item
New friendlier greeting dialogue for Little Duck
0 to 132,000

4 - Instrument
 500,000
 70,000
Access to tier four wares
One free Rank 4 item
0 to 99,000

3 - Hand

10  Atmo Systems
10  Calda Toroid

 250,000
 44,000
Access to tier three wares
One free Rank 3 item
0 to 70,000

2 - Agent

15  Gyromag Systems
10  Vega Toroid

 100,000
 22,000
Access to tier two wares
One free Rank 2 item
0 to 44,000

1 - Operative
 50,000
 5,000
Access to tier one wares
One free Rank 1 item
0 to 22,000

0 - Neutral
-
-
Able to turn in Toroids for Standing.
0 to 5,000
Known members
[
]
Main article: Little Duck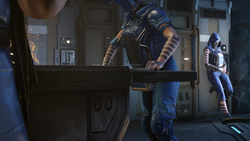 Little Duck is a Rail Agent that has a close relationship with the Tenno. She once helped a Tenno find and destroy an ancient Orokin device known as an Arogya Medica. She was the former protege of The Business, who took her in after her father was brain-shelved.
Since then she has met with The Quills, and acts as their representative in Fortuna. As a result, she will only interact with the Operator, chastising the Tenno "to know better" should they approach her in a Warframe.
Other members
[
]
Offerings
[
]
Notes
[
]
Similar to Pax Arcanes, which can also be purchased in Fortuna, Magus and Virtuos Arcanes purchased from Vox Solaris are built Arcanes, and not blueprints.
Trivia
[
]
Patch History
[
]
Fixed the Syndicate button on the donation screens for Vox Solaris sending you to the Fortuna Standing screen instead of Vox Solaris.
The following Profit-Taker Bounty rewards have been added to Vox Solaris Offerings for Standing:

Gyromag Systems (1000 Standing)
Atmo Systems (2500 Standing)
Repeller Systems (5000 Standing)
Removed the requirement of needing the Adherent Rank with the Quills to Gild your Amp with Little Duck.
Fixed Little Duck's Operator Arcanes Tab being mislabeled as Mods.
Little Duck now restricts who can visit her.
Last updated: Hotfix 24.2.9 (2019-01-18)