Void Relics are Orokin objects that can be opened to reveal valuable treasure enclosed within by completing Void Fissure missions. They are the principal means of acquiring Prime parts and Forma Blueprints, as well as Ducats from exchanging Prime parts in Relays.
Acquisition
[
]
Void Relics can be traded between players.
List of Void Relics and Drop Sites
[
]
Relics are divided into four tiers, said to correspond to the eras of the Orokin empire. In ascending order of value, they are Lith, Meso, Neo and Axi. Each tier encompasses several types of relic, and each type has its own rewards table, comprising Forma blueprints, as well as Prime components and blueprints.
View Void Relic Drop Locations List
▾
▾
"A", "B", and "C" refer to reward rotations. "✔" indicates a potential reward upon successful completion. "*" refer to Relics rewarded as Radiant.
Red text indicates that although a relic can drop from a given mission and rotation, the chance is very low (less than 2%). Hovering your mouse over a checkmark or letter will show a tooltip with the odds that a given reward will drop.

View Void Relic Reward List
▾
▾
Farming Locations
[
]
These are based on opinions and may not be 100% true. These should be viewed as advice for finding relics of no particular kind until better facts are proven.
Lith
Meso
Neo
Axi
Vaulted Relics
[
]
Vaulted relics are relics that have entered the Prime Vault, meaning they have been removed from the drop tables to prevent dilution of drop rates. Although no longer obtainable, existing relics will remain in the player's inventory.
There are currently 318 vaulted relics.
View Vaulted Relics List
▾
▾
Baro Ki'Teer will occasionally sell relics containing exclusive (e.g. Aklex Prime
 Aklex Prime) or otherwise vaulted items. Though these relics are not "vaulted" in the usual sense, Baro's stock changes every time he appears such that any given one of his items may be unavailable for months at a time.
There have been 4 relics brought by Baro Ki'Teer.
View Baro's Relics List
▾
▾
Use
[
]
One Void Relic per player can be equipped for use in a Void Fissure mission, with a Void Relic selection screen appearing upon selecting a Void Fissure mission that allows a player to choose the desired Void Relic before starting.
Clicking on "Accept" when the fissure mission vote is started will bring up the relic selection menu, prompting the player to run the fissure with a relic of their choice. In endless missions, relics can be selected once for each rotation. This relic selection menu will offer only relics of the era that matches the selected mission (example being, Lith relics for Lith-era missions).
If the mission node where the Void Fissure is has not been unlocked (completing the mission at least once), players will not be able to enter the mission and will not be prompted to equip a Void Relic.
In order to open the relic, a player needs to collect ten reactants, which drop from Corrupted enemies affected by the Void Fissures.
If the Void Relic is cracked and the mission successfully completed, each of the players' equipped relics will display one of the potential rewards from their relic's rewards table, with each player's reward being independent of their teammate's rewards depending on their equipped relic and drop chance. Relics can only be chosen by players who have equipped and successfully opened their relic, and can choose which of the up to four rewards on offer they want to keep — either from their own relic or from those of the other players. Players can also obtain blueprints from the relics, regardless of their Mastery Rank requirement.
After the rewards are chosen, the relics equipped by all players are consumed. Relics that are not opened during the mission are not consumed.
Corruption Buff
[
]
Upon opening a relic after collecting 10 Reactants, the player receives a buff to one of their equipped gear for an amount of time based on the tier of the Void Fissure (time = 30sec × tier). The buffed gear will emit lightning bolts and sports a corrupted texture effect.
Refinement
[
]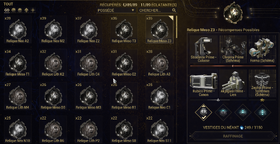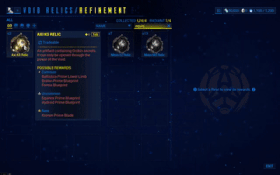 When a Void Relic is successfully opened, exactly one of the six items in the relic is offered as a reward. Each item's chance of being chosen is represented as a blue bar in the Void Relic Refinement screen — the bar is not proportional to the item's probability of being chosen, but it does correctly rank items by probability and show decreases (for common items) and increases (for uncommon and rare items) as the player previews higher tiers of relic refinement.
To perform refinement themselves, players must complete the Mars Junction mission on Earth and install the Void Relic Segment they receive in their Orbiter. They must then collect 10 Reactants in Void Fissure missions, which will coincide with a reward of Void Traces. Refinement can be done at the Void Relic Segment or in the Relic selection screen before a mission.
With Void Traces, players can use the Orbiter's refinement function to upgrade a single relic from "Intact" to "Exceptional" (25 traces), "Flawless" (50 traces), or "Radiant" (100 traces). Previously refined relics can also be refined to a higher level, in which case the amount of traces spend refining the relic to its current level is subtracted from the cost. With each refinement tier, the chance for obtaining rarer items in the refined relic's reward table is raised while the more common ones' chance is lowered.
After refinement, the newly refined relic will be separated from the stack of Intact relics.
Drop Chances
[
]
Items within the same rarity have the same chance of being dropped from a relic. Every relic has the same number of drops per rarity. Three common drops, two uncommon drops and one rare drop. The values in the table below account for the chance for a type of rarity and the chance of an individual item within that rarity in parenthesis. For instance as displayed in row 1 an intact void relic has a 76% chance to grant a common drop and 22% chance for an uncommon drop. Additionally there's a 25.33% chance for each of the common drops. When looking for the drop chance of an individual item look at the number in parenthesis. According to user datamining, refinement affects drop chances as follows[1]:
| Quality | Traces | Common | Uncommon | Rare |
| --- | --- | --- | --- | --- |
| Intact (default) | 0 | 76% (25.33%) | 22% (11%) | 2% |
| Exceptional | 25 | 70% (23.33%) | 26% (13%) | 4% |
| Flawless | 50 | 60% (20%) | 34% (17%) | 6% |
| Radiant | 100 | 50% (16.67%) | 40% (20%) | 10% |
A group of 4 players with relics of the same refinement level has the following chances to obtain a rare item:
| Quality | Chance for at least one rare item | Expected relics/player | Expected traces/player | 90% relics/player | 90% traces/player |
| --- | --- | --- | --- | --- | --- |
| Intact | 7.76% | 12.9 | 0 | 28.5 | 0 |
| Exceptional | 15.07% | 6.6 | 166 | 14.1 | 353 |
| Flawless | 21.93% | 4.6 | 228 | 9.3 | 465 |
| Radiant | 34.39% | 2.9 | 291 | 5.5 | 546 |
Most players' relics, especially in public missions, will be either Radiant (from Elite Sanctuary Onslaught or self-refinement, best for finding specific uncommon or rare items) or, more likely, Intact (from almost every other source, best for ducat farming). This variant of the above table gives drop chances for most real squads.
| Quality | Chance for at least one rare item | Expected relics/player | Expected traces/player | 90% relics/player | 90% traces/player |
| --- | --- | --- | --- | --- | --- |
| 0 Radiant, 4 Intact | 7.76% | 12.9 | 0 | 28.5 | 0 |
| 1 Radiant, 3 Intact | 15.29% | 6.6 | 163 | 13.9 | 347 |
| 2 Radiant, 2 Intact | 22.21% | 4.5 | 225 | 9.2 | 458 |
| 3 Radiant, 1 Intact | 28.56% | 3.5 | 263 | 6.8 | 514 |
| 4 Radiant, 0 Intact | 34.39% | 2.9 | 291 | 5.5 | 546 |
"Expected" refers to expected value; 4-player groups opening very large numbers of relics can expect to receive a rare item for each of this many relics used.
"90%" refers to confidence; a 4-player group looking for one rare item has a 90% chance to find it without using more than this many relics (but they might use fewer).
A group of four players with Radiant relics has a 5.23% chance to receive two or more rare items; however, each player can keep only one. Using one relic at a time removes this possibility and may be worthwhile for getting the most out of rare or vaulted relics, but it does increase the expected number of runs required to find the item.
The rarity of a relic drop is indicated by the text color of its name: bronze (common), silver (uncommon) or gold (rare).
Ducat Farming
[
]
Main article: Ducats
Orokin Ducats are the currency required by Baro Ki'Teer for his unique items, and the only way to get ducats is by opening Void Relics for Prime items and selling the Prime items for ducats at the Relay consoles.
Assuming that all relic drops can and will be traded for ducats (i.e. no Forma and no items worth keeping), that no relic drops are valued inconsistently with their rarity (15 ducats for common items, 45 for uncommon, and 100 for rare), and that in multi-player teams the rarest reward choice is always chosen, the expected number of ducats to be earned per relic is as follows:
Squad Size
Quality
1 player
2 players
3 players
4 players
Intact
23.3
29.9
35.1
39.3
Exceptional
26.2
34.6
41.0
46.1
Flawless
30.3
40.6
47.8
53.2
Radiant
35.5
48.0
56.2
62.0
As shown, both refining relics and teaming up with other players vastly improve ducat rewards. Playing in a team is free, but gathering traces to refine relics may be a less efficient use of time than simply opening more Intact relics if all you want is ducats.
Requiem Relics
[
]
Requiem Relics are unique relics that reward Requiem Mods, Kuva, Riven Slivers, and Exilus Weapon Adapter Blueprints. These Relics can be earned from Kuva Flood missions as a guaranteed reward, Kuva Siphon missions at a 50% drop rate, or a Kuva Lich's Kuva Thralls at a 5% drop rate. Note that Kuva Flood and Kuva Siphon missions will drop a relic even if the Kuva Siphon is not destroyed. Note also that you can only gain one Requiem Relic per unique instance of a Kuva Siphon alert; repeating a mission to farm its Relic (by not interacting with the siphon) will award you with a very helpful 'REWARD ALREADY RECEIVED' instead.They are then opened in Void Fissure missions on the Kuva Fortress.
Requiem Mods
[
]
Main article: Requiem Mods
Requiem Mods are mods that can be equipped on the player's Parazon in which they are used for killing or converting Kuva Liches. They have three limited charges, one of which is consumed upon successfully killing or converting a Lich. When all charges are used, the Mod becomes Defiled and can be broken down into Endo or four of them can be transmuted into a random new Requiem Mod.
Notes
[
]
The letter a relic is assigned is determined by the first letter of the relic's rare reward, with a few exceptions such as  

Axi A1

.
When using the Recruiting Chat channel, players will use jargon used to denote relic runs:

A "radshare" or "radiant share" is a run where all players use ("share") the same exact RADiant level relic. This is typically used to farm gold or silver rewards.
An "intshare" or "intact share" is a run where all players use ("share") the same exact INTact level relic. This