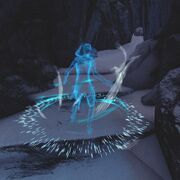 Void Mode (default: Ctrl ) is the Operator's innate ability to cross into the void plane.
By entering into the void plane, activating Void Mode turns the Operator incorporeal and thus invisible to enemies and most sensors, while also protecting them from any incoming damage, including fall damage, Eximus aura and Status Effects.

Void Mode costs 5 energy per second.

Operators in Void Mode can phase through physical enemy units.
Focus Enhancements
Edit
Void Mode may be enhanced or altered by the following Focus powers:
Community content is available under
CC-BY-SA
unless otherwise noted.