The Ventkids are a group of children from Solaris United in Fortuna who get by stealing parts from the Corpus and running K-Drive races out in the Orb Vallis.
To fully access this Syndicate, the player must complete the Vox Solaris quest. Their entrance to their clubhouse is found on a large grated vent scrawled with graffiti located on the second floor of Fortuna above Legs' shop.
As a Syndicate, Ventkids have their own Standing that can be exchanged for various rewards from the town's NPCs. Ventkids Standing can be gained by performing K-Drive tricks in Orb Vallis with a ratio of 1 standing per 4 points (max of 3,000 points or 750 standing per trick chain), or by completing Races in Orb Vallis that appear in different places on the map as denoted by a purple icon. Ventkids are a neutral Syndicate, and gaining Standing with them will not affect a player's Standing with any other Syndicate.
| Rank & Title | Sacrifice | Benefits | Standing (Minimum to Maximum) |
| --- | --- | --- | --- |
| 5 - Logical | ‍99,000 | Access to tier five wares. | 0 to 132,000 |
| 4 - Primo | ‍70,000 | Access to tier four wares. | 0 to 99,000 |
| 3 - Proper Felon | ‍44,000 | Access to tier three wares. | 0 to 70,000 |
| 2 - Whozit | ‍22,000 | Access to tier two wares. | 0 to 44,000 |
| 1 - Glinty | ‍5,000 | Access to tier one wares. | 0 to 22,000 |
| 0 - Neutral | - | Access to base wares. | 0 to 5,000 |
How To Farm Standing/Farming Tips
[
edit
|
edit source
]
Main article: K-Drive Race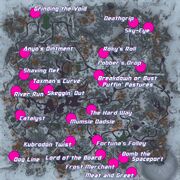 Five different races will spawn in Orb Vallis every day; the race selection resets at 00:00 UTC.

The easiest way to remember which races are active is to write down the corresponding number from this map: https://i.imgur.com/BHjycQ9.jpg
Alternatively, you can hop on your K-drive, then open the map (hold M). This will highlight all current active races, as long as you're riding your K-drive.

Each race grants roughly between ‍~2,000 to ‍~5,000 Ventkids standing and K-drive affinity based on the length of the race and speed of completion. Races may be repeated as often as desired, granting standing until the daily standing cap for the Ventkids is reached.

Repeating a race is much better for farming standing in comparison to performing tricks. Each race takes about 20 to 40 seconds (30 seconds on average), earning you ‍~2,000 to ‍~5,000 Ventkids standing. Performing enough tricks to hit a score of 3,000 takes 15 to 20 seconds; note that the ratio is 4:1 for Ventkids standing, meaning a score of 3000 only gets you ‍750 Ventkids standing.

To put that into perspective, in the span of 10 minutes, ~40,000 to ~100,000 score is earned by repeating the same race, whereas repeatedly performing tricks in the same amount of time will get you ~22,500 to ~30,000. These calculations do not take into account the time of going back to Boon to repeat the race and the time to get back to performing tricks.
Doing tricks for standing is riskier because failing to land correctly will make lose your 3,000 score that's been built up, a loss of 15 to 20 seconds. Doing races for standing has almost no risk because almost all the standing from races comes from completing a race (touch each marker) and a measle amount comes from doing tricks during a race.
At the same time, tricks can be done in any free-roam area, while races are specific to Orb Vallis. Hence, it's worth doing if you're in Plains of Eidolon or Cambion Drift.

A few K-Drive mods might hinder you in races, while some might help you. All these mods are good, but ultimately it'll take a lot of time to master using some of these mods. The benefits and downsides discussed in the list below are in terms of the pure grinding for standing, not talking about learning, and mastering your skills in using a K-Drive.

Do not skip markers.
Warframe and Warframe mods do not help when riding a K-drive.

However, Warframes can help with farming for standing by reducing the amount of time to travel to Boon via Archwing.

 Wisp's haste mote affects Archwing's speed significantly.
Archwing buffs from Intrinsics, in particular the speed boost from level 8 Piloting and the reduced blink cooldown from level 8 Tactical, significantly helps

Go to The Pearl at the West of Orb Vallis and claim the area for Solaris United. Then grind around the ring surrounding the Pearl, jumping over the landings and doing a trick combination using Space-RightClick-Space-RightClick-Space. Land and grind back on the rail until you have enough of a trick multiplier to hit 3000.
As of

Hotfix 24.1.2

, grinding does not add to the combo multiplier.

Grinding will still allow you to reposition yourself and continue to rack up tricks without landing, which will end your combo. However with this update, if you plan on doing tricks to gain standing, it's best to spend as little time as grinding as possible, only grinding to prevent you from landing. Grinding is still necessary. Doing tricks in the air is the only way to increase your combo multiplier. Grind little as possible and spend as much time in the air doing tricks.

Affinity Boosters do not help in gaining more standing.

Affinity boosters affect the gained affinity your K-Drive receives only. Affinity for K-drives comes from your tricks and score. In other words, the score gives affinity and gives standing, but getting affinity does not affect standing.
In the percussion band behind Roky, animation for the nearest kid playing box and barrel occasionally won't perform properly. During the performance, the kid will sometime stand stiff while the sticks will float and hit the intruments by themselves.
Standing close to the child laying on the K-Drive as an Operator will cause the board's animation to stop and the child's head to disappear while he continues swaying side to side without the board moving.
Community content is available under
CC-BY-SA
unless otherwise noted.