Vectis Prime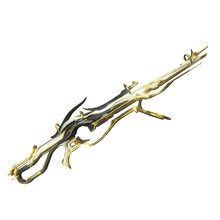 Statistics
Utility
Normal Attacks
Miscellaneous
The Vectis Prime is the prime version of the Vectis sniper rifle. Featuring higher base damage and a doubled magazine, the Vectis Prime retains the standard version's lower zoom, making it best suited for medium-range combat.
Characteristics
This weapon deals primarily

Puncture damage.
Advantages
Disadvantages
Comparisons
Vectis Prime, compared to the Vectis:
Weapon Loadouts
Notes
Due to the fact that it has two rounds per magazine instead of the Vectis' single round, Charged Chamber and Primed Chamber are less effective without the use of manual reloading.

Manual reloading also cannot be optimally performed due to the recoil animation after the first shot, which prevents the performance of an immediate reload.
This can be circumvented by using the Depleted Reload mod, which reduces the clip of the Vectis Prime to 1 and increases reload speed by 48% at max rank.
Trivia
Vectis is Latin for "Bar" or "Pole", referring to a locking bar (or bolt), a leveraging bar such as a Crowbar, or possibly referring to a carrying pole.
Media
Skins
See Also
Vectis, the original counterpart of this gun.
Community content is available under
CC-BY-SA
unless otherwise noted.