"You're not supposed to be in here! You're going to ruin the surprise!"

The following section contains spoilers.
"Opinions Ahead!"

The Following Content May Be Subjective In Nature

In Warframe, some advice or opinions may not be backed up entirely by data, or in most cases, is based around personal playstyle and how they play the game. The content contained in this article may fall under that presumption.
Here i will be posting the riven mods that i have gotten so far (barring the first one which was a crap mod for the Vulklok) along with their videos i have made for them.
(Note: As of December 17th, some of this may be outdated)
---
First off, my opinions on Riven Mods in general. Initially, i hated the idea for the most part, mostly because of how much RNG was involved. Besides the first mod you get from the quest (which can be a mod for sentinel weapons, unfortunately) Riven mods are currently only awarded from Sortie missions as a possible reward. After doing 3 so far and not getting a single one, i think it's fair to add that to the first issue i have with the mods.
Second, the weapon that the mod is for is randomized, meaning chances are if you try to farm (if that is even the right word) for a mod for the Gorgon weapons, you will feel worse off when you don't get it over and over than if you go in not looking for anything. Third, and similarly, the stats are under HEAVY RNG; The amount of stats is random, the type of stats is random, and the balance between positive and negative is random. You might get a mod that adds a huge amount of critical damage, but reduces the critical chance to basically 0%.
And third, how to get Kuva to re-roll the mod in the likely event that it's not good enough. Then you reroll your mod and let the RNG gods randomize the probably thousands if not millions of different combinations you could get.
TL;DR
To summarize my complaints:
Positives
The Riven mod is an excellent concept idea to make older weapons push through harder content, making players like me who have the Hind in my top 5 favorite primary weapons list, actually be able to bring them into missions which require better weapons. To an extent, at least. In addition, some of the possible stats can make weapons change their possible builds entirely. For example i got a tiberon mod (shown below) that increases the status enough due to multishot that it makes a status build actually viable enough to outperform a standard elemental build in addition to just dealing more damage.
When pistol Riven mods are introduced, i will be a very happy player to see my Kraken get a mod that pushes it even further into content that is just out of the weapons reach, like sorties. (In retrospect, the Kraken actually does decent damage if you land a few headshots, but it has other issues that dosnt let it succeed, like low status and reliance on impact damage).
---
(End of Possibly Outdated Information)
Videos
Note: see the updated video below the other videos to see the updated builds for the Hind, Karak, and Miter after the Deposition system was introduced which buffed them. Second Note: Updated to include Flux Rifle riven mod i recently got.
These are videos i have made for a few Riven mods that i own, which include before and after comparisons side to side so you see the difference. Please note, and i must stress this for anyone who dosn't know, the chance for a corrosive proc is generally under the mercy of RNG in the sense that you may get 3 procs in a row, or none at all. This makes testing weapons with corrosive damage tedious as the kill speed and ammo used can be different every single time. In general though, there is only a small margin of error in these videos, still enough to show the difference with the riven mod.
Multishot Challenge
My personal quest for a good multishot riven mod for the gorgon, along with its result testing.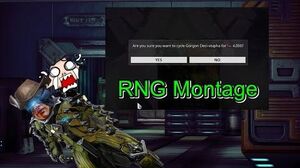 Polls
What Do You Think Of The Riven Mod System?
Out Of My Vids (As Of Making This Blog) Which One Surprised You The Most?
New Polls
Out Of These Rivens, Which Do You Think Is The Best?
Community content is available under
CC-BY-SA
unless otherwise noted.