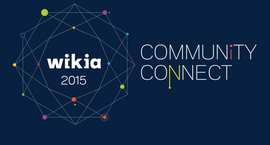 Hello! I went to Wikia, in San Francisco!
This year Wikia is organizing Community Connect, an event that gathers admins around the world (by around the world I mean some of us flew for 15 hours to get here) from many wikis to have some face time with the staffs and talk about what they're working on inside Wikia, from marketing strategies to the technical bits. Here's a rundown on what we've talked about so far:
9/9/15 Day 1
Roadmap:
Mobile mode: Wikia has been emphasizing a lot on traffic from mobile devices (>50% and rising) and the importance of displaying our content correctly on mobile. Portable infobox being one of the first steps in optimizing the mobile viewing experience.
Structured data: being able to take data from a dataset and display them in a variety of ways is one of our dreams as wiki editors (think weapon comparison, drop tables, sell price etc). Soon we'll be able to set up databases and/or pull data directly from infoboxes and create custom tables from it.
Fan service collaboration: Partnership with devs and wiki admins. Well last time I checked Rebecca and Drew are still bureaucrats of this wiki and observing the wiki habitat behind the scenes, so things seeem to be going on the right track.
Portable infobox: Old infoboxes are essentially tables with some styling. Data are just strings and otherwise don't mean anything at all, and they rendered horribly on mobile devices due to incompatibility with inline styles and .js. New Portable infoboxes will be able to recognize meaningful data and render them correctly in both desktop and mobile devices. Also more here.
Tabbers are being implemented as one of the default optional feature in infoboxes.
Best solution is to allow us to specify how an infobox renders on a desktop and on a phone, and they are working on this.
The most updated version of Portable infoboxes fully supports wikitext and parser functions, but not .js or inline styles. In this session we took a look at one of our more complex infoboxes Template:Enemy and generated a WIP here: Template:Enemy/Draft in User:Shareif/test.
Optimally we will be converting all of our infoboxes to the new syntax and collaborate with Wikia staffs to tailor them to match the ones we've been using so far.
JS security: If you were aware of the .js security issue last month Thread:786861, here are the next steps:
SSL login will be available soon.
Changes to MediaWiki:Common.js and MediaWiki:Wikia.js will not take effect immediately upon publishing and will instead go through a code review process by Wikia staff.
.js editors will be given a Test Mode to preview their change before sending it out for review. Test mode should function like your personal .js subpage.
Code review only focuses on bits that potentially cause security issues and will not care about quality of the code. Review time should be within 24 hours (I think I heard that correctly).
Personal .js page under the User: namespace will function the same as before, so anyone working on .js scripts are encouraged to test your code in your User namespace as usual before considering publishing for site use.
Importing user .js pages will not work anymore.
One of our .js page MediaWiki:Common.js/userRightsIcons.js, which handles Founder, admin and mod badges, has to be updated frequently as users request their badges, so code review would be problematic. This has been brought up to Wikia staffs.
Discussions: Forums threads (and comments?) are being overhauled to Discussion, with features including Trending/Latest, more advanced polls and kudos system.
Growth: Expanding the wiki, adding more diversity to content, related to namespace we talked in a previous, quite forgotten blog.
A lot of wikis are on the same boat with canon vs. fannon and having multiple wikis on a similar topic (e.g. Marvel comics vs. Marvel films; Star Wars wiki vs Clone Wars wiki vs. Disney wiki), and Wikia is looking into ways to resolve this.
Sharing templates and medias with interlanguage wikis are being brought up too.
We had sushi and alcohol afterwards. we got rice for lunch.
9/10/15 Day 2
Search engine optimization: Our wiki are frequently linked by third parties and from the official forums so we are already pretty high up in searches. To keep this up:
Chronicle tags: not really useful in gaming wikis, but if there are multiple versions of the same article exist (parallel universe, game sequals), a "chronicle tag" can be added to point searches to the "more important" page.
Links, anchors: more links the merrier.
Apps: You can download the Warframe Wiki app from the bottom right of the mainpage. We hadn't really done much with the app but somehow it still received good reviews regardless.
Special:CuratedContent will be worked on to correct some outdated pictures used in the app.
Moderation tools, edit, notification, profile will be added soon.
Admins will have push notification features.
Special:Insights will receive more useful data like page views and such.
9/11/15 Day 3
New contribution tools: these tools are still in a very early stage but these are the direction they're heading.
Template: we make templates because we want content unique to our wiki and a format that is consistent to all pages. When we update a template, the change to take effect across the whole wiki.

Soon we will be able to define data by types: strings, numbers, boolean etc, or limit the accepted input.
When all data are classified, we can manipulate them like sorting them by stats (e.g. show all weapon with >200 slash damage), automatically generate navbox, tables, infobox based on user queries, or validate data inputted by users.
Implementing query tools like search, sort, filter will also be much easier.
Flags: We are already using them, more here Thread:748515.
We'll continue to update Special:Flags with templates eligible for flags.
Flags for sections in the middle of the page will not be available soon, due to how MediaWiki handles sections/headers.
Flags priority will be available in Special:Flags soon.

Not really a rundown but highlights. Overall Wikia is pretty enthusiastic about these upcoming features and so are we. It was a nice opportunity to get to meet the staffs and admins from some of the most established communities around.
Community content is available under
CC-BY-SA
unless otherwise noted.