Note from Triburos -  - (08/01/15)

Hey guys, me again! I've recently gotten back into Warframe, 
and I've done a bit of cleaning and such with this guide, 
just to make it a bit less of a hassle to read and comprehend.

Cheers!

-Triburos.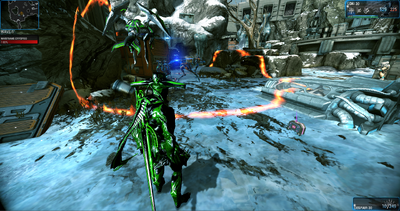 Loki's Decoy ability seems to have taken a backseat to his Invisibility. Which is understandable, Invisibility has more uses and it's certainly one of Loki's best perks. However, Decoy deserves to be used better. Many write Decoy off as being ineffective in end-game missions due to it's lack of shields and health. This guide is going to go over some examples of where you should place your Decoy on certain maps when it comes to these high level areas. But before we get into those examples, I first want to list off some things to always keep in mind when using this ability.
Here's some things you should keep in mind whilst using Decoy.
The Decoy will regenerate both shields and health. But don't count on this to keep it alive.
It can be placed almost anywhere, even places you or your team cannot get to. In other words, it can be placed in the tightest of cracks. This will be extremely important to keep in mind, as it will be what you base your entire positioning of Decoy around.
The Decoy has a tendancy to fall through certain objects. It won't fall through everything, but it will fall through a select few props and parts of the map. Finding these spots on Defense and Mobile Defense missions are critical, as it allows your Decoy to do it's job while also not being in risk of any danger.
Keep an eye on the Decoy's timer in the bottom right when placed, and replace it when necessary.
The Decoy's aggro generation will over-take the aggro generation of defense items. This makes it extremely helpful for keeping heat off of a defense item. However, please keep in mind that even the Decoy's aggro can be over taken if most mobs gets too close to the defense item before being able to get close to the Decoy. It will start shooting at the cyropod or terminal in these cases. For these reasons...

Try to keep your Decoy as close to the item you wish to protect as possible, but not too close that it has any potential cross-fire striking the object.

Ranged enemies will generally not attack the Decoy if they can't see it. They will however, pay attention to it. It seems that ranged enemies - most commonly Grineer and Corpus - will simply stare at the area the Decoy is in if they can't get line of sight. In these cases, it's alright to have the Decoy relatively close to a defense object, as long as they don't switch their aggro. On that note;

Infested and other melee enemies will redirect their aggro after two seconds of being as close to the Decoy as possible without being able to get a hit in.

Last but not least: While Decoy is a great ability, don't dismiss Radial Disarm. You will have to kill anyone that happens to slip by the Decoy's aggro range, or ones that stumble too close to a cyropod or terminal anyway. Radial Disarm also makes it much easier for your team mates to kill enemies as it herds groups wonderfully. So while I do encourage more use of clever Decoys, don't forget that Radial Disarm is still your go-to Crowd Control.
Examples of Good Decoy Placement
[
edit
|
edit source
]
In some of these images, you won't be able to see the Decoy it's self. As such, my crosshair will show you where I put the Decoy exactly.
IMPORTANT: SOME OF THESE POSTIONS HAVE BEEN RENDERED OBSOLETE IN MORE RECENT VERSIONS OF WARFRAME. PLEASE USE THESE IMAGES AS REFERENCES OF WHAT MAKES A GOOD DECOY POSITION, RATHER THAN TRYING TO USE THE SAME POSITIONS HERE. THE FIRST EXAMPLE IS ONE THAT IS RENDERED OBSOLETE, DUE TO A CLOSING OF THE GAP.
Example 1: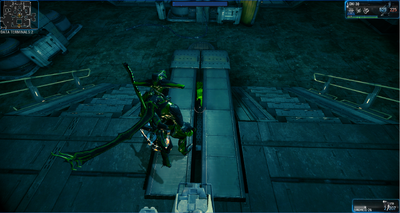 This is an example of a Decoy placed in a crack. As you might be able to tell, the only way an enemy can harm the decoy is if they got right above it and shot down, which isn't easy for them. Sadly, this particular position has been 'fixed', but should give you an idea of how to place Decoys in this fashion.
Example 2: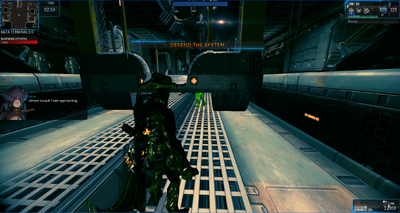 This example shows the Decoy being placed under cover - literally. In situations like this, the only real way an opponent can harm the Decoy is if they get on the same elevation as it, which results in better survivability of your Decoy.
Example 3: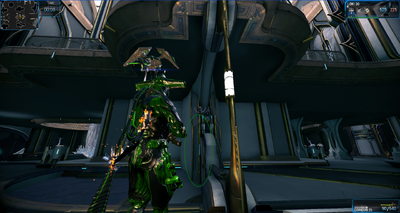 This is one example of a Decoy placement that is completely surrounded from all sides, protecting it from pretty much all enemy fire. Placing the Decoy where i'm aiming will cause it to fall through this portion of wall, and as you can see; it's completely protected. The great thing about this placement is that it's relatively close to the cyropod. All the trash mobs tend to stay away from the pod and take cover from a distance, so the Decoy will keep the vast majority of trashies from shooting on something important, such as the Cyropod it's self, or just your team mates in general. Plus, it gives your other team mates who commonly set up defensive barriers such as Frost or Vauban, some breathing room and leniency.
This works for pretty much the entire mission. But keep in mind that the big guys (Ancients, Fusion Moas, Heavy Grineer) tend to get much closer to the pod, and thus put it in danger. So as I mentioned in the Rules of Thumb, don't expect this to completely carry you. It will take a huge load off of your team's work, but you're going to need to pay attention to the Cyropod and take down any biggies from a distance, or with a strong melee paired with Invisibility. But this means that those trash mobs aren't distracting your team atleast.
Example 4: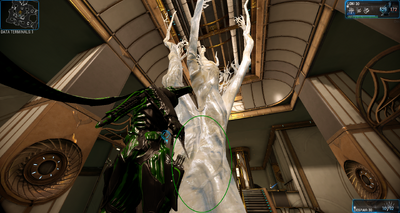 Lastly, here's another example of clipping the Decoy through a solid object. Much like Example 3, this covers it from alot of damage types and will significantly increase the duration it can remain out on the field.

Community content is available under
CC-BY-SA
unless otherwise noted.