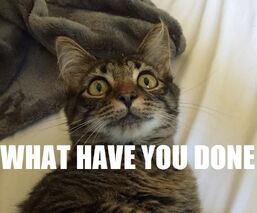 Greetings fellow peoples! I am mac10smg, Toa of Green! Welcome to m Warframe wiki page!
Abt. Me (Or something)
Edit
I live in a house. Not Mata Nui. Though that would be kinda cool.
My favorite color is green. Obviously.
Stephen Colbert master race!
I think I have a phobia of large flying bugs. I think. Could just be me. But then again, it probably isn't.
I hate debates. Unless I win. But still, I'd prefer to be the peacekeeper.
I like doing this: ' :P ' But then again, you probably knew that already.
I think I'm 20% a Brony. Or 10%. Or 37%. I can't decide.
I love saying 'Lovely'. I'm trademarking that, so watch your backs.
My Warframe Shenanigans
Edit
Mastery Lvl: 27
Fav. Weapon: Pyrana Prime
Fav. Warframe: Khora
Fav. Sentinel: Wyrm Prime
Fav. Kavat: Smeeta (a.k.a Rob Bailys)
If you see me, I will most likely sport standard green + lime green and black with a bright light green energy color. My weapons and sentinels will have the same color scheme.
My my full IGN is mac10smg-ToaOfGreen. The name has a bit of a convoluted origin, but I like it, so it's suck with me for a long time.
I tend to be...reckless. I charge right into battle and only retreat if I'm low on HP or need to regen Shields. That can get me downed sometimes. Unfortunately.
So, yeah. Great.
Woooo....
My Philosophy
Edit
"I always like to look on the optimistic side of life, but I am realistic enough to know that life is a complex manner."
-Walt Disney
I am always one to defend the honor of weapons/warframes that git hit with the brunt end of the hatred stick not because I am some messiah who defies the norm, just because I believe that every single thing has something worth using it for, no matter my opinion. Sure, I can see sometimes that some things cannot be defended (not properly, anyway), but I always will try to find something positive to say, one way or another.
Community content is available under
CC-BY-SA
unless otherwise noted.