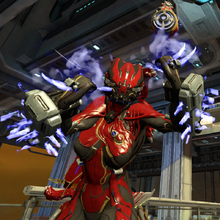 Who am i and why am i here
Edit
I'm a physics PhD student and if I'm not busy sitting in the university I sometimes play Warframe. I play Warframe since about ever (so quite close to open beta release). Whatsowever, I have a thing for game-mechanics (not only in Warframe), so I ended up beeing called "walking-wiki" by my friends. Of course the next logical step was to use my power for good and join the wiki.
So, yep, here I am.
Whatever game I 'm playing, I try to be as polite and helpful as possible, so, if you happen to have any question or need any help do not hesitate to ask here or ingame, the nick is the same (Kselia).
Stuff I work on
Edit
On the wiki I try to keep stuff up to date. My "baby" is a database-system revolving around everything related to the solar system.
In case you are interested in that take a look at my testpage (Careful thou, I actually use it to test stuff every once in a while, so it might be a little messed up :D)
If you have any suggestions what should be done/changed/added on/to the wiki, do not hesitate ask! This also applies if you need help with anything regarding the wiki and especially coding on the wiki.
Community content is available under
CC-BY-SA
unless otherwise noted.