Gratag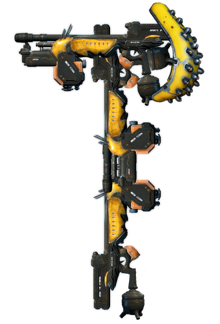 Statistics
| | |
| --- | --- |
| Weapon Type | Twin Grakata Gunblade |
Utility
Normal Attacks
Charge Attacks
Miscellaneous
The Gratag is the preferred melee weapon of Clem, who creates the weapon with funds borrowed by Darvo. Normal attacks swing the Jat Kittag portion of the weapon at incredible speeds, while charge attacks will swing the weapon around wildly while firing barrages of Grakata rounds at enemies. The Gratag is also unique in the fact that Finishers preformed on enemies will make the player stand on the enemy's body and chant "Grakata" wildly, voiced by DE_Steve.
This weapon can be sold for 7,500 Credits

 7,500; it is also a requisite ingredient for the Rakta Twin Wraith Gratag (x2)
Characteristics
[
]
This weapon deals primarily Impact Damage

 Impact damage.
Advantages:
Extremely high base damage.
Highest critical damage of all weapons, alongside the Nukor.
Highest status chance of all weapons.
Highest rate of fire of all weapons.
Grakata component can hit ranged enemies effectively.
Has 100% chance to incite Dakka memes with each hit.
Can use Glaive Exclusive Mods in order to be thrown with charge attacks. When thrown, the Gratag fires bullets in all directions during its flight.
Disadvantages:
Comparisons:
Gratag, Compared to Every other non-grakata weapon in the game:

This template is archived. The content was relevant to a previous formatting of WARFRAME Wiki. Please do not use or delete this template. It is being saved for later potential use.
Tips
[
]
It is best used in every mission, as the weapon is clearly the best in all ways, which is why Clem uses it.
It is recommended that once you get the Gratag, just sell the rest of your weapons since you won't need anything else.
Notes
[
]
The Gratag was released on April 1, 2016 with

Update 18.7.2

.
This weapon is treated as a side-grade to all other weapons; even Clem will use normal Twin Grakatas, but only if he doesn't have a Gratag.
Media
[
]
Patch History
[
]
See Also
[
]
Weapons • Damage • Compare All • Cosmetics
Arm Cannons
Auto
 Bubonico •  Shedu
Assault Rifles
Active
 Simulor ( Synoid)
Auto
 Acceltra •  Basmu •  Baza ( Prime) •  Boltor ( Prime,  Telos) •  Braton ( MK1,  Prime,  Vandal) •  Buzlok •  Dera Vandal •  Dera •  Tenet Flux Rifle •  Grakata ( Prisma) •  Karak ( Kuva,  Wraith) •  Mutalist Quanta •  Panthera ( Prime) •  Quellor •  Tetra ( Prisma,  Tenet)
Auto-Burst
 Battacor
Auto-Spool
 Gorgon ( Prisma,  Wraith) •  Soma ( Prime) •  Supra ( Vandal) •  Tenora Prime •  Tenora
Burst
 Burston ( Prime) •  Harpak •  Hema •  Paracyst •  Quartakk ( Kuva) •  Sybaris ( Dex,  Prime) •  Tiberon
Charge
 Miter •  Opticor ( Vandal)
Held
 Amprex •  Flux Rifle •  Glaxion ( Vandal) •  Ignis ( Wraith) •  Quanta ( Vandal) •  Synapse
Hybrid
 Ambassador •  Argonak •  Fulmin •  Hind ( Kuva) •  Stradavar ( Prime) •  Tiberon Prime •  Trumna •  Zenith
Semi-Auto
 Grinlok ( Prisma) •  Kuva Chakkhurr •  Latron ( Prime,  Wraith) •  Veldt •  Stahlta
Bows
Auto
 Attica •  Zhuge ( Prime)
Charge
 Artemis Bow •  Cernos ( Mutalist,  Prime,  Proboscis,  Rakta) •  Daikyu •  Dread •  Kuva Bramma •  Lenz •  Paris ( MK1,  Prime)
Hybrid
 Nagantaka
Launchers
Active
 Penta ( Carmine,  Secura)
Auto
 Tenet Envoy
Charge
 Ogris
Semi-Auto
 Kuva Ogris •  Tonkor ( Kuva) •  Torid •  Zarr ( Kuva)
Shotguns
Auto
 Astilla ( Prime) •  Boar ( Prime) •  Sobek
Auto-Spool
 Kohm ( Kuva)
Charge
 Drakgoon ( Kuva)
Duplex
 Tigris ( Prime,  Sancti)
Held
 Convectrix •  Phage •  Phantasma
Hybrid
 Cedo
Semi-Auto
 Arca Plasmor ( Tenet) •  Corinth ( Prime) •  Exergis •  Hek ( Kuva,  Vaykor) •  Strun ( MK1,  Wraith)
Sniper Rifles
Charge
 Lanka
Semi-Auto
 Komorex •  Rubico ( Prime) •  Snipetron ( Vandal) •  Sporothrix •  Vectis ( Prime) •  Vulkar ( Wraith)
Spearguns
Auto
 Scourge
Charge
 Ferrox •  Javlok