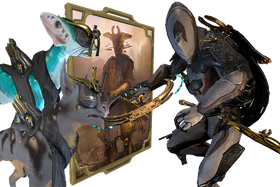 The The Sacrifice Collection can be purchased for 400 Platinum

 400 from the Market. This bundle includes the following items, with individual prices listed below:
Notes
[
]
Trivia
[
]
Patch History
[
]
Hotfix 23.0.6 (2018-06-27)
Fixed the Dax Portrait not snapping properly to walls like a good portrait should.
Hotfix 23.0.3 (2018-06-19)
Changed the Market Platinum price of the Dax Nikana Skin to 35 platinum (was 225). This price change also affects The Sacrifice Collection which is now 400 Plat (was 550).

We are running a script that will refund overspent Platinum to the respective accounts. We will update this thread when the script is done and relog is required! Refund is complete! Please relog at your convenience.
Update 23.0 (2018-06-15)
See Also
[
]