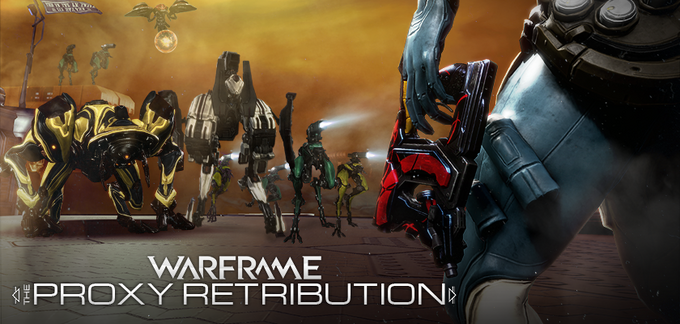 The The Proxy Retribution Bonus Weekend was a special weekend occasion that took place from May 27, 2016, to May 31, 2016, featuring special Tactical Alert missions and other in-game limited-time bonuses.
DOUBLE AFFINITY
This weekend, team up and reap the rewards of double Affinity! You'll earn twice the Affinity during any Warframe mission you play from now until May 31 at 2 p.m. ET.
DARVO DEALS
Save 50% on the following items from now until May 31 at 2 p.m. ET.
Primary:
Rubico
Secondary:
Talons
Melee:

Lacera
Syandana: Salix Syandana
TACTICAL ALERT
The Corpus Proxy Army is back and it's stronger and faster than ever before. Show no mercy Tenno, intercept and destroy them.
Day 1 Friday, May 27
Planet: Tessera, Venus
Mission Type: 20 Wave Defense
Reward: Orokin Catalyst + 10,000 Credits
Day 2 Saturday, May 28
Planet: Martialis, Mars
Mission Type: Mobile Defense
Reward: Orokin Reactor + 10,000 Credits
Day 3 Sunday, May 29
Planet: Palus, Pluto
Mission Type: 30 minute Survival
Reward: Wraith Twin Vipers with weapon slot & pre-installed Orokin Catalyst + 50,000 Credits
Day 4 Monday, May 30
Planet: Io, Jupiter
Mission Type: 20 Wave Defense
Reward: 25 Rare

 Fusion Core + 10,000 Credits
The Proxy Retribution tactical alerts all feature only Corpus proxy enemies, which include all variations of MOAs and Ospreys, as well as Hyena Ng and Isolator Bursas.
Hyena Ng generates an aura that grants nearby allies additional 

Heat

damage. Because some of the proxies also deal

Electric

damage, this results in them dealing

Radiation

damage whenever a Hyena Ng is nearby.
While it is advertised as a Tactical Alert, completing the alerts will not award a Stratos Emblem.
Community content is available under
CC-BY-SA
unless otherwise noted.