Please do not use this article for critical in-game information!


Tesla has been replaced by Tesla Nervos in Update 26: The Old Blood.
This article is
archived
.
The content was relevant to an obsolete version of Warframe, and has since been removed, retrieved, and/or revamped.



ENERGY:




25




KEY


1 

Tesla


Launches a grenade that holds an electrical charge, zapping enemies that come within range.

Strength

:80 / 100 / 120 / 150 (arc damage)
15 (contact damage)

Duration

:

5 / 6 / 7 / 10 (charges)

Range

:

7 / 8 / 10 / 12 m

Misc

:

40 s (duration) 10% (uncharged status) 100% (charged status)
Vauban releases an electrically-charged grenade that adheres to any surface. On contact with an enemy, the grenade will deal 15  

Blast

damage. If an enemy approaches the grenade within 7 / 8 / 10 / 12 meters, the grenade will discharge. A single grenade holds a maximum of 5 / 6 / 7 / 10 charges, and each charge inflicts 80 / 100 / 120 / 150  

Electricity

damage. Charges are fired once every 3 seconds. Each grenade has a duration of 40 seconds; when a grenade uses a charge, its duration is paused for 0.75 seconds. The ability can be held for a short time and released, doubling damage and increasing status chance to 100%.

Arc damage and contact damage are affected by Ability Strength, and the contact damage can be increased by body-part multipliers.
The arc damage has a low status chance. An Electricity proc will chain 50% of the initial damage to surrounding enemies in a small area of effect while briefly stunning the initial target.
Each grenade can deal a total of 400 / 600 / 840 / 1500 damage. Sticking a grenade directly on an enemy can potentially deal that entire amount to the enemy for its duration.
 

Blast

damage is effective against Machinery and Fossilized, but less effective against Ferrite Armor and Infested Sinew.
 

Blast

status effect forces all enemies within a 5 meter radius to stumble and fall.
 

Electricity

damage is effective against Machinery and Robotics but less effective against Alloy Armor.
 

Electricity

status effect chains 50% of Tesla's base damage to surrounding enemies in a small area of effect. Shocked enemies will also be briefly stunned.
Number of charges is affected by Ability Duration, while the grenade duration is not.

Because of this, the maximum number of usable charges is capped at 18.

A grenade can only target one enemy at a time, expending a single charge per attack.
Attack range is affected by Ability Range.
Grenades can only attack enemies in line of sight (cannot shoot through walls or corners).

When the ability is charged, damage is doubled and status chance increases to 100%. Both the uncharged 10% status and charged 100% status are unaffected by mods.
Does not attack the Stalker.
Can be used while performing many actions without interrupting them, including reloading.
Can be cast multiple times while active.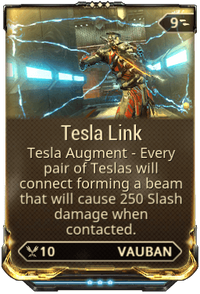 Main article: Tesla Link
Tesla Link is a Warframe Augment Mod for

 Vauban that makes each pair of Tesla balls form energy links between each other that deal

 Slash damage upon contact.
| Rank | Damage | Cost |
| --- | --- | --- |
| 0 | 100 | 6 |
| 1 | 150 | 7 |
| 2 | 200 | 8 |
| 3 | 250 | 9 |
Place on allies such as hostages, fellow Warframes, or even sentinels to create a sort of melee protection sphere. Best used on Rhino/Excalibur Warframe with their Rhino Charge/Slash Dash ability.
Placing several Tesla in exactly the same spot will result in the charges being released at nearly the same time, and placing them in a line will result in each firing one at a time as an enemy approaches, dealing more constant damage.
Placing several Tesla on a rotating body allows the Teslas to possibly "orbit" into range of an enemy, and giving them all a chance to fire at said enemy. This effectively increases the range and increases the Tesla group's overall rate of fire.
Works best against Corpus and less effective against other factions, while still acting as a moderate damage tool.

Electrical damage deals normal damage to shields, and only deals extra damage to unshielded MOAs, so it is realistically best for Infested.
Grineer armor will reduce the damage dealt considerably.
Even after the

Update 23.3

(2018-08-09) rework, the maximum allotted charges per grenade is still capped at 18 charges. Going over this by increasing duration further has no effect.
Community content is available under
CC-BY-SA
unless otherwise noted.