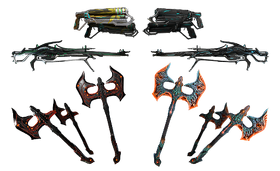 The Tennogen Weapon Skin Bundle includes the following items, with individual prices listed:
The entire bundle is available for 320 Platinum

 320
Notes
[
]
These skins were added to the Market on January 9, 2015, and contains the winning weapon skin designs submitted by players for DE's Weapon Skins Contest.

The players who designed the skins will receive 25% of the  

Platinum

profit from every purchase of their skins.

Buying each item individually will cost a total of  400, whereas the bundle costs only  320, saving  80.
These skins, either individually or as a bundle, cannot be purchased with gifted platinum (direct gift, voucher code, etc.).

This is likely due to the mechanic of 25% of the proceeds going to the creators, which is similar to trading platinum (one cannot trade gifted platinum).
Trivia
[
]
The word "Dakila" in the Dakila Akmagnus/Magnus is a Filipino word meaning "Noble". Further connecting the design to Philippine culture is the yellow sun decal on the barrel, which is a stylized depiction of the sun on the Flag of the Philippines.
The Kuberus Dual Zoren/Scindo skin is dedicated[1] to the 501 kubrows that died out on the then-bugged final mission of the Howl of the Kubrow quest.[2]
References
[
]
Skins and Cosmetics
| | |
| --- | --- |
| Warframe | Ash (Koga, Shroud) • Atlas Karst • Banshee Soprana • Chroma Dynasty • Ember (Pyraxis, Vermillion) • Equinox Antonym • Excalibur (Dex, Proto-Armor, Zato) • Frost Harka • Gara Kaleida • Garuda Hinsa • Grendel Nian • Harrow Reliquary • Hildryn Einheri • Hydroid Rakkam • Inaros Ramses • Ivara Skathi • Khora Urushu • Limbo Limina • Loki Knave • Mag Pneuma • Mesa (Presidio, Projectilyst) • Mirage Oneiro • Nekros Irkalla • Nezha Empyrean • Nidus Phryke • Nova (Asuri, Atomica) • Nyx (Nemesis, Pasithea) • Oberon Feyarch • Octavia Maestra • Revenant Mephisto • Rhino (Dex, Palatine) • Saryn Orphid • Titania (Donann, Empress) • Trinity Strega • Valkyr (Carnivex, Gersemi) • Vauban Citadel • Volt (Electrolyst, Proto) • Wisp Dex • Wukong Samadhi • Zephyr Harrier |
| Weapon | Alamos Sniper • Anpu Staff • Astreos Sword and Shield • Blodgard Heavy Blade • Boltor Bravura • Dryad Bow • Clavatus (Heavy Blade, Ignis, Zarr) • Carcinus Speargun • Causta Bow • Ceramica Tonfa • Dagger Axe (Dual Zoren, Scindo) • Dali Ballistica • Deimos Claw • Dendrite Gunblade • Dex Pixia (Aerospri, Hawkmoth) • Diode Hammer • Diwata (Hawth, Mot)• Dreyric Fist • Dominion Heavy Blade • Cyskis Dual Swords • Nari & Vali Dual Swords • Flamethrower Plazm • Fragor Brokk • Frysta Sword • Palatine Hammer • Hecaton Shotgun • Kopesh Longsword • Scindo Manticore • Maruta Tonfa • Meteor Whip • Mortier Heavy Blade • Motherwrench Hammer • Dax Nikana • Ryu Nikana • Oku Nikana • Orison Two-Handed Nikana • Pandero Ceramica • Perla Pistol (Dual) • Proto-Glaive • Rashasi Polearm • Renuntio Speargun • Rephrax Longsword Skin • Ringers • Sonicor Cliona • Sonicor Festive Skin • Spearmint Scythe • Volu Staff • Danaus Sword and Shield • Tarock Thrown Blade • Tecton Sparring • Teng Dagger • Thanatos Scythe • Verta Warfan |
| Companion | Carabus Dethcube • Drahk Kubrow • Metus Helminth Charger • Moonless Kavat • Underbrush Kubrow |
Warframe Cosmetics • Weapon Cosmetics • Sentinel Cosmetics • Kubrow Cosmetics • Kavat Cosmetics