"Recent events have led me to diversify my business."
This content is exclusive to the Console builds of
WARFRAME
.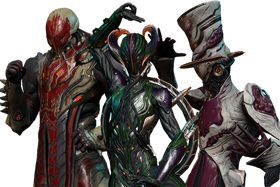 The TennoGen Bundle XV can be purchased for 405 Platinum

 405 from the Market. This bundle includes the following items, with individual prices listed below:
Notes
[
]
Patch History
[
]
Introduced on Console with Update 22: Plains of Eidolon on November 14th, 2017 along with TennoGen Bundle XVI and TennoGen Bundle XVII.
See also
[
]
Skins and Cosmetics
| | |
| --- | --- |
| Warframe | Ash (Koga, Shroud) • Atlas Karst • Banshee Soprana • Chroma Dynasty • Ember (Pyraxis, Vermillion) • Equinox Antonym • Excalibur (Dex, Proto-Armor, Zato) • Frost Harka • Gara Kaleida • Garuda Hinsa • Grendel Nian • Harrow Reliquary • Hildryn Einheri • Hydroid Rakkam • Inaros Ramses • Ivara Skathi • Khora Urushu • Limbo Limina • Loki Knave • Mag Pneuma • Mesa (Presidio, Projectilyst) • Mirage Oneiro • Nekros Irkalla • Nezha Empyrean • Nidus Phryke • Nova (Asuri, Atomica) • Nyx (Nemesis, Pasithea) • Oberon Feyarch • Octavia Maestra • Revenant Mephisto • Rhino (Dex, Palatine) • Saryn Orphid • Titania (Donann, Empress) • Trinity Strega • Valkyr (Carnivex, Gersemi) • Vauban Citadel • Volt (Electrolyst, Proto) • Wisp Dex • Wukong Samadhi • Zephyr Harrier |
| Weapon | Alamos Sniper • Anpu Staff • Astreos Sword and Shield • Blodgard Heavy Blade • Boltor Bravura • Dryad Bow • Clavatus (Heavy Blade, Ignis, Zarr) • Carcinus Speargun • Causta Bow • Ceramica Tonfa • Dagger Axe (Dual Zoren, Scindo) • Dali Ballistica • Deimos Claw • Dendrite Gunblade • Dex Pixia (Aerospri, Hawkmoth) • Diode Hammer • Diwata (Hawth, Mot)• Dreyric Fist • Dominion Heavy Blade • Cyskis Dual Swords • Nari & Vali Dual Swords • Flamethrower Plazm • Fragor Brokk • Frysta Sword • Palatine Hammer • Hecaton Shotgun • Kopesh Longsword • Scindo Manticore • Maruta Tonfa • Meteor Whip • Mortier Heavy Blade • Motherwrench Hammer • Dax Nikana • Ryu Nikana • Oku Nikana • Orison Two-Handed Nikana • Pandero Ceramica • Perla Pistol (Dual) • Proto-Glaive • Rashasi Polearm • Renuntio Speargun • Rephrax Longsword Skin • Ringers • Sonicor Cliona • Sonicor Festive Skin • Spearmint Scythe • Volu Staff • Danaus Sword and Shield • Tarock Thrown Blade • Tecton Sparring • Teng Dagger • Thanatos Scythe • Verta Warfan |
| Companion | Carabus Dethcube • Drahk Kubrow • Metus Helminth Charger • Moonless Kavat • Underbrush Kubrow |
Warframe Cosmetics • Weapon Cosmetics • Sentinel Cosmetics • Kubrow Cosmetics • Kavat Cosmetics