"It's taking longer than I calculated."

This page is actively being worked on and may not be completely correct. Please assist in making this page accurate.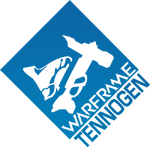 TennoGen is a collection of community created content that are selected by Digital Extremes and subsequently implemented in the Market. Revenue generated from the Market will then be split between Digital Extremes and the creator.
Steam Workshop
Main article: Warframe TennoGen
The Warframe's Steam Workshop is a Steam library of community created items, where players can vote and discuss about prospective items to be implemented in game. Creations must be submitted via the official Steam tool Warframe TennoGen. TennoGen skins are purchased in the Market using conventional currencies via Steam.
Warframe Skins
Weapon Skins
Liset Skins
Syandanas
Bundles
Bundles and their bundled items can be purchased in the Market using
Platinum.
Notes
Because any finances generated from these cosmetics are split between the creators of said cosmetics and the developers, players cannot buy these cosmetics using gifted Platinum.