Stance Mods are special mods exclusive to Melee weapons that provide bonuses and additional attack capabilities.
Similar to Aura mods, Stances can be slotted into a special Stance slot on melee weapons, and they increase a weapon's mod capacity. Stance mods with a matching polarity to the stance slot will double their mod capacity bonus, while non-matching polarities will have reduced capacity bonus. Leveling up Stance mods increases the amount of additional mod capacity they provide, as well as unlocks additional Melee Combos for use.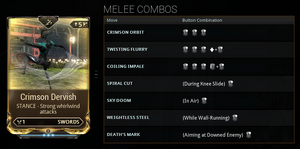 When equipped, Stances change a melee weapon's animation set and unlocks the ability to perform Melee Combos that initiate different attack patterns with the weapon. Many Melee Combos allow weapons to perform attacks they are incapable of doing without Stances, like giving single-target melee weapons like the
 Skana the ability to hit multiple enemies. They may also enhance a melee weapon's attacks with special effects, from increasing the weapon's damage per hit, to forcing Status Effect procs (i.e. 100% chance for a specific proc, like

 Slash), and enhancing mobility via lunges and jumps. Melee Combos are available when a melee weapon is drawn (holding F ) and can also be performed via Quick Melee attacks when using a Primary or Secondary weapon.
Melee combos are initiated by inputting different inputs of the Melee key (PC default E , see also Key Bindings) and various other keys, for example

  + E 

  + E 

  + E , where the E  key is tapped three times in succession, whiling holding down the

  key. As of Update 26.0 (2019-10-31), players can flawlessly switch between combos by changing the modifier key (i.e. forward

  or block key RMB ) during a particular combo.
An equipped Stance's Melee Combo list can be seen on the "Melee Combo" button underneath the weapon's Stance Slot in the Arsenal, or in "Melee Combos" under Options while in a mission. Many Stances have a single basic combo consisting of simply pressing the Melee Key E  in sequence, and 1-3 more advanced combos requiring multiple inputs from different keys.
Combo Type
Input
General Description
Stance Specific
Neutral
Melee button only
For single target elimination through hard hitting attacks. Last attack may have a Knockdown or stagger effect in the case an enemy doesn't die during the flurry of hits.
Forward
Forward + Melee
Has attacks that don't interrupt forward movement. Attacks loop seamlessly.
Tactical
(Neutral Tactical; Block)
Block/Aim + Melee
Hard hitting attacks that finish with a  

Lifted

or ragdoll effect. First attack has longer reach than others.
Forward Tactical
(Forward Block)
Forward + Block/Aim + Melee
Used to close gaps on enemies through high mobility. Beginning or end of combo may have slam effect for crowd control. Middle of combo will have sweeping attacks.
Shared Among Weapons of Same Class
Heavy
Heavy Attack button
Slow, yet strong attacks that leave the player vulnerable during wind-up time. Has two different attacks that are dependent on the direction the Warframe model is facing (left or right). Attack damage scale off of Combo counter.
Slide
Melee while sliding
Low hitting attack that hits in a 360° arc, hitting enemies that surround the player.
Aerial
Melee while jumping, Back + Melee while jumping, or Melee while Wall Dashing
Combo performed while mid-air without sacrificing movement. Players may hold in place by pressing the back button while performing this combo; this overrides the Slam Attack angle so players don't accidentally perform one.
Wall
Melee while Wall Latching
Single attack that exits the player out of wall latches.
Ground Finisher
Melee on knock-downed enemy
Lethal attack for finishing vulnerable enemies. High damage multiplier.
There are currently 54 available stances, which are divided among 24 different melee weapon types. Stances can only be used on the weapon type they are labeled for, i.e. a Sword Stance cannot be used on a Polearm, and vice versa.
The following is a comparison of all PvE stance combos in the game, including shared combos amongst those of the same melee class (e.g. heavy, slide, aerial, wall, and ground finishers).
Length is the base duration of a particular combo when melee attack speed is at 1.0
Total damage multiplier is calculated by adding up a combo's damage multipliers

It can be used to calculate a melee's average damage per second (DPS) with the following formula:
As with Aura slots, Stance slots can be repolarized using Forma to give the slot the desired polarity for a particular stance mod. This is most essential for the  

Grim Fury

and  

Homing Fang

stances, which have no matching polarities on the weapons they can be equipped on.
All Stances provide a bonus mod capacity of 5 when maxed, doubling it to 10 when placed on the matching polarity.
All stances can be acquired from weekly conclave missions.

Stances
Blade-Whip
 

Tainted Hydra

Claws
 

Scarlet Hurricane

Dagger
 

Piercing Fury

Dual Daggers
 

Biting Piranha

Dual Swords
 

Dividing Blades

Fist
 

Quaking Hand

Glaive
 

Celestial Nightfall

Hammer
 

Crashing Havoc

Heavy Blade
 

Noble Cadence

Machete
 

Rending Wind

Nikana
 

Fateful Truth

Nunchaku
 

Mafic Rain

Polearm
 

Argent Scourge

Rapier
 

Cunning Aspect

Scythe
 

Shadow Harvest

Sparring
 

Vicious Approach

Staff
 

Crashing Timber

Sword
 

Rising Steel

Sword-Shield
 

Last Herald

Tonfa
 

Star Divide

Whip
 

Lashing Coil

Special
 

Exalted Blade


 

Hysteria

Maneuvers • Melee • Melee Mods
Community content is available under
CC-BY-SA
unless otherwise noted.