ENERGY:




75




KEY


3 

Spectrorage


Trap enemies in a carousel of mirrors, forcing them to attack visions of their true selves. Destroyed mirrors damage their attackers, as does the collapse of the carousel.

Strength

:500 / 600 / 700 / 800 (mirror damage)
800 / 1000 / 1200 / 1500 (collapse damage)

Duration

:

10 / 14 / 18 / 22 s

Range

:4 / 6 / 8 / 12 (number of mirrors)
2 / 3 / 4 / 6 (collapse threshold)
4 m (charm radius)

Misc

:100 m (cast range)
50% (absorbed damage per mirror)
1 (limit of carousels)

Subsumable to Helminth
Gara summons a perpetually spinning carousel of 4 / 6 / 8 / 12 spectral mirrors at the targeted location within 100 meters. Enemies within 4 meters from the mirrors are enticed to move inside the carousel and attack a chosen mirror upon seeing their own reflections. Each mirror will break upon receiving 500 / 600 / 700 / 800 damage and release it as spectral energy back to the attacker. When 2 / 3 / 4 / 6 mirrors are broken, the carousel collapses in an explosion inflicting 800 / 1,000 / 1,200 / 1,500 damage to all enemies inside the ring. Spectrorage lasts for 10 / 14 / 18 / 22 seconds or until all mirrors break from collapse.

Mirror and collapse damage are affected by Ability Strength.
Number of mirrors, collapse threshold, and charm radius are affected by Ability Range, while cast range is not.

The carousel expands or shrinks with the total amount of mirrors spawned on cast, and the distance between the mirror line and the center is equal to the charm radius.

Duration is affected by Ability Duration.
Casting speed is affected by  

Natural Talent

and  

Speed Drift

.
The carousel rotates clockwise constantly, which causes enemies targeting specific mirrors to turn and follow them.
Mirrors have a higher Threat Level than players. Enemies within the carousel will ignore players as long as there are intact mirrors remaining.
Mirrors do not have collision and will phase through objects, walls, players, and AI.
Mirrors can path up and down terrain where elevation difference exists.

Ability Synergy: If a Spectrorage mirror shatters inside  

Splinter Storm

's radius, 50% of the mirror's damage is permanently added to Splinter Storm's damage per second until its duration expires.

Mirror damage from Spectrorage is affected by Ability Strength, while the percentage absorbed is not affected and is capped at 50%.
Absorbed damage can stack from multiple mirrors breaking inside Splinter Storm's radius.
Splinter Storms on any targets can absorb damage from Spectrorage mirrors.
Splinter Storm does not absorb damage from Spectrorage's collapse explosion.

Casting Spectrorage stops Gara's movement and other actions.
Can be recast while active. Only 1 carousel of mirrors may remain active per player.
Can be cast while in midair.
Cannot be cast without a valid horizontal surface within cast range as well as directly on or below the aiming reticle.
Spectral mirrors appear as collections of floating glass fragments that emanate energy toward the center of the carousel.

Upon breaking, the mirrors release their energy while they remain floating in motion.
Mirrors and their energy color are affected by Gara's chosen Warframe energy color.

Subsuming Gara to the Helminth will offer Spectrorage and its augments to be used by other Warframes.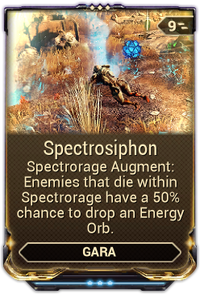 Main article: Spectrosiphon
Spectrosiphon is a Warframe Augment Mod for

 Gara's

 Spectrorage, that makes enemies that die within its influence have a chance to drop an energy orb.
| Rank | Orb drop chance | Cost |
| --- | --- | --- |
| 0 | 20% | 6 |
| 1 | 30% | 7 |
| 2 | 40% | 8 |
| 3 | 50% | 9 |
Input table not loaded. Javascript Not loaded
Result table not loaded. Javascript Not loaded
See Also
[
]