Spectra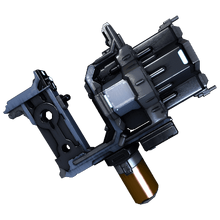 Statistics
Utility
Normal Attacks
Miscellaneous
The
Spectra
is a Corpus pistol unlockable through Energy Lab
Research
in the
dojo
. Released in Update 9, it appears to be a handheld cutting laser that (according to its description) is as effective at cutting flesh as it is at cutting metal. It is essentially a sidearm version of the
Flux Rifle
, with the focus on
| | |
| --- | --- |
| | This template is archived. The content was relevant to a previous formatting of WARFRAME Wiki. Please do not use or delete this template. It is being saved for later potential use. |

Puncture
instead of
| | |
| --- | --- |
| | This template is archived. The content was relevant to a previous formatting of WARFRAME Wiki. Please do not use or delete this template. It is being saved for later potential use. |

Slash
damage.
The Spectra's beam has a maximum length of 15 meters (compared to the Flux Rifle's 25 meters) and approximately five seconds of firing time before the cell runs dry.
This weapon can be sold for

‍5,000.
Characteristics
This weapon deals mostly
| | |
| --- | --- |
| | This template is archived. The content was relevant to a previous formatting of WARFRAME Wiki. Please do not use or delete this template. It is being saved for later potential use. |

Puncture
damage.
Advantages:
Disadvantages:
Weapon Loadouts
Main article: Category:Spectra Build
See the user build section for builds using this weapon.
Notes
Tips
Trivia
Media
See Also