ENERGY:




50




KEY


2 

Shooting Gallery


Gives an ally extra damage while jamming the guns of nearby enemies. This power shifts between team members.

Strength

:

10 / 15 / 20 / 25 % (damage bonus)

Duration

:

15 / 20 / 25 / 30 s (duration)

Range

:

10 / 12 / 14 / 16 m (target radius)

Misc

:3 (number of targets per stun)
1.5 s (stun interval)
2 (instances in coop play)

Subsumable to Helminth
Mesa releases an energy lasso that swirls around her, causing her to gain 10% / 15% / 20% / 25% weapon damage. The lasso will remain active for 15 / 20 / 25 / 30 seconds.

Damage bonus is affected by Ability Strength. For example, with a max  

Intensify

, the damage bonus will be increased to:

Damage Bonus × (1 + Ability Strength Mods) =

0.25 × 1.3 = 32.5%.
Shooting Gallery applies an increase to your weapon's damage and stacks additively with other damage mods.

For example, with a max  

Intensify

and a max  

Hornet Strike

and rank-3 Shooting Gallery,  

Lex

will inflict

130 × (1 + 2.2 + 0.25 × 1.3) = 458.25

damage.

Duration is affected by Ability Duration.
The damage bonus affects both melee and ranged weapons, despite the ability's name.

The lasso will lash out at 3 enemies within 10 / 12 / 14 / 16 meters with beams of energy every 1.5 seconds. Affected enemies will have their ranged weapons jammed and will stand in place and attempt to unjam the weapon over a short duration; melee fighters (for example most Infested, Butchers, or Prod Crewmen) will suffer a temporary stun instead.

Target radius is affected by Ability Range.
Number of targets per stun and stun interval are not affected by mods.
Can repeatedly affect enemies that recover from a previous weapon jam or stun.
Will prevent Volatile Runners from detonating.
Has no effect on flying enemies (such as Ospreys, Orokin Drones, etc).

When playing in a group, 2 instances of the buff will spawn. One will stay on Mesa for the full duration of the ability, while another will periodically transfer between all allied players within an unrestricted range, temporarily providing the affected player with all benefits of the ability.

Duration per player is calculated by the following expression: Duration = Total Duration / (Total Number of Players - 1).

Ability Synergy:  

Peacemaker

's Regulators are affected by Shooting Gallery's damage bonus.
Cannot be recast while active.
Subsuming Mesa to the Helminth will offer Shooting Gallery and its augments to be used by other Warframes.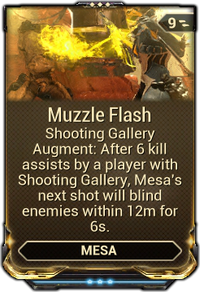 Main article: Muzzle Flash
Muzzle Flash is a Warframe Augment Mod for

 Mesa, that makes
 Shooting Gallery emit a flash that blinds enemies around Mesa when an ally buffed with Shooting Gallery assists in 6 kills.
| Rank | Radius | Duration | Cost |
| --- | --- | --- | --- |
| 0 | 6m | 3s | 6 |
| 1 | 8m | 4s | 7 |
| 2 | 10m | 5s | 8 |
| 3 | 12m | 6s | 9 |
Input table not loaded. Javascript Not loaded
Result table not loaded. Javascript Not loaded
See Also
[
]