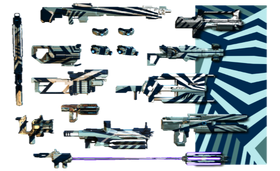 The Shock Camo Pack can be purchased for

‍260 includes the following skins:
The total cost of purchasing these items individually would normally be ‍325. Purchasing the bundle would remove ‍65 from the total cost – an approximate savings of 20%.
The Prisma Tetra's magazines are unaffected by its Shock Camo skin.
Despite their description, these skins are purely cosmetic, and will not affect an enemy's "optical processing".
Patch History
Edit
Hotfix 17.1.1
Reverted the previous change regarding the Prisma Tetra.
Fixed the Shock Camo skin not being able to entirely cover the Prisma Tetra.
Shock Camo now works on the Secura Dual Cestras.
Fixed an issue with Shock Camo pack skins not properly utilizing custom Energy colors.
Fixed issue with Shock Camo skin not working on Snipetron Vandal.
Community content is available under
CC-BY-SA
unless otherwise noted.