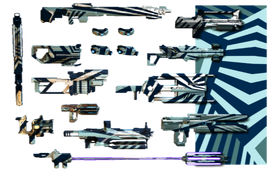 The Shock Camo Pack can be purchased for 260 Platinum

 260 includes the following skins:
Notes
[
]
The total cost of purchasing these items individually would normally be  325. Purchasing the bundle would remove  65 from the total cost – an approximate savings of 20%.
The  

Prisma Tetra

's magazines are unaffected by its Shock Camo skin.
Despite their description, these skins are purely cosmetic, and will not affect an enemy's "optical processing".
Trivia
[
]
Patch History
[
]
Hotfix 17.1.1 (2015-08-12)
Reverted the previous change regarding the Prisma Tetra.
Update 17.1 (2015-08-12)
Fixed the Shock Camo skin not being able to entirely cover the Prisma Tetra.
Hotfix 16.8.1 (2015-06-10)
Shock Camo now works on the Secura Dual Cestras.
Update 13.5 (2014-05-28)
Fixed an issue with Shock Camo pack skins not properly utilizing custom Energy colors.
Fixed issue with Shock Camo skin not working on Snipetron Vandal.
See also
[
]