Scindo Manticore Skin is an alternative skin for the Scindo. This skin increases damage at the expense of swing speed.
Damage +15% (does not affect channeling damage)
Swing Speed -5% (slower) 
This skin's blueprint can only be acquired from Alert missions.
Notes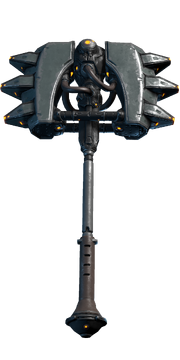 With Manticore equipped, Scindo has 115 base damage.
Stat changes apply with the skin, but changes may not be displayed in the load out menu immediately. Simply close out of the menu and return to see the updated stats.
Trivia
The Manticore Axe is the weapon of choice for Leekter of The Grustrag Three and Sprag.
Manticore Scindo is shown to be of Grineer design, as seen in the Chemical Lab's display.