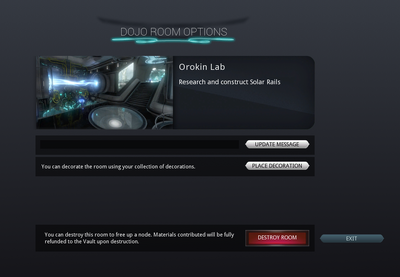 Orokin Lab is one of several research labs available in game after building the
Oracle
. This lab allows for the research and construction of Solar Rails and gives your clan the ability to start Alliance projects. This lab was added in Update 13: Dark Sectors.
Building the Orokin Lab
Edit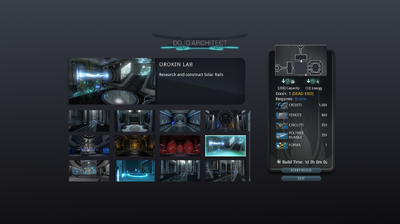 The Orokin Lab can be built as a room in the Dojo like any other room. The Dojo must have the required capacity and energy as well as an Oracle. The picture below shows what the Orokin Lab looks like in the Dojo Architect mode and what is required to build it.
Orokin Lab Researches
Edit
Item
Resources
Cost
Build Time
Clan Affinity
Requirement

Bleeding
Dragon Key
Salvage
100
1 minute
3,000
None
Void Traces
1
Credits
100

Decaying
Dragon Key
Salvage
100
1 minute
3,000
None
Void Traces
1
Credits
100

Extinguished
Dragon Key
Salvage
100
1 minute
3,000
None
Void Traces
1
Credits
100

Hobbled
Dragon Key
Salvage
100
1 minute
3,000
None
Void Traces
1
Credits
100

Solar Rail
Tower Class
Research
Alloy Plate
500
24 hours
5,000
None
Circuits
600
Ferrite
750
Forma
1
Credits
10,000

Vapor Specter
Regiment
Salvage
5,000
72 hours
3,000
None
Nano Spores
5,000
Ferrite
5,000
Forma
1
Credits
10,000

Phase Specter
Regiment
Alloy Plate
500
72 hours
3,000

Vapor Specter
Regiment
Circuits
600
Nano Spores
7,500
Argon Crystal
1
Credits
10,000

Force Specter
Regiment
Alloy Plate
500
72 hours
3,000

Phase Specter
Regiment
Circuits
600
Ferrite
750
Forma
1
Credits
15,000

Cosmic Specter
Regiment
Alloy Plate
500
72 hours
3,000

Force Specter
Regiment
Nano Spores
6,000
Polymer Bundle
750
Argon Crystal
1
Credits
20,000