"It's taking longer than I calculated."

This page is actively being worked on and may not be completely correct. Please assist in making this page accurate.
Research is the process of using materials to create interesting and unique weapons and items within the Clan Dojo. The Oracle Room must be built before any of the labs can be built and research can begin. Each lab room represents a separate area of research for different types of weapons and items. All projects will take 36-72 hours to research, as no project can be rushed for platinum. Once research is complete, Tenno will be able to purchase the Blueprints from the Respective Lab.
Research costs will vary, depending on the clan tier. Ghost, Shadow, Storm, Mountain, and Moon clans must contribute amounts scaled to their membership caps. Note that this is not always the case for some researches and may differ. Resources below are the lowest denomination, as seen in Ghost clans. For bigger clans, follow these multipliers:
"It's taking longer than I calculated."

This page is actively being worked on and may not be completely correct. Please assist in making this page accurate.

This needs to be recalculated with Dry Dock components research resources and new 100x restores research resources from 27.2 (Warframe Revised). Perhaps also with Masseter.
The total research costs for a new Ghost Clan. For bigger clans multiply as stated above. alternatively you can use this spreadsheet to calculate what is needed
| Resource | Cost |
| --- | --- |
| Alloy Plate | 93,460 |
| Antiserum Injector Fragment | 600 |
| Argon Crystal | 1 |
| Atmo Systems | 1 |
| Axidrol Alloy | 16 |
| Circuits | 14100 |
| Control Module | 53 |
| Crisma Toroid | 1 |
| Cryotic | 40,850 |
| Detonite Ampule | 3,495 |
| Detonite Injector | 14 |
| Ferrite | 191,350 |
| Fieldron | 14 |
| Fieldron Sample | 3,316 |
| Gallium | 79 |
| Gorgaricus Spore | 5 |
| Gyromag Systems | 1 |
| Kuva | 400 |
| Morphics | 66 |
| Mutagen Mass | 14 |
| Mutagen Sample | 5,565 |
| Mytocardia Spore | 5 |
| Nano Spores | 160,800 |
| Recaster Neural Relay | 1 |
| Neural Sensors | 9 |
| Neurodes | 130 |
| Nitain Extract | 18 |
| Orokin Cell | 4 |
| Oxium | 20010 |
| Plastids | 60,240 |
| Polymer Bundle | 141,800 |
| Repeller Systems | 1 |
| Eye-Eye Rotoblade | 1 |
| Rubedo | 39,542 |
| Salvage | 161,860 |
| Synthula | 12 |
| Tellurium | 27 |
| Kriller Thermal Laser | 1 |
| Thermal Sludge | 10 |
| Travocyte Alloy | 16 |
| Venerdo Alloy | 10 |
| Vitus Essence | 1 |
| Credits | 1,497,400 |
The picture below shows the minimal setup to have all the buildings required for all the research possible as of Update 19. It still allows you to expand in the future, however if you only want a clan dojo for research this setup will cost you the least amount of resources.
The order to build should be:
Bottom cross connector
One reactor
Top cross connector
Oracle
Labs and cross connectors, when you run out of energy build the second reactor until you end up with the setup below.
The order of the labs is flexible, you can for instance switch between the Tenno Lab and Energy lab. It is also possible to first build the reactors and cross connectors and place the oracle at the top instead of one of the labs, which allows one more lab to be closer to the clan hall and the oracle to be further away.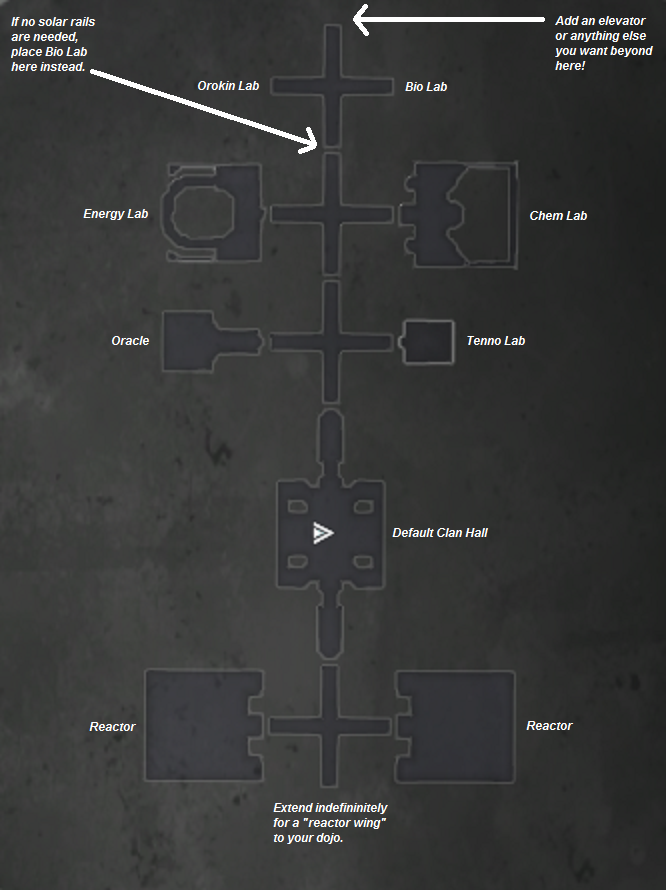 To setup the ability to research all projects you need the following:
Research is not lost when destroying a lab, and researched items will still be unlocked upon re-making the lab.
Each Lab has holograms or models of its respective faction's weapons except the Chemical lab contains the  Acrid.
Research 6 backdrops in the Tenno Lab at the new Chromatic Research Console. Once Research is complete, you can change the Open Space backdrop from the room console!

Ceres Backdrop
Deimos Backdrop
Earth Backdrop
Saturn Backdrop
Venus Backdrop
Void Backdrop

Removed the Construct Solar Rail and Research Solar Rail consoles from the Orokin Lab. This also removes the Solar Rail pop-ups! Dragon Key research remains.

Years ago Solar Rails were retired in Update 16, but these consoles remained in the Orokin Lab. They are now also being officially retired as requested!

Completed Researched Dojo items will also be indicated as such with the 'Researched' icon in the backdrop.
Completed Research tracking for the Orokin Lab and Chem Lab now aligns with available recipes.

For example: The Ignis Wraith will now be hidden from Clan stats if the research is not complete, as per player feedback.

Dojo Research UI Pass:

Item prerequisites now appear in the hover popup.

The UI will also display if the prerequisite item has been researched yet or not.

Research now shows Research Requirements in the first on hover tab instead of Crafting Requirements until research has been completed.

Crafting Requirements appear in the second tab on unresearched items.

"Awaiting Funds" state now has its own icon so you can tell at a glance the difference between something being researched and something still requiring contributions.
"In Progress" state now shows updating time in hover popup.
Newly researched items show as "New" for 2 weeks in the hover popup.
Fixed cases of inability to advance Dojo Research. As reported here!
Fixed longer Research names going off screen in Clan Research Labs.
Fixed '100x Resource' icons appearing squished in Clan Research Labs.
Clan Research items now show if they've already been crafted and how many have been crafted.
Added a checkmark for prerequisite Dojo Research preview and completed material requirements.