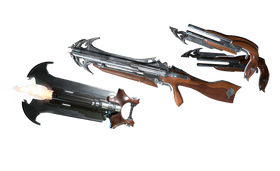 The Razor Gunplay Bundle can be purchased for

‍450 from the Market. This bundle includes the following items, with individual prices listed below:
Included weapons will each come preinstalled with their own inventory slots and Orokin Catalyst.
Despite the fact the Tigris, Redeemer, and Akjagara having their own mastery requirements, the bundle itself does not, meaning a player of any mastery rank can purchase the bundle and bypass those restrictions.
Patch History
Edit