For the event this mission was introduced with, see Operation: Rathuum.
Rathuum is a Grineer Arena mission hosted by Kela De Thaym on Sedna which pits Tenno against Kela's Executioners to earn the Judgement Points necessary to face Kela herself.
Mechanics
[
]
The goal of Rathuum is for one team to earn 25 points before the other team. 1 point is gained per kill.
Health Orbs, Energy Orbs, and Ammo are only available at preset dispenser locations throughout the arena, spawning periodically. Companions and Gear cannot be brought into Rathuum, though Warframe weapons, abilities, and mods will still function normally. Players have infinite lives, and will auto-respawn after 5 seconds of being killed or falling out of bounds.
Modifiers
[
]
Each Rathuum fight includes one of the following random modifiers, all of which either hurt the Tenno or help the Executioners:
Modifier
Effect
Half Energy
Players' maximum energy reserves are reduced by 50%, after taking mods into account.
Half Health
Players' maximum health is reduced by 50%, after taking mods into account.
Half Shields
Players' maximum shields is reduced by 50%, after taking mods into account.
Health Drain
Players will lose 100 points of health every 5 seconds, until they are at 1 health. Killing an enemy will instantly restore the player's health to full.
Low Gravity
Gravity is reduced, affecting all airborne Maneuvers.
Quick Respawn
Enemies and Players will respawn in 2 seconds, as opposed to 8 seconds.
Reduced Ability Duration
Players' Ability Duration is significantly reduced to 25%.
Reinforcements
Increased number of Executioners in battle.
Scaling Enemies
The levels of the Enemies go up each time they are killed, increasing their durability and damage.
Speed Boost
The sprint speed of the Players is significantly increased.
Tougher Enemies
Enemies' health and armor are increased by 50% on <60 levels and 100% on >60 levels
The Executioners
[
]
Main article: Executioner
The Executioners are the players' key enemies in Arena. Regardless of Squad size, the Executioners will always outnumber the players by one member.
Each Executioner has their own set of tactics and equipment, whether it is Gorth soaking up damage or Olka Harkonar providing long-range support. Thus, players must be aware of who they're facing to maximize their kills while minimizing casualties.
Main article: Executioner/Dhurnam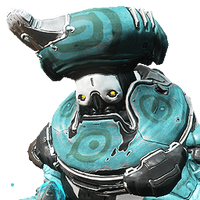 Main article: Executioner/Dok Thul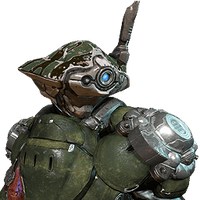 Main article: Executioner/Garesh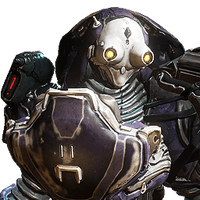 Main article: Executioner/Gorth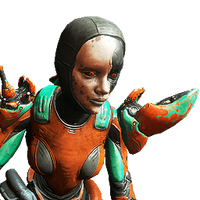 Main article: Executioner/Harkonar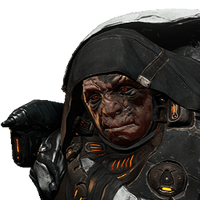 Main article: Executioner/Nok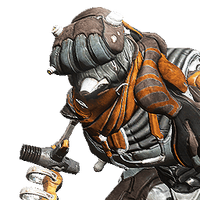 Main article: Executioner/Reth
Main article: Executioner/Vay Molta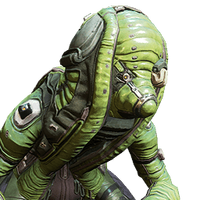 Main article: Executioner/Zura
Locations
[
]
There are three Rathuum nodes on Sedna. Higher level nodes award more Judgement Points on successful completion, but also require a minimum number of Judgement Points to enter. If a mission requires Judgement Points to enter, all players in the squad must meet the requirement.
| Node | Level | Points to Enter | Points Won |
| --- | --- | --- | --- |
| Nakki | 40 | 0 | 10 |
| Yam | 60 | 10 | 15 |
| Vodyanoi | 85 | 15 | 25 |
Judgement Points cannot be lost in the arena. The only way to lose Judgement Points is to successfully defeat Kela De Thaym. Entering Merrow, Sedna to fight Kela requires 25 points, and upon completion of the mission, all players in the squad will lose 12 Judgement Points.
Rewards
[
]
Upon completion of a Rathuum mission, the players will receive a reward depending on the node completed. Most of the time the reward will be either a Credit Cache or Endo, but on rare occasions players can receive a rare mod or a Forma Blueprint instead.
Maps
[
]
Notes
[
]
Rathuum was introduced to the game during the Operation: Rathuum event.

Although the Event contained an Endurance variant of Rathuum, that node is no longer available since the event ended.

Vodyanoi during The Steel Path gives the highest non-endless level enemies in the game at level 185.
A special version of Rathuum with unique rules is hosted by Kela De Thaym in the recurring Dog Days event.
Tips
[
]
Many Executioners regularly drop Endo, making Rathuum a decent place for sufficiently powerful players to quickly farm Endo.
All Executioners are vulnerable to finisher attacks from  

Ash

's  

Fatal Teleport

augment.
 

Garuda

infused with  

Gloom

will trivialize the Rathuum nodes even with Steel Path modifications, as she can quickly set up the aura using  

Bloodletting

to both slow the Executioners down and replenish lost health by slicing them in melee, in turn sustaining Gloom further by periodically reusing Bloodletting.

Using  

Seeking Talons

will further hasten the process due to the forced  

Slash

procs dealing  

True

damage on the already vulnerable Executioners.
Patch History
[
]
Fixed Nightwave Menu creating unintended endless mission in Rathuum.
Fixed missing Kela De Thaym VO when entering the Rathuum arena.
Fixed rising through the floor when entering the Rathuum arena.
Fixed a script error when dying in Rathuum.
Fixed Rathuum Arena scoreboard opening FX spamming constantly once opened.
Fixed Executioner Harkonar decoy counting as a kill in the Rathuum Arena.
Fixed a number of script errors that could occur if you died during an in-world transmission in Rathuum.
Fixed a script error that could occur after a Host migration of a mission with in-world transmission screens (Rathuum).
Fixed a number of script errors that would occur if you died during an in-world transmission like the ones seen on screen in Rathuum, etc.
Fixed Rathuum not tracking kills done by Umbra or spawned allies (Equinox Duality, etc) when the player is in Operator mode.
Fixed Revenant's Enthralled enemies not counting towards kills in Rathuum.
Arenas

Added a Level 85 Arena to Sedna – Vodyanoi

Executioners have received 50-100% more health and 50% more armour.
Executioners have a 15% chance to drop an Uncommon Fusion Core and a 5% chance to drop a Rare Fusion Core.

Added new Modifier – Reinforcements:

Adds additional Executioners to the fight (Level 20 = 1 extra, Level 40 = 2 extra, Level 60 = 3 extra, Level 85 = 4 extra).
Executioners

Executioner Dhurnam added to Level 60 and Level 85 Arenas.

Dhurnam wields Dual Heks and a Brokk, throws flashbang grenades and can Switch Teleport.
When you drop him down to 25% Health he goes into a frenzy and jogs much faster. 

Executioner Harkonar has been equipped with a modified Buzlok that fires a single high-powered bullet, but emits a laser sight before firing to give players a chance to dodge or move out of LoS.
Rewards

Silent Battery is a new uncommon shotgun Mod that may drop from Executioner Dhurnam.
See Also
[
]