NPC Crew members can be hired to serve the player's Railjack if they do not have a full player squad. They are unlocked at Intrinsics Command Rank 1.
The host's crew is used in missions. If players queue into the squad, they will replace the NPC crew, starting with the one in slot C, then B, then A.
How To Hire
[
]
There are two ways of obtaining crew members:
Hiring Syndicate operatives from Ticker in Fortuna using credits or Railjack resources. The price can be halved or doubled based on the player's standing (allied or opposed respectively) with the NPC's Syndicate.
Converted Kuva Liches and Sisters of Parvos can be used as crew members at Command Rank 8.
Players start with 3 crew member slots and additional slots can be purchased with 20 Platinum

 20 up to a maximum of 33 crew member slots. Alternatively, players can end their contracts with their crew to free up slots, which will prompt the player to type RELEASE to confirm.
Interface
[
]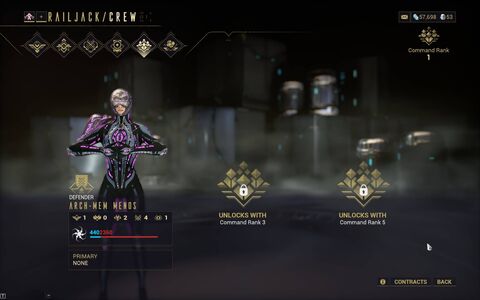 Players can access their Railjack crew via the Dry Dock in Tier 2 or 3 Relays or the Clan Dojo, or while browsing Ticker's wares and selecting "Contracts". Here they can switch out and dismiss crew members, assign competency points, change appearances, swap weapons, and view contract duration (counts up from hire date).
Mechanics
[
]
Roles
[
]
Up to three crew members can join a Railjack squad and can be assigned roles which affects their behavior priorities:
Defender: Defends the Railjack against enemy raiders
Pilot: Takes control of the Railjack
Gunner: Operates a Swivel Turret against enemy attackers
Engineer: Repairs the Railjack
Roles can be changed mid-mission via the Tactical Menu, but will revert to their original role once the mission is completed.
Converted Kuva Liches and Sisters of Parvos are restricted to the Defender role.
Competency Points
[
]
There are five competencies which affect the performance of each crew member, each of which has five ranks. Crew members initially have 8, 10 or 12 points randomly distributed between these competencies, depending on if they were hired with credits (8 points), Railjack resources (10 points), or if they are an Elite Crewmate (12 points).
Piloting: Determines maximum Railjack speed when crewmate is piloting. +0 / 5 / 10 / 15 / 20 / 25% Speed.
Gunnery: Determines accuracy and heat accretion when crewmate mans the Railjack swivel turrets. -0 / 10 / 20 / 30 / 40 / 50% Heat Accretion and +15 / 30 / 45 / 60 / 75% Accuracy. Does not apply to on-board combat.
Repair: Determines crewmate's Railjack repair and self-healing times. +0 / 10 / 20 / 30 / 40 / 50% Repair Efficiency and +0 / 2 / 4 / 6 / 8 / 10% Heal Rate.
Combat: Determines crewmate's combat damage against enemy raiders (no effect on enemy ships). +0 / 40 / 80 / 120 / 160 / 200% Damage. Damage is additive with other damage mods.
Endurance: Determines crewmate's Health and Shield ratings. +0 / 300 / 600 / 900 / 1200 / 1500 Health and +0 / 100 / 200 / 300 / 400 / 500 Shields.
As players increase their Command Instrinsics rank, they can earn up to three additional competency points per crew member which can be applied by clicking the TRAIN  button.
Intrinsics Command
[
]
Higher ranks of the Intrinsics Command allow for additional bonuses:
Rank 2/4/6: Gain 1 Competency Point to assign to crew's stats.
Rank 3/5: Unlocks 2nd and 3rd Crew slots.
Rank 7: Allows reassigning distributed Competency Points.
Rank 8: Allows converted Kuva Liches and Sisters of Parvos to be crew members. They cannot be given another weapon, cannot operate Railjack systems, do not have Competency Points, and can only be given the Defender role, but have significantly higher health and shields than maxed Endurance crew members.
Rank 9: Allows assigning On Call status for one crew member and grants the player the On Call Crew Gear item to summon the assigned crew member temporarily in non-Railjack missions for 3 minutes. The gear item has infinite uses with a 10 minute cooldown.
Rank 10: Elite crew members become available for recruitment from Ticker. They have the highest amount of initial Competency Points, at 12, and a random trait.
Plexus
[
]
Each crew member will use a copy of the player's Plexus Integrated loadout, including the Plexus Aura mod. However, crew will not use Battle or Tactical abilities.
Randomized Stats
[
]
Health and shield stats of crew members are randomized within a set range. Higher ranks of Kuva Liches and Sisters of Parvos will have higher health and shield stats.
Currently, all Syndicates seem to have a set health range of 2000-3000, and a set shield range of 200-700. These values are not taking the Endurance stat into account.
Elite Crew Trait
[
]
Elite Crewmates have a random trait based on which of their Competencies have the most points.
Competency
Bonus
Piloting
+25% speed for Vidar/Lavan/Zetki engines
Gunnery
+50% damage for Vidar/Lavan/Zetki turrets
Repair
Gain 50% Movement Speed for 10 seconds after repairing
Repair
Heal all teammates for 1000 Health when this crew member drops below 30% Health (Cooldown: 5 min)
Combat
Increase Critical Damage by 300% while Health is below 50%
Combat
+150% Critical Chance bonus with Rifles/Pistols (stacks additively with mods like  

Point Strike

)
Endurance
Activates a protective shield when taking near lethal damage (60 second cooldown)
Endurance
Killing an enemy heals all nearby allies by 500 over 10 seconds
Customization
[
]
Syndicate crew members can be given one copy of the player's owned rifle, shotgun, or secondary weapon (but not spearguns, bows, thrown, or arm-cannons) which uses the weapon's current mod configuration. Mods with conditional player-exclusive actions (e.g. aiming with
 Argon Scope or casting abilities) will have no effect. Riven Mods will take effect during Empyrean missions, but are not applied when summoned using the On Call Crew gear item.
Players can also change the crew's suit color, attach armor cosmetics and Syandanas, and the appearance of their equipped weapon.
Types
[
]
Flavor Text
[
]
The flavor text for crew members is created using a combination of three different sentences to form the full flavor text. Below are multiple examples of some possible outcomes.
Steel Meridian
Arbiters of Hexis
Cephalon Suda
The Perrin Sequence
Red Veil
New Loka
Randomized Names
[
]
Crew members names are randomly generated based on pre-defined prefixes and syntactic rules.
| Syndicate | Possible Prefixes |
| --- | --- |
| Steel Meridian | |
| Arbiters of Hexis | Strategist, Probate, Scholar, Vigilant, Centurion, Venator, Adept, Arbiter, Armsman, Seneschal |
| Cephalon Suda | Arch-Mem, Disp-Arch, Surv-Tel, Expi-Dyna, Log-Rec, Seek-Loc, Res-Arc, Cura-Phano, Pion-Rec, Inves-Resp, Ult-Pho |
| Red Veil | |
| The Perrin Sequence | |
| New Loka | |
| Syndicate | Sample Names |
| --- | --- |
| Steel Meridian | Burr Gahgijo, Pen'ki Hahkk, Xixogg Krzz, Lolix Roo, Zaa Hikk |
| Arbiters of Hexis | Vigilant Akec, Centurion Facie |
| Cephalon Suda | Disp-Arch Fau, Arch-Mem Raelekh, Arch-Mem Kuvak, Surv-Tel Lorithekh |
| Red Veil | Sevaraveri, Set, Kai |
| The Perrin Sequence | Erro Frenka, Magg Udo, Galla Feto |
| New Loka | Duirynells, Bhepp, Ellavanar, Brightsong |
Notes
[
]
Crews from Steel Meridian, the Perrin Sequence and New Loka may or may not have masks covering their mouths, altering their voices in the process. Cephalon Suda crews never wear masks, and Arbiters of Hexis and Red Veil crews will always wear masks.
Syndicate Crews can experience bleedout. However, Converted Liches and Sisters do not, making them unrevivable in missions.
Syndicate Crews can revive players or other crew from bleedout.
Syndicate Crews have innate health regeneration. Converted Liches and Sisters however, do not.
Syndicate Crews and Converted Liches/Sisters cannot be healed with  

Squad Renew

and  

Form Up

.
When crew members are replaced by joining players, if a player leaves mid-mission or the host experiences internet connection loss, the replaced crew will reappear in the mission.
Engineers, while effective in automatically repairing hazards, notably take longer to do so than players.
Pilots will hold position if a player charges the Forward Artillery or enters the Archwing Slingshot.
Pilots will maneuver and destroy objectives that require outside assistance, such as Grineer point of interest external radiators.
While non-Defenders may combat boarding parties, they will always prioritize their primary directives before defending themselves: Pilots will never leave the pilot seat (unless a Player takes over), Gunners will only exit the turrets when not attacking enemy fighters, and Engineers will only engage in combat after fixing all hazards.
Tips
[
]
Crew members are replaced in the following order when other players join your mission: Slot 3, Slot 2, Slot 1. As such, when playing with others having crew with a relatively even spread between Gunnery, Repair, and/or Endurance can allow mid-mission reassigning easier. You may wish to use the first crew slot for a high priority role, such as your Engineer.
Gunners and Engineers with a high Combat and/or Endurance stat can replace a dedicated Defender.
Converted Sisters will revive downed crew members and players, while Converted Liches can only revived players. While not their first priority they will detect downed crew and attempt to reach them eventually, and instantly revive them when they get near. Sisters with  

Renewal

have no effect currently however, as the ability does not heal at all due to it being bugged.
Trivia
[
]
Crewmember's idle animation changes depending on their highest stat.
New Loka crew members make idle chatter that is frequently religious in nature, such as prayers for good food free of rot and good health, and a notable disdain for Cephalon Cy.
Perrin Sequence crew members make idle chatter related to money, exploration, and they usually seem to be a bit more cheerful yet nervous.
Steel Meridian crew members make idle chatter about admitting to eating other clones as a necessity, making threats by the Worm about turning members into "Slurry" likely fact rather than a scare tactic, making cannibalism possibly common among Grineer.

Similarly, Red Veil crewmembers will mention cannibalism as a form of punishment for others, and brag about being carnivorous.

Syndicate crew members share the same gender with their Syndicate leaders.