ENERGY




25




KEY


1 

Quiver


Cycle through and shoot one of four tactical arrows: Cloak, Dashwire, Noise and Sleep. In the Conclave, use the Null-Shield and Slow Arrows.

Strength

:

N/A

Duration

:12 s (bubble duration)
10 s (sleep duration)

Range

:2.5 m (bubble radius)
20 m (noise radius)
6 m (sleep radius)

Misc

:3 (max bubbles)
4 (max ziplines)
100 m (zipline range)
50% (sleep health threshold)
Ivara launches one of her variety of specialized arrows that performs a different ability depending on the selected arrow type. Quiver cycles between arrow types upon tapping the ability key (default

1

 ), while holding down the key and releasing launches the selected arrow. Up to four different arrow types are unlocked as the ability increases in rank, listed below:
A special cyclic display located above Ivara's weapon stats in the HUD will show the currently equipped arrow type along with a charge meter that displays the charge state of Quiver before firing. If using Cloak Arrows or Sleep Arrows, the display will also show a countdown timer for the arrow's active duration.

Cloak Arrow cycles to display a barbed purple arrowhead, Dashwire Arrow cycles to display a yellow diamond-shaped arrowhead, Noise Arrow cycles to display a semicircular red arrowhead, and Sleep Arrow cycles to display a crescent-shaped blue arrowhead.

Quiver's arrows do not inflict damage upon impact.
Quiver only consumes energy upon launching an arrow; switching arrowheads will not consume energy.
Quiver's arrows are considered as projectiles and can be controlled using Navigator.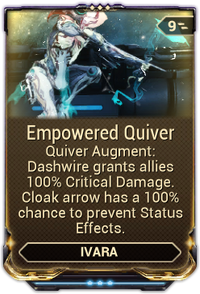 Main article: Empowered Quiver
Empowered Quiver is a Warframe Augment Mod for

Ivara that improves

Quiver's Dashwire Arrow and Cloak Arrow. Dashwire Arrow grants critical damage to allies standing on the wire, while Cloak Arrow grants a chance to resist status effects.  Both effects scale with power strength.
| Rank | Critical Damage Bonus | Status Resistance Chance | Cost |
| --- | --- | --- | --- |
| 0 | 75% | 50% | 6 |
| 1 | 80% | 65% | 7 |
| 2 | 90% | 80% | 8 |
| 3 | 100% | 100% | 9 |
Input table not loaded. Javascript Not loaded
Result table not loaded. Javascript Not loaded
If you are playing using a controller and use Navigator, then fire an arrow from Quiver, you will be unable to switch arrow types for the remainder of the mission and only fire even if you press

1

  when attempting to switch.
When cast on unalerted enemies, melee finisher does not grant stealth affinity bonus on kill.
Community content is available under
CC-BY-SA
unless otherwise noted.