ENERGY




25




KEY


4 

Primal Fury


Summon the Iron Staff and unleash fury.

Energy Drain: 3 s-1

Strength

:

100 / 125 / 200 / 250 (damage)

Duration

:

N/A

Range

:

2% / 5% / 10% / 20% (melee range bonus)
Wukong equips his legendary Iron Staff. Normal attacks inflict 100 / 125 / 200 / 250 damage.
Attacks have a 200% critical multiplier with a 25% critical chance and a 10% status chance.
Damage is affected by Ability Strength, the Melee Combo Counter and most mods.

As an example, with a maxed Pressure Point, Shocking Touch and Intensify, the normal attacks of a rank-3 Primal Fury will deal


Base Damage × (1 + Damage Mods) × (1 + Elemental Mods) × (1 + Strength Mods) =




250 × (1 + 1.2) × (1 + 0.9) × (1 + 0.3) = 1,358.5

damage.
The mods that affect Iron Staff include:
Melee range mods affect Primal Fury's initial reach but do not affect the radius of slam attacks.
Iron Staff can not be equipped with weapon augments (e.g., Justice Blades), class-specific mods (e.g., Covert Lethality), Melee Combo Counter Mods (except Drifting Contact), or Acolyte Mods (e.g., Blood Rush).
Riven Mods are not generated for Iron Staff.
Primal Fury's combo counter decay is affected by Power Spike.
Radial damage from slam attacks diminishes with distance, does not have a critical chance, is not affected by the Melee Combo Counter, and will stagger enemies within range.
Ground finishers inflict 300% of the total modified damage from normal attacks. Prompted Finishers inflict 2400% of the total modified damage from normal attacks as

True

damage.

The damage composition of a ground finisher is the same as a modified normal attack.
The finisher multipliers for both attacks are affected by Finishing Touch.

Each attack adds to the Melee Combo Counter; however, radial damage from slam attacks does not.

Melee range bonus is affected by Ability Range and the Melee Combo Counter. The melee range bonus stacks additively with melee range mods.

The range bonus is calculated using the following formula:


Range Bonus = 1 + 0.2 × (1 + Range Mods) × (Combo Counter Rank - 1) + Melee Range Mods

Wukong is unable to use any other weapon while Primal Fury is active but can use all other abilities.
Primal Fury is affected by and can trigger Warframe and Exodia Arcanes.
Primal Fury drains 3 energy per second while active and will remain active until Wukong's energy is depleted, or the ability is deactivated by pressing the ability key again.
While Primal Fury is active, blocking will reduce incoming frontal damage by 60%.
Primal Fury comes installed with its own unique stance. Additional combos will be unlocked as Primal Fury increases in rank.
The ends of Iron Staff have portions made out of energy.

These portions are affected by Wukong's energy color.
With the range bonus active, these portions are elongated.

Primal Fury's attacks can damage enemies across the Rift Plane.
Main article: Iron Staff
Iron Staff is Wukong's signature Exalted Weapon that can only be used upon activating the ability Primal Fury.
Main article: Primal Fury (Stance)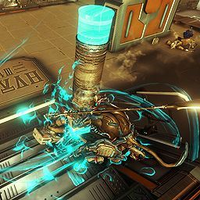 Main article: Primal Rage
Primal Rage is a Warframe Augment Mod for Wukong that increases the critical chance of Primal Fury with every kill, up to a maximum of 100%. The additional critical chance gradually falls off every second.
It is preferable to use Steel Charge over Growing Power when modding for pure damage as the former adds more damage to Primal Fury than the latter.
Maximization is a form of specialization: mods may be blended to result in values that vary between the top-end limits listed here. Click any maximized link to learn how to build it.