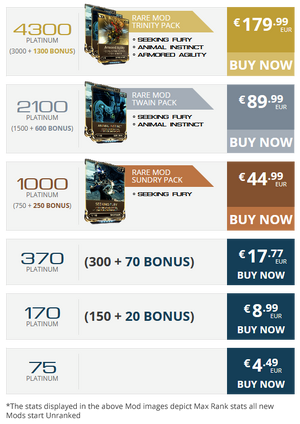 Platinum Platinum

  is the in-game currency which can be bought with real world currency or by trading with other players. When bought with real world currency - it comes in packs of various quantities and they can be purchased on the Official Warframe Website (requires login).
It can be used to make purchases from the Market, rush crafting in the Foundry and to rename player's character, Clan, and Companions. It can also be used to pay other fellow players when trading with them for Prime parts, Mods and other tradeable items.
Additionally, for short periods of time, players can upgrade their account with Prime Access packages. Not only this supports the developers, but also rewards the player with hefty platinum bonuses at a much discounted price as opposed to buying platinum for cash from the market.
The game uses an optional payment system: a majority of weaponry and warframes can be earned in game (everything other than Founder-exclusive items and event, retired, or prime items). However, with Platinum, the grind to obtain weapon and warframe blueprints and their resources is circumvented by buying non-prime versions from the Market, and Prime versions from other players. A player can purchase a small selection of Weapons from the Market for
 Credits, although most weapons and Warframes are only offered via the schematic to be purchased, which can be used for crafting in the Foundry.
There are a few items that can only be obtained exclusively through Platinum: Color Palettes, various cosmetic items (including renaming), and to a large extent slots (a small and limited number of slots may be earned via Nightwave). Slots allow a player to keep multiple different weapons and warframes in order to create different loadouts. If a player has filled all of their weapon/warframe slots and would like to acquire another weapon/warframe - they will have to buy a new slot or sell one of their weapons/warframes for credits to free up a slot.
Usage
Purchase slots:
Trading between Players.
In-game Market purchases:

Premade Weapons, Warframes, Landing Craft and bundles including them.
Upgrades such as Orokin Catalysts, Orokin Reactors, Formas, Aura Formas, Exilus Warframe Adapters, Exilus Weapon Adapters.
Requiem Relic packs.
Consumables, such as Incubator Power Cores, Kavat Starter Kits, Kavat Genetic Codes.
4 types of boosters of varying duration (Mod Drop Chance Booster however cannot be purchased):
Cosmetic skins, colour palettes, decorations, animations, emotes etc.

Change the following:
Rush crafted items in Foundry, depending on item:
Acquisition
Purchase with real world currency.
Purchase any tier of Prime Access or Prime Vault, or any Exclusive Bundles that gives Platinum.
Participating and winning 1st/2nd/3rd place in Warframe contests.
Exchange from other players via trading.
Giveaways on live Devstreams on Twitch.
Giveaways by some Youtubers and/or streamers.
Promotions run by Digital Extremes (such as Twitch Prime promotions).
Prices
Bundles

| Platinum | Price (USD) | Price (EUR) | Price (JPY) |
| --- | --- | --- | --- |
| 4300 | $199.99 | €179.99 | ¥19699 |
| 2100 | $99.99 | €89.99 | ¥9899 |
| 1000 | $49.99 | €44.99 | ¥4999 |
| 370 | $19.99 | €17.77 | ¥1999 |
| 170 | $9.99 | €8.99 | ¥999 |
| 75 | $4.99 | €4.49 | ¥499 |
Notes
One Platinum is equal to 6.7 cents or 0.067 dollars (US Currency), and 5.7 pence or 0.057 pounds (UK/British currency).
Platinum can be traded (excluding the Player's starting Platinum or Platinum earned from giveaways) with other Players for any tradeable items or traded directly, with Credit taxes. This is a very popular means of gathering Platinum among the community. See the Trading page for more information.
When purchased using the Steam wallet or through the Steam client, the amount purchased will contribute toward finding a Warframe related Trading Card.

The amount fulfilled on the Trading Card drop meter is affected by discounts and will only progress the meter with the final price, which includes discounts, rather than the base price.

Excluding the starting Platinum that all Players receive upon signup, there is no way of earning platinum in the game via the normal gameplay. The player must either purchase it with real-world currency, trade certain game items with other Players for said Platinum, or if the Player is extremely lucky, obtain a fair amount of Platinum by watching Devstreams or participating in contests.
When buying items with Platinum in the Market, the game will deduct from "free" Platinum (starter Platinum or from giveaways) first before using bought/traded Platinum.
Media
Trivia
Initially discounted Platinum was available via the Founders program that ended November 1, 2013.
Patch History
Hotfix 31.5.8 (2022-05-11)
Added on-hover tooltip to Platinum in the notifications bar.
Mechanics
Currencies
 

Credits

•  

Orokin Ducats

•  

Endo

•  

Platinum

•  

Aya

•  

Regal Aya

•   Standing
General
Arsenal • Codex • Daily Tribute • Dormizone • Foundry • Market • Mastery Rank • Nightwave • Orbiter • Star Chart
Lore
Alignment • Fragments • Leverian • Quest
Factions
Corpus • Grineer • Infested • Orokin • Sentient • Syndicates • Tenno
Social
Chat • Clan • Clan Dojo • Trading
Squad
Host Migration • Inactivity Penalty • Matchmaking
Gameplay
Affinity • Buff & Debuff • Death • Damage (Status, Type Modifier, Vulnerability) • Gravity • Landscape • Maneuvers • One-Handed Action • Pickups • Tile Sets • Void Relic • Waypoint
Mission
Arbitrations • Empyrean • Sortie • Tactical Alert • The Steel Path • Void Fissure
Enemies
Bosses • Death Mark • Enemy Behavior • Eximus • Lich System (Kuva Lich, Sisters of Parvos) • Overguard
Activities
Captura • Conservation • Fishing • K-Drive Race • Ludoplex • Mining
Stealth
Hacking • Invisible • Noise Level • Threat Level
PvP
Duel • Conclave (Lunaro) • Frame Fighter
Equipment
Modding and Arcanes
Arcane Enhancements • Fusion • Mods (Flawed, Riven) • Polarization • Transmutation
Warframe
Attributes (Armor, Energy, Health, Shield, Sprint Speed) • Abilities (Augment, Helminth System, Passives, Duration, Efficiency, Range, Strength)
Weapons
Accuracy • Alternate Fire • Ammo • Attack Speed • Critical Hit • Damage Falloff • Exalted Weapon • Fire Rate • Melee • Multishot • Projectile Speed • Punch Through • Recoil • Reload • Trigger Type • Zoom
Operator
Amp • Focus (Madurai, Vazarin, Naramon, Unairu, Zenurik) • Lens
Other
Archwing • Companion • K-Drive • Necramech • Parazon • Railjack
Technical
AI Director • Dedicated Servers • Drop Tables • EE.cfg • EE.log • File Directory • HUD • Key Bindings • Material Structures • Mobile Export • Network Architecture • PBR • RNG • Settings • Stress Test • Text Icons • Warframe Arsenal Twitch Extension • World State
Audio
Mandachord • Music • Shawzin • Somachord
Mathematical
Calculating Bonuses (Additive Stacking, Multiplicative Stacking) • Damage Reduction • Enemy Level Scaling • Maximization • User Research