Ospreys are flying robotic units used by the Corpus. Relatively fragile, they provide support with buffs and debuffs instead of blunt firepower. The Ospreys' ability to hover makes them difficult to strike with melee attacks.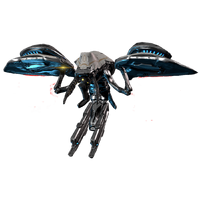 Main article: Attack Drone
Attack Drones are deployed by Fusion MOAs when they reach about 50% health, but can be avoided if you destroy the MOA during its short deploying period.
Due to their fast-firing weapon, hovering nature, and immunity to crowd control status (e.g.: ragdoll, stun), they pose a big threat.
Main article: Scavenger Drone
Scavenger Drones appear as large yellow-green Ospreys. Aside from being able to fire lasers akin to the Fusion Drone (though with less damage), these drones are able to vacuum up dropped items nearby such as ammo or materials, and then release a bright-yellow Rippling Shockwave thereafter. Destroying this Osprey will not always drop loot that was confiscated.
Community content is available under
CC-BY-SA
unless otherwise noted.