The Orokin Vaults, also known as Dragon Key Vaults and "The Golden Door" by the Ostrons[1], are special vaults found in the Orokin Derelict tileset on Deimos missions which require a unique void key to unlock, called a Dragon Key.
Unlocking the Vault
[
]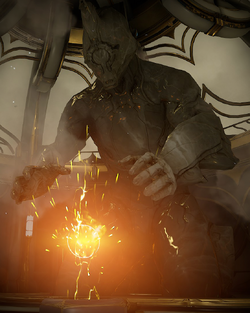 Opening an Orokin Vault requires the player have one of four Dragon Keys equipped in one of their Gear slots, and only the player that opened the vault will have their key consumed. All Deimos missions, except for Defense, Assassination, and Landscape, always contain exactly one vault, with the required key to open it being randomized.
Dragon Key Blueprints are obtained through the Clan Dojo's Orokin Lab, and are reusable. When carried in the gear, the key produces a debuff to the player's Warframe. It is possible to equip all four keys simultaneously but all their debuffs will stack. It is generally easier to play with a full squad where each Tenno carries an individual key, as certain Warframes have stats or abilities that allow them to circumvent or even negate the penalties.
Inside these vaults appears a very large, all-white, and aged

 Excalibur Prime statue that resides on the far wall with hands outstretched, between which is a Corrupted Artifact. Only one person needs to interact with the Corrupted Artifact, rewarding the entire squad with a random Corrupted Mod upon extraction. However, the player who retrieved the Artifact will receive a random Dragon Key penalty until the mission is completed, which can stack with any other existing Dragon Key(s) in tow including the debuff of the same type. Furthermore, all newly spawned enemies are replaced by the Corrupted, who will attempt to stop the Tenno from leaving with the Artifact.
Corrupted Mods
[
]
Main article: Category:Corrupted Mods
Corrupted Mods are a class of rare mods that affect one stat positively and another negatively. Those available for Warframes are characterized by extremely high bonuses outweighed by major penalties. Those available for weapons provide bonuses of a similar strength to their standard mod analogues, while still also having a penalty. Corrupted mods can be obtained from the Orokin Derelict using special Dragon Keys to unlock Orokin Vaults located within. They are untransmutable. Visually, they do not have a clearly distinguishing mark.
Corrupted mods that provide a bonus to Critical Chance (e.g.  

Critical Delay

) are a notable exception to the general pattern of nonstandard mods in that they cannot be stacked with their standard analogues.
Each Corrupted Mod has an equal chance to drop (4.3478%).
Name
Description
Polarity
Rarity
 

Blind Rage

Increases

ability strength


Reduces

ability efficiency
Rare
 

Fleeting Expertise

Increases

ability efficiency


Reduces

ability duration
Rare
 

Narrow Minded

Increases

ability duration


Reduces

ability range
Rare
 

Overextended

Increases

ability range


Reduces

ability strength
Rare
 

Transient Fortitude

Increases

ability strength


Reduces

ability duration
Rare
References
[
]
Patch History
[
]