The Orokin Script, or Tennobet, is largely based upon English but apparently also contains extra characters for certain phonemes including diphthongs ("io") and digraphs ("th" and "sh"). Consonants are diagonally slanted and are written left to right, while vowels and accents are written above. Some vowels and numbers resemble polarity symbols. There is also a thematic undertone to the letter construction reminiscent of Bushido calligraphy; the straight segments suggest power sword strokes and the arcs suggest fencing flourishes where each letter represents a lesson in movement. There are no live excerpts of the Orokin script to demonstrate how it is spoken.
There is frequent variation in both the direction of writing as well as the vertical orientation, this variation may likely be an artifact of texture placement or simply the mirroring of textures commonly used in the video game industry.
Alphabet
[
]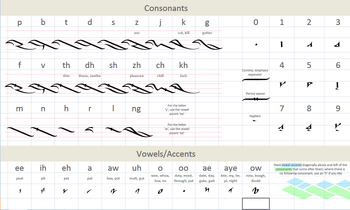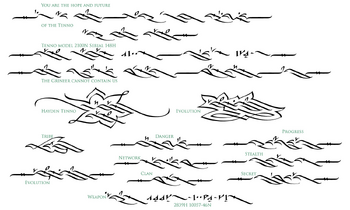 Officially referred to as the "Tennobet," the alphabet is a featural alphabet with a pattern between the shape of the letter and the sound represented, making it similar in that respect to the Korean alphabet as well as the Elvish script used by J.R.R. Tolkien. In this type of alphabet, characters become more complex as they build off of the characters of related sounds. Orokin letters are built upon a stem structure using the "M" character

as the most basic form, and a set of modifiers are attached to the stem to change it into a different letter.
Consonants and Compound Sounds
[
]
Pairs of sounds that differ from one another in only one way will typically have only one difference between the characters, such as "T"

and "TH"
(both produced right behind the teeth, but one is produced with a short burst of air while the other is produced with prolonged friction). As a result, "TH" resembles "T" with the simple addition of a small vertical stroke
in the middle of the stem. Other pairs that differ from one another, in the same way, are P

/ "F"
, "B"

/ "V"

, "D"

/ "DH"

, and "K"

/ "KH"

. Note that this pattern changes for the S

/ "SH"

, Z

/ "ZH"
, "M"

/ "N"

, and "H"

/ "L"
pairs, where the same dash does not indicate adding friction but instead indicates that the sound is produced with the tongue moved further back into the mouth. The only pair distinguished by a vertical dash that does not follow either pattern is "J"

/ "CH"

, which are different only in whether or not they feature the use of the vocal cords.
Most of the other sound pairs that are differentiated only through the use of vocal cords share a similar general shape. These include "T"

/ "D"

, "TH"
/ "DH"

, "S"

/ "Z"

, "SH"

/ "ZH"
, and "K"

/ "G"

. The pairs that seem to defy this pattern are "P"

/ "B"

and "F"
/ "V"

, suggesting that this connection is not as consistent. However, it can be noted that "K"

, "G"

, "KH"

, and "NG"
, which are all produced in the throat, also all feature a similar shape. This leaves the only consonant character without any phonetic matches to be the one representing "R"

. Also, the "W" and "Y" sounds are not included among consonants, but are instead considered to be variants of "OO"
and "EE"
respectively, and are therefore listed among the vowels.
Vowels
[
]
Vowels are smaller than consonants and placed above the consonants as though they are diacritics or accent marks. In this way, the alphabet is similar to the Arabic alphabet.
Each vowel is written based on its sound rather than how it is written in English. However, it can be noted that the sounds which are commonly associated with English letters E and I feature vertical lines ("EE"
, "IH"

, "EH"
, and "AYE"

), while those associated with the English letter A seem to favor diagonal lines ("AH"
, "AE"

, and "AW"

), and those associated with English letters O and U feature more pronounced curves ("OO"
, "OH"

, "UH"

, and "OW"
).
Character Similarities
[
]
Other interesting visual similarities between characters that are not necessarily part of the featural patterns:
Writing
[
]
All writing in the Orokin alphabet is either written in correct American English or closely written phonetically in the English language with some exceptions due to missing sounds.
Examples
[
]
Tabulated Ciphers
[
]
Matching Orokin alphabet to International Phonetic Alphabet (IPA) for English pronunciations.
Weapon Resemblance
[
]
There are several weapons of Tenno and Orokin origin that take on the look and design of several Tennobet letters, it is yet unknown as to whether or not their design resemblance has any significant value to the lore behind the weapon.
These include but are not limited to:
Known Deciphered Scripts
[
]
Weapons
[
]
Miscellaneous
[
]
Media
[
]
References
[
]
External Links
[
]
See Also
[
]