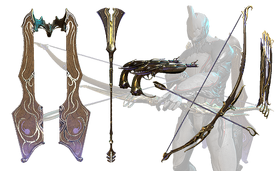 The Ormolu Skin Bundle includes the following items, with individual prices listed:
Notes
These skins can be recolored.
The Ormolu skins are the first equippable skins that add animated textures to items.
Currently the Ormolu Kyroptera Syandana is exclusive to this bundle and cannot be bought separately.
Ormolu, also known as gilded metal, is an English word that refers to the process of applying finely ground gold and mercury to a bronze object.
Kyroptera is derived from the word "Chiroptera", which refers to Order of flying mammals with webbed wings, with prominent examples of said animals being bats, befitting the syandana's description.
See Also
Community content is available under
CC-BY-SA
unless otherwise noted.