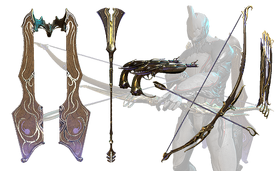 The Ormolu Skin Bundle includes the following items, with individual prices listed:
Notes
These skins can be recolored.
Currently the Ormolu Kyroptera Syandana is exclusive to this bundle and cannot be bought separately.
Trivia
Ormolu is an 18th century technique of applying finely ground gold and mercury to a bronze object, with the intent of leaving a fine coating of gold by burning off the mercury in a kiln.
Kyroptera is derived from the word Chiroptera, an order of mammals primarily consisting of bats.
See Also