Octavia Prime is available from Prime Access for a limited time.
Please click here for more information about the latest Prime Access offers on the official WARFRAME website.
Octavia Prime
Release Date: February 23rd, 2021
Octavia Prime is the Primed variant of

 Octavia, possessing higher Shields and Energy, and an additional

polarity. Octavia Prime was released alongside

 Tenora Prime and
 Pandero Prime.
Acquisition
Octavia Prime's main and component blueprints are acquired from the following Void Relics.
Octavia Prime, compared to  

Octavia

:
If Octavia Prime wields her Signature Weapons:

 

Tenora

/ 

Tenora Prime

: Headshot kills with Alternate Fire have a 20% chance to instantly refill the magazine.
 

Pandero

/ 

Pandero Prime

: Headshot kills with Alternate Fire increase reload speed by 20%.

No weak spots other than actual heads will trigger these effects.

Headshots on invulnerable enemies will still grant these effects, but not with invulnerable bosses.

Upon acquiring Octavia Prime, the player will receive Bombast Instruments for her Mandachord.
Octavia Prime, along with  

Ivara

,  

Banshee Prime

,  

Loki Prime

,  

Nova Prime

, and  

Oberon Prime

, has the second highest amount of energy (175/262), with  

Chroma Prime

,  

Volt Prime

,  

Saryn Prime

,  

Ivara Prime

,  

Baruuk

, and  

Wisp

having the highest (200/300).
As a Prime Warframe, Octavia Prime possesses a special passive ability where contact with an Orokin Void Death Orb will release an energy pulse that grants 250 Energy to all nearby allies. This effect can only occur once per Death Orb, and can occur even if the Death Orb has been previously destroyed.
Octavia Prime is the third Primed Warframe to have Signature Weapons, after  

Atlas Prime

and  

Banshee Prime

.
Octavia Prime is the seventh Primed Warframe whose non-primed variant was unlockable through a quest (Octavia's Anthem), after  

Inaros

,  

Titania

,  

Atlas

,  

Mirage

,  

Limbo

and  

Chroma

.
Octavia Prime's Mandachords on both arms are elongated, unlike those of her non-Primed counterpart, which are perfect semicircles. This does not affect the Mandachord screen in the Arsenal.
Octavia Prime has Prime Details, which are jiggling pieces of cloth on her rear. However, they cannot be toggled off when changing her Skin to the Octavia skin.
In the Prime trailer, Octavia Prime's helmet & Mandachord Energy flashes in sync with her Resonator. This seems to be for a cinematic purpose only as it is not the case in the game.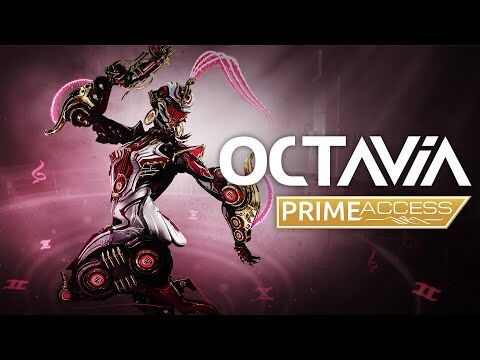 Community content is available under
CC-BY-SA
unless otherwise noted.