Release Date: December 22nd, 2016
Epitome of the endlessly evolving Infestation, Nidus bends the vile corruption to his will, mutates his genetic potency to adapt and assimilates his victims with an insatiable parasitic hunger. Nidus and his strain developed in Update 19.5.
Manufacturing Requirements

25,000

1

1

1

2,000
Time: 72 hrs
Rush: 50
Market Price: 225
Blueprint Price: N/A
Neuroptics

15,000

10

1,000

2,600

3
Time: 12 hrs
Rush: 25
Chassis

15,000

6,000

1,400

5,000

3
Time: 12 hrs
Rush: 25
Systems

15,000

6,000

3,500

14

6
Time: 12 hrs
Rush: 25
Acquisition
Nidus' main blueprint is acquired from The Glast Gambit quest.

Nidus' component blueprints are acquired from Rotation C of Infested Salvage (Oestrus, Eris).
Additional main blueprints can be bought from
Cephalon Simaris
for

‍
100,000
.
Drop
Chance
Expected
Nearly Guaranteed
Chassis Blueprint
14.29%
12 – 13 C Rotations
52 ± 15 C Rotations
Neuroptics Blueprint
14.29%
Systems Blueprint
14.29%
Expected refers to total number of runs a player can expect to receive at least one of each drop associated with the respective values.
Nearly Guaranteed refers to the total number of runs a player needs to obtain a 99%, 99.9%, and 99.99% probability to receive at least one of each drop associated with the respective values.
For more detailed definitions and information on how these number were obtained visit here.
Notes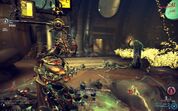 As Nidus has no shields, any Hijack objective will drain his health instead in order to move.
However, there are benefits with Nidus's lack of shields, such as:

The Decaying Dragon Key having no negative effect, allowing Nidus to carry it without issue.
The No Shields Nightmare Mode condition has no effect.
Cryogenic Leakage has no effect on his nonexistent shields. His friction is still affected however.

Magnetic

has no effect on his nonexistent shields. Energy drain and HUD disruption still occurs however.
 Rage and  Hunter Adrenaline always giving energy when damage is taken.

Nidus has the unique passive ability to infect other players both in combat and in a Clan Dojo with the "Helminth Virus" acquired from the Infested Room onboard the Orbiter. Nidus is the only Warframe that can be used to open the Infested Room without having a fully matured cyst.
Trivia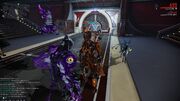 The word nidus (Latin root: "nest") is defined as the site of origin for disease or bacteria, or a place where bacteria multiplies.
Nidus is the first Warframe to use Kuva as a Blueprint ingredient.
Nidus is the second Warframe after Inaros to have no base shields whatsoever.
Nidus is also the first Warframe to use another type of ability resource besides energy, in the form of Mutation stacks.
Nidus is the first and only Warframe to innately regenerate Health.
Nidus is the first frame to have extra stat bonuses when leveling up.
The screech of Nidus' fourth ability was done by Digital Extremes sound designer, Willem Schonken. [1]
Reference
Mutation
The Infestation dwelling within

Nidus mutates rapidly when used against his foes, fueling his abilities and yielding various symbiotic benefits. Nidus possesses various passive mechanics highlighted in the tabs below:
Abilities 



ENERGY




40




KEY


1 

Virulence


Rupture the ground with a damaging fungal growth that steals energy from each enemy it strikes. For every five enemies hit, the Infestation mutates, multiplying its destructive force.

Strength

:

150 / 160 / 175 / 200 (damage)

Duration

:

N/A

Range

:

10 / 11 / 13 / 16 m

Misc

:4 m (fungal growth width)
25% (energy refund rate per hit)



ENERGY




25




KEY


2 

Larva


Spawn an Infested pod that erupts with tendrils, latches onto nearby enemies and pulls them in.

Strength

:

N/A

Duration

:

4 / 5 / 6 / 7 s

Range

:

8 / 9 / 10 / 12 m



ENERGY




0




KEY


3 

Parasitic Link


Bind to a target with parasitic link. When cast on an ally, both the host and Nidus have their Ability Strength increased. Linked enemies take some of the damage inflicted on Nidus.


Mutation Stacks Cost: 1

Strength

:10% / 15% / 20% / 25% (strength bonus)
20% / 30% / 40% / 50% (damage redirection)

Duration

:

30 / 35 / 45 / 60 s

Range

:24 / 28 / 34 / 40 m (ally link)
10 / 13 / 16 / 20 m (enemy link)



ENERGY




0




KEY


4 

Ravenous


Gluttonous maggots swarm nearby enemies, feasting until they burst with Infestation. The maggots benefit from Mutation and each enemy consumed adds to the Mutation stack.


Mutation Stacks Cost: 3

Strength

:100 / 110 / 125 / 150 (explosion damage)
10 / 13 / 16 / 20 (health regen per second)

Duration

:

25 / 30 / 35 / 40 s

Range

:

4 m (explosion radius)

Misc

:8 m (ability diameter)
9 (number of maggots)
1000 (maggot health)
10 (maggot toxin damage)
| Strength Mods | Duration Mods | Range Mods |
| --- | --- | --- |
| | | |
| | | |
| | | |
| | | |
Input table not loaded. Javascript Not loaded
Result table not loaded. Javascript Not loaded
Nidus can be equipped with the following items:
Cosmetics
Augments
See also
Update 25.7
Updated the following Warframe Ability Descriptions to better explain the Ability. Below are the latest edits:

Nidus' Parasitic Link: "Bind to a target with parasitic link. When cast on an ally, both the host and Nidus have their Ability Strength increased. Linked enemies take some of the damage inflicted on Nidus."
Fixed an issue with recasting Nidus's Ravenous on same location not refreshing the ability duration timer.
Fixed Maggots from Nidus not using the proper emissive colors.
Cephalon Simaris now sells Blueprints given during quests in his Offerings! This allows you to purchase these items in the event that you've accidentally sold them.
Fixed having no Shields in Archwing if Inaros or Nidus are equipped.
The following abilities require ground to activate, but can now be cast in the air and will do a melee-esque slam to the ground:
For consistency, damage link abilities (Trinity, Nidus, Nekros) will no longer transmit self-damage, but you will still get the damage reduction. This is particularly relevant for the healer/support class of Trinity who had become the go-to DPS frame in addition to the intended support roles. The re-release of Mods like Aviator added to some clever but ultimately uncharacteristic roles for Trinity.
Fixed casting Nidus' Larva to pull AI from ships resulting in teleporting them back to the ship after the ability ends.
Fixed Nidus' Parasitic Link damage increase stacking indefinitely if cast on Mirages Hall of Mirror clones.
Fixed Nidus' Mutation not working when in the Relay Arsenal.
Fixed Nidus' Virulence and Larva sometimes appearing completely black when cast.
Fixed Nidus' Ravenous Infested carpet not dissipating for Clients after a Host migration occurs.
Fixed Nidus' Passive making you permanently invincible in the Simulacrum after switching Warframes.
Augment: Larva -  Larva Burst
Fixed an issue where enemies would be stuck on the ground instead of getting pulled into Nidus' Larva.
Fixed Nidus' Ravenous not working when Particle Quality is set to low.
Fixed Nidus' head appearing detached in his diorama.
Fixed recasting Nidus' Ravenous not refreshing Duration.
Fixed Nidus losing a Mutation Stack after falling into a pit.
Fixed Nidus being able to use Parasitic Link on disabled Corpus Security Cameras and Turrets.
Increased the base health of Nidus' Maggots to 1k.
Increased Nidus' Mutation Stack consumption from 10 to 15 when knocked into a bleedout state/death. The task of regaining 10 Stacks is quickly obtainable, making this consequence for dying too light. Although 15 Stacks is not a huge jump, we're hoping it's closer to that sweet spot!
Entering a Nullifier bubble will now drain down Mutation Stacks the longer you are in the bubble.
To increase the visibility of Nidus' Maggots, holding down Nidus' Virulence will now display a HUD marker on them. Keep in mind that casting Virulence on Maggots cause them to detonate!
Nidus' Ravenous Maggots no longer auto detonate when feasting on enemies. Previously the Maggots could do a majority of the grunt work and you were able to watch the carnage and gain Stacks at the same time. Now to pop the Maggots you'll need to cast Virulence on them and rejoice in your hard earned Stack accumulation. It's also worth noting that with testing by our team, the Stack rhythm before and after this change wasn't noticed at all.
Improved the FX of Maggot explosion to better represent the intended area of explosion.
Nidus' Ravenous Maggots will still attack but no longer latch on other Infested Maggots or Kuva Jesters due to awkward animations.
Fixed FX, Maggots, & Health regeneration while in Ravenous staying around forever if cast by a Client who leaves.
Fixed a script error from Parasitic Link ability.
Fixed Virulence cast sound being doubled for Clients.
Fixed a crash that would sometimes occur by Nidus' Maggots exploding when latched onto an enemy.
Changed Nidus' Parasitic Link and Ravenous ability stat description from 'ADAPTATION STACKS COST' to 'MUTATION STACKS COST'.
Increased the brightness of both Nidus' Ravenous Maggot tails and their death FX to improve visibility.
Improved Nidus' Maggot visibility if performance was suffering.
Nidus' Larva will now release an enemy if it fails to ragdoll them within 3 seconds. Before, enemies that were considered ragdoll immune (not including enemies trapped in Bastille) resulted in the inability to cast Larva again due to Larva staying perpetually latched to the enemy.
Nidus' Larva no longer latches enemies trapped in Vauban's Bastille.
Fixed a crash caused by Nidus' Parasitic Link ability.
Fixed Nidus' alternate animation sets displaying placeholder text.
Fixed Nidus' Larva getting destroyed by high damage Quanta alt fire.
Fixed being able to heal Defense Targets with Nidus' Ravenous ability.
Fixed Virulence going through enemies without hitting them.
Fixed Nidus' Parasitic Link being able to stun bosses.
Fixed disappearing Nidus Larva.
Fixed script error when clients try to cast Ravenous after their previous cast was nullified.
Fixed Nidus Larva not appearing for clients and slime FX on enemy not being removed.
Warframe introduced to the game.
Community content is available under
CC-BY-SA
unless otherwise noted.