Mods, short for Modifications[1] or Modules, are the upgrade system in WARFRAME in the form of special cards that can be equipped on Warframes, weapons, companions, and vehicles to enhance damage, power, survivability, speed, mobility, precepts, and utility.
The Mods system is accessible after the completion of "Liberate the imprisoned arms dealer" tutorial mission from the Vor's Prize Quest, by installing the Mods Segment reward from said mission onto the Orbiter, which will permanently unlock the Mods system for use via the Arsenal ("Upgrade").
From the Arsenal, you can install mods on your equipment, but they are limited by the equipment's mod capacity that depends on the level of the equipment. Any mod can be installed/removed freely and can be applied to several equipment at the same time. You can also upgrade your mods by using

 Endo and

 Credits through the process of Fusion.
Almost all enemies have a chance of dropping a mod. The usual chance is 3%, but may differ depending on the type of enemy.

75.9% of the mod drops will draw from the common drop table.
22.12% of the mod drops will draw from the uncommon drop table.
2.01% of the mod drops will draw from the rare drop table.
All enemies which drop mods possess their own mod drop tables; visit their respective pages for more details.

All mods are tradeable except  

Primed Fury

,  

Primed Vigor

,  

Primed Shred

,  

Primed Sure Footed

(obtained via Daily Tribute),  

Umbral Intensify

,  

Umbral Fiber

,  

Umbral Vitality

,  

Sacrificial Steel

,  

Sacrificial Pressure

(Sacrificial Mods and Umbral Mods are obtained via The Sacrifice, and additional copies can be acquired at rank 0 from Cephalon Simaris for 100,000 Simaris Standing each), Flawed Mods (Obtained via Vor's Prize), and Amalgam Mods (Obtained via the Thermia Fractures event or the Ropalolyst boss fight).

Sentinel precept mods cannot be traded if the player does not own another copy.

Obtaining companions will provide a set of their own precepts.
Some mods can be obtained from Nightwave Cred offerings, Nightmare Mode, and Orokin Derelict vaults.
Mods can be obtained from the Orokin Void canisters and more commonly from treasure room canisters. Modules obtained are randomly chosen for every player.

Mod drops from canisters will disappear after a period of time!

Mod Transmutation. (See below subsection.)
Most non-endless mission types may offer a mod, blueprint, endo, or credits as a mission reward upon completion.
Every rotation of endless missions (e.g. Defense) will offer a reward chosen randomly from a drop table, including but not limited to mods.
Completing a Conclave match may reward a Conclave specific mod.
Completing quest missions may reward a mod.
Veiled Riven Mods and Legendary Cores can be obtained from completing Sortie missions.
Purchasing Primed/Legendary Mods from Baro Ki'Teer on a relay for ‍Credits and ‍Ducats. Note however that Baro Ki'Teer's stock changes with each appearance, meaning certain mods may not be available every time.
Purchasing Essential Mod Bundles from the market.
Purchasing mods from syndicates with ‍ standing.
Logging in for 200/400/600 days will award players Primed Fury, Primed Vigor, and Primed Shred respectively for each progression milestone.
Certain mods are obtained by participating in Events or Tactical Alerts. Most of these mods can also be obtained by later means, but some mods cannot be obtained outside the Events or Alerts except by trading with players or being given the mod by a developer of the game.
A Riven mod is obtained after completing The Sacrifice.
Mods have several attributes:
Name & Effect: The name of the mod and what it changes when installed. The name includes an identifier of the variant (The descriptors "Flawed", "Primed", and "Amalgam"), or set ("Umbral" in the right image), if applicable.
Item Compatibility: What the mod can be equipped on and if it's part of a Mod Set. Mods are applicable either to a type of equipment (e.g. "MELEE"), or to a subtype, (e.g. "SWORDS"), to only a single piece of equipment and it's variants (e.g. "SKANA"), or only to one of more variants (e.g. "BURSTON PRIME").
Special Indicator: Symbols that denote if the mod is an Aura, Stance, Exilus, Riven or part of a Set.
Polarity & Drain: The number is the amount of Capacity points a mod uses up when installed ("drain"). The symbol denotes Polarity (described further below).
Rank: The upgrade level of the mod, ranging from rank 0 to Maximum Rank, which varies according to mod, the highest being 10. When the level of a mod is greater than zero, it is indicated by blue pips on the bottom of the card. (A small black hexagon appears above the rank pips on mods that are slotted – not visible in the right image.)
Stack/Quantity: The number of mod that you own of the same rank.
Rarity: Denotes the rarity of a mod by the card's material and an increasing number of pips at the top (which are not visible in the right image as they are covered by the Set indicator). Mods vary in five tiers of rarity, as follows:
In addition, there exist three classes of mods which are not ranked in rarity, while possessing a unique material to their cards.
Multiple specialized UI environments exist to facilitate players' various interactions with mods:
Arsenal (used for installing mods)
Mods Console (used for managing owned mods through Mod Actions: "Fusion", "Transmute", "Sell", and "Dissolve")
Codex (used for obtaining knowledge on all existing mods, and ways to acquire them)
Trade screen (used for exchanges with other players involving mods)
Introduced in Update 12.0, mods of the same type and fusion level are placed into an item stack, with a number on the top left showing how many of that item is available. This process is essential in reducing clutter and is also used to ease the process of selling or dissolving mods.
Once the Mods system has been unlocked, mods can be installed by visiting the Arsenal on your Orbiter, selecting the desired Mod destination (e.g. Warframe, Weapon), and then clicking on the UPGRADE  button. Afterward either click on ACTIONS  > APPLY AUTO INSTALLATION , or simply drag a mod from the collection and drop it on a Mod slot. Mod installation and removal is instant and free.
Mods are placed in Mod Slots (commonly referred to as "slots"), arrayed in a rectangular grid. In addition to these general slots, which are compatible with the vast majority of mods, some types of equipment have special slots, which are only compatible with a corresponding class of mods.
The number and type of slots an item will have depends on the type of equipment:
Warframes have 8 general slots, an Exilus slot, and an Aura slot.
Primary and secondary weapons have 8 general slots and an Exilus slot.
Melee weapons have 8 general slots and a Stance slot.
Arch-guns, Arch-melees, and Companion weapons have 8 general slots.
Exalted weapons have 8 general slots; Melee Exalted weapons also have a Stance slot, but it's permanently occupied by an Ability-related Stance, and can't be interacted with.
Companions have 10 general slots.
Necramechs have 12 general slots.
Items have a limited Mod Capacity, that correlates to their Rank. The Maximum Rank is normally 30, but for some items it is 40. Warframes/Companions/Archwings/K-Drives/Necramechs and Weapons can be supercharged with an Orokin Reactor or Orokin Catalyst respectively, which doubles the available Mod capacity. Mod Capacity functions as a limit to what mods can be equipped depending on their drain. Mods can have a drain of 0 to as high as 20 depending on the mod and what rank it is. Items also have a minimum mod capacity, which adds mod points onto items that are a lower rank than a player's current Mastery Rank. The amount of minimum mod capacity is equal to the player's mastery rank.
If the Mod Capacity drain is less or equal to the item's remaining Mod Capacity it will install and Mod Capacity will be deducted.
Mod drain is mofified by Polarity:
Matching polarity reduces drain by half, rounded up: (e.g.  

Serration

costs 14, but dropped into a Madurai polarized slot costs only 7)
Non-matching polarity increases drain by a quarter, rounded mathematically: drain of 0-1 will increase by 0, drain of 2-5 by 1, drain of 6-9 by 2, drain of 10-13 by 3, drain 14-16 by 4, etc.
Aura and Stance mods increase Mod Capacity rather than drain it.
Polarity affects the amount of bonus Capacity that is provided: matching polarity doubles it, while non-matching polarity reduces it by 20%.
Main article: Fusion
Mods can have their overall power increased by the process called Fusion. Fusing a mod with Endo increases the rank, and thereby overall power, of the mod. Each rank requires twice the mod energy than the previous rank to level up and leveling up from rank 0 to 1 sets the base amount of mod energy for this calculation.
Main article: Transmutation
Transmutation is one of the ways of acquiring mods. Choosing this Mod Action, players can sacrifice four selected unranked mods to generate a random mod from a list of mods that can be acquired in this way. Alternatively, three selected mods and one

 Transmutation Core can be used to guarantee a random mod of a specific polarity. Transmutation of Riven Mods requires a Riven Transmuter. Mods that cannot be acquired by transmutation are conventionally called untransmutable mods.
Choosing this Mod Action, a player can convert a mod into an amount of Credits equal to 75% of the

‍ Credits invested in the mod[2]. Any selection of single mods and/or stacks of mods can be sold, and players are prompted to review and confirm the action after clicking "Sell" (after a mod has been "sold" this way, it isn't physically found anywhere – it has been eliminated). Notably, Riven Mods cannot be sold.
Choosing this Mod Action, a player can convert a mod into a set amount of Endo, equal to it's Mod Rating. A sum of all owned mods' Mod Ratings is visible in the upper-right corner of the Mod Collection screen. Riven mods have a special calculation (see the table below). Any selection of single mods and/or stacks of mods can be sold, and players are prompted to review and confirm the action after clicking "Dissolve".
Standard Mods and Variants
[
edit
|
edit source
]
Main article: Calculating Mod Bonuses
Standard mods (or single-stat mods) are the basic class of mods: all the mods that provide a straightforward bonus to a single stat. In each item category, each base stat only corresponds to one standard mod. At times, changes to game mechanics have included total redesigns of some mods to become a different single-stat mod or dual-stat mods (e.g.

 Quickening), but these are still essentially standard mods. Standard mods are generally equipped in one of the main slots, but some are Exilus mods.
A standard mod may come in four variants: Normal, Flawed, Primed, Umbra, and Amalgam.
Rarity only somewhat corresponds to classes of mods: some standard mods are Rare, and some nonstandard mods are Common.
Players cannot stack duplicates (install duplicate mods in a single piece of equipment). Likewise, different variants of the same mod cannot be stacked. For example, a given pistol can only accept one

 Hornet Strike mod at a time, and

 Flow and

 Primed Flow can't be installed together on a warframe.
Normal mods are mods that lack a property that would distinguish them as Flawed/Primed/Amalgam. This is the base variant and has a generic appearance. Normal standard mods generally drop from regular enemies, and are the most easily obtainable mods. They are transmutable, sellable and tradeable.
Main article: Flawed Mods
Flawed mods are an inferior variant of standard mods. They have a maximum rank of 3, and provide an overall reduced effect. They are automatically picked up during the course of the Vor's Prize quest. Flawed mods are untransmutable and untradeable. The quest in which are they are obtained is not replayable, so there is no way to gain additional Flawed mods subsequent to it. Visually, Flawed mods have a cracked image.
Main article: Category:Primed Mods
Primed mods are a superior variant of mods, that have had their maximum rank increased to 10. An exception to the norm that only standard mods have variants, a small number of Nightmare Mode mods have a Primed variant. Primed mods can normally be obtained from Baro Ki'Teer, but three Primed mods,

 Primed Fury,

 Primed Vigor, and

 Primed Shred are only obtained from 200/400/600 Daily Tributes respectively and cannot be traded with players. All Primed mods are of the Legendary rarity, and they are untransmutable. Those that are acquired via Daily Tributes are untradeable.
Main article: Umbra Mod
Umbra mods is a class of Legendary mods, that features the properties of both Primed mods and Set Mods. All are a superior variant of a standard mod, while also possessing a second stat that grants enhanced effectiveness when fighting Sentient enemies. They are divided in sets, but the Set Bonus of each set is the same: an increase of each mod's bonuses. Umbra mods are acquired through the The Sacrifice Quest (and can thereafter be reacquired via Cephalon Simaris). They are untransmutable and untradeable. All Umbra mods have the exclusive

Umbra polarity that can only be applied with an Umbra Forma. Visually, Umbra mods are Legendary mods with a set indicator.
Main article: Category:Amalgam Mods
Amalgam mods can be either slightly inferior or superior variants, and come with certain additional properties. Some sacrifice a small amount of their main bonus to provide a small bonus to another stat of an altogether different item. Others are weapon-specific, and are actually superior variants, while still having a second stat. The latter also usually have a third stat, generally understood as a novelty/utility feature (e.g. extra gore). Amalgam mods don't have a formal Rarity tier, but yield the same amount of Credits and Endo when sold and dissolved, respectively, as Rare mods. They are untransmutable and untradeable. Thematically, they are amalgamations of two existing mods (so for example,

 Amalgam Serration can be seen as a combination of

 Serration and

 Rush). These mods have a distinct Sentient-influenced visual styling.
Nonstandard mods are all the other mods that provide bonuses to either the same stats as the standard mods or to certain other stats, or modify equipment in specific ways. They come in different classes and have a more varied design. Nonstandard mods stack with other mods providing the same type of bonus (certain exceptions exist). Therefore,

 Vitality (a standard Health mod) stacks with

 Vigor (a Nightmare mod, providing both a Health and Shield bonus). They generally do not have variants (a small number of Primed Nightmare mods are one exception).
Main article: Category:Nightmare Mode Mods
Nightmare Mode Mods (commonly called Nightmare mods) are a class of Rare dual-stat mods – they provide a bonus to two different stats for the same item. They can be acquired through completing missions in the Nightmare Mode. Nightmare mods are untransmutable. Visually, they do not have a clearly distinguishing mark.
Main article: Category:Corrupted Mods
Corrupted mods are a class of Rare mods that affect one stat positively and another negatively. Those available for warframes are characterized by extremely high bonuses outweighed by major penalties. Those available for weapons provide bonuses of a similar strength to their standard mod analogues, while still also having a penalty. Corrupted mods can be obtained from the Orokin Derelict, using special Dragon Keys to unlock vaults located within. They are untransmutable. Visually, they do not have a clearly distinguishing mark.
Corrupted mods that provide a bonus to Critical Chance (e.g.  

Critical Delay

) are a notable exception to the general pattern of nonstandard mods in that they can't be stacked with their standard analogues.
Main article: Category:Acolyte Mods (a subset of conditional mods)
Conditional mods are mods that require some condition to be met during combat in order for their effect to activate. A large subset of these mods are called Acolyte mods, and these now drop in Deimos bounties; others are dropped in the same manner as standard mods (notably,

 Condition Overload). Acolyte mods are untransmutable, and the remainder may or may not be (for example,

 Spring-Loaded Blade is untransmutable, while

 Berserker is). Visually, they do not have a clearly distinguishing mark.
 

Split Flights

(a conditional Multishot mod for Bows) and  

Split Chamber

being mutually exclusive is another notable exception to the general pattern of nonstandard mods' ability to be stacked with standard mods.
As a potent illustration of the difference between standard and non-standard mods,  

Charged Chamber

and  

Primed Chamber

(note that it is not a Primed mod; "Primed" here simply refers to priming such as that of an explosive charge) two conditional Sniper mods, the latter ostensibly a superior variant of the former, are in fact stackable – following the general pattern of nonstandard mods providing the same type of bonus not being mutually exclusive.
Many Set mods and some Augments (e.g.

 Hata-Satya) also have a conditional effect.
Main article: Warframe Augment Mods
Main article: Weapon Augments
Augment mods (commonly called Augments) provide augmentation to a specific Warframe or weapon. On warframes, they alter abilities or passives. On weapons, they provide straight up bonuses, sometimes superior to standard mods (e.g.

 Scattered Justice). Most can be obtained as Syndicate Offerings, but a significant number is obtained elsewhere (for example, some are Executioner Mods). They are untransmutable. Augments granting Syndicate effects are overlaid with their Syndicate logo.
Main article: Riven Mods
Riven Mods provide randomized bonuses to a specific weapon: up to three bonuses, and a penalty. The bonuses on Rivens tend to be based around standard mods (normal or primed), and these base bonuses are modified by a stat individual to each weapon called disposition. When acquired, Riven Mods come in a veiled form which supplies no stats and must have a challenge completed in order to unveil it. They are transmutable using a Riven Transmuter, and transmutation produces a veiled Riven. The only way to obtain unveiled Riven Mods directly is by trading with players. Riven mods are purple.
Main article: Set Mods
Set Mods are a class of Mods that offer increasing bonuses when one or more mods in a set are equipped together in a current loadout. Each mod of a set, apart from it's individual effects, also provides a second Set Bonus effect shared between all the mods in the set, that becomes stronger the more of the set's mods are installed. Many set mods have conditional effects, and some even figure as dual-stat conditional mods (e.g.

 Motus Setup). Set mods are untransmutable. They are distinguishable by their shared set prefix (e.g. Augur, Gladiator, Vigilante, etc.) and icon on top of their card.
The following types of mods have a special, dedicated slot.
Main article: Aura
Aura Mods are Warframe mods that benefit the entire Squad and also increase the player's Warframe total mod capacity. They can only be equipped in the dedicated Aura slot and only one Aura can be equipped to a Warframe. They can normally be obtained from Nightwave Cred offerings, but some drop from The Silver Grove specters and Nox. They are untransmutable.
Main article: Stance
Stance mods are special mods for Melee Weapons. They increase the player's melee weapon mod capacity and unlock unique attack combos. They can only be equipped in the dedicated Stance slot for a specific weapon type and only one Stance can be equipped to a melee weapon. Most Stance mods are transmutable.
Main article: Category:Exilus Mods (Warframes)
Main article: Category:Exilus Weapon Mods
Exilus Mods are utility or mobility-based mods that can be equipped in the Exilus slot, or if the player chooses, in a general slot. The Exilus slot is present on all Warframes and primary and secondary weapons; on Warframes, it must be unlocked with an Exilus Adapter, and on weapons, it must be unlocked with an Exilus Weapon Adapter.
Some Exilus mods exist as typical standard mods, e.g.

 Sure Footed and

 Primed Sure Footed.
Some Exilus mods exist as somewhat atypical, but also essentially standard, mods:
A number of mods similar to  

Mobilize

are treated as it's "cognates", meaning that  

Mobilize

,  

Patagium

,  

Battering Maneuver

,  

Piercing Step

,  

Rending Turn

,  

Firewalker

,  

Ice Spring

,  

Lightning Dash

, and  

Toxic Flight

don't stack, in line with the expectation that standard mods with the same type of effect don't stack. Despite these not being single-stat mods in a technical sense, their mobility enhancements are seen as a unified effect.
Many Exilus mods are nonstandard mods, such as the the dual-stat "Drift" mods.
Exilus mods have the Exilus mark near the top.
Main article: Category:Peculiar Mods
Peculiar Mods are a subtype of Exilus mods. They do not offer any mechanical effects at all, instead only causing bizarre cosmetic effects. These mods, despite offering no real benefit to their users, are some of the rarest and most difficult to obtain artifacts in the system. They have a distinct smoky appearance.
Main article: Category:Penjaga_Mods
Precepts are mods which alter the behavior of a Companion, and are effectively the companion's "abilities". Every Companion has their own specific precepts. However, there are precepts that are universal within a class of companions. Upon acquiring a companion, the user is automatically granted some or all of the respective specific precept mods.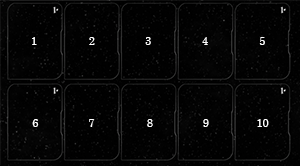 Precepts have "informally" designated slots by virtue of having the

Penjaga polarity, exclusive to them, and there being four matching-polarity slots on every companion. Since these are still general mod slots, the player can alter this setup in any number of ways, and Precepts can be installed in other slots as well. Companions will use their precepts in a prioritized order, where the top left slot is the highest priority and the bottom right slot is the lowest.
Players may not trade away / sell / dissolve a precept if it's their only copy of the mod.
Visually, Precepts do not have a clearly distinguishing mark (but can be identified in a glance by their polarity).
Main article: Category:Parazon Mods
Main article: Requiem Mods (subset of Parazon Mods)
Parazon mods may only be equipped on the Parazon and grant effects which are tied to the Mercy mechanic and hacking. A type of Parazon mods are Requiem mods, which are used to defeat a Kuva Lich.
Main article: Category:PvP Mods
Conclave Mods can be mainly acquired from the Conclave Syndicate, where they originated from. Some of them can also be used in PvE (possibly with altered stats or effects) and can be obtained through Nightwave Cred offerings, while others are dropped by Sentients.