Mobile Defense is a Mission type requiring players to carry a datamass to 2-3 computer terminals and upload it to them. Once uploaded at each terminal, players will have to defend the terminal until hacking is completed. Unlike normal Defense missions, these require players to defend for a set period of time instead of a set amount of waves, and will allow extraction once all terminals have been defended, no longer requiring the datamass. The mission will fail if a single terminal is destroyed.
Terminals possess a scaled amount of health and shields matching the level of the mission. If defended against damage, terminals will regenerate shields and health on their own after some time passes, stacking with

 Rejuvenation auras.
Variations
Locations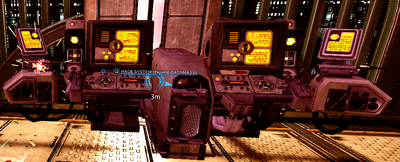 Rewards
Mobile Defense missions in the Void and Archwing Mobile Defense missions give a Reward upon completion.

Notes
Terminals are immune to health damage until they are activated.
Mobile Defense missions can randomly change into Exterminate. The Lotus will inform the Player to "ignore your original objective" and "leave nothing alive". The Mobile Defense UI will be replaced by the Exterminate enemies killed counter and the extraction pointer will appear once the required number of enemies is killed.

However it is also possible to hack the remaining Mobile Defense terminals if the players carry the Datamass to them before extracting.

If the players destroy the terminal via

Radiation

damage, it will reward some affinity before failing the mission.
Media
Patch History
Update 19.6
Fixed enemies not spawning in high level Corpus Mobile Defense Invasion missions.
Mobile Defense Missions have been added to the following planetary nodes:

Grineer Forest on Earth, Eurasia
Corpus Ship on Venus, Aphrodite
Added more defendable console locations.
Console defense time will now scale with Mission difficulty.
There are now 2-3 consoles per Mission, with total defense time divided between the number of available consoles.
Console health now scales with the number of consoles available in a Mission.
The total number of enemies that will spawn to attack consoles has been reduced.
Adjusted number of active enemies allowed during defense stages - more for solo & increase numbers slightly in stage 2 & 3 to make them more epic.
Enemies will storm the defense targets, which makes them much more aggressive towards it.
Release lockdown when going into a defense wave. NPC's abort running to panic button during defense wave.
Community content is available under
CC-BY-SA
unless otherwise noted.