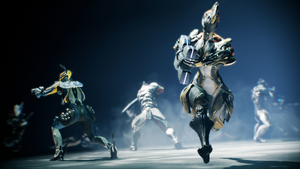 Mobile Defense Missions require players to carry a datamass, similar to Deception, to 2 - 3 computer terminals and upload it to them. Once uploaded at each terminal, players will have to defend the terminal until hacking is completed. Unlike normal Defense missions, these require players to defend for a set period of time instead of a set amount of waves. Mobile Defense missions also take place within the normal map sets, though some tilesets will have special tiles exclusive to Mobile Defense.
Terminals possess a scaled amount of health and shields matching the level of the mission. If defended against damage, terminals will regenerate shields and health on their own after some time passes, stacking with Rejuvenation auras. Mending Tides in the Vazarin path can also instantly heal the objective, but will not grant overshields if the respective Way is active.
While other terminals may be scanned and targeted during another terminal's hack, only its shield will take damage until it is the currently active objective. If one is destroyed by a fellow Tenno instead of by enemies (such as during missions where Radiation damage is a possibility), it will award a very small amount of affinity before the mission fails.
Variations
Rewards
Archwing Mobile Defense missions give a Reward upon completion.

During the Prime Vault unseal the Mobile Defense Void nodes have a separate end of mission reward drop table.
Mobile Defense Missions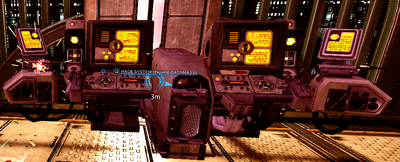 Media
Patch History
Update 19.6
Fixed enemies not spawning in high level Corpus Mobile Defense Invasion missions.
Added more defendable console locations.
Console defense time will now scale with Mission difficulty.
There are now 2-3 consoles per Mission, with total defense time divided between the number of available consoles.
Console health now scales with the number of consoles available in a Mission.
The total number of enemies that will spawn to attack consoles has been reduced.