Please do not use this article for critical in-game information!
This article is
archived
.
The content was relevant to an obsolete version of Warframe, and has since been removed, retrieved, and/or revamped.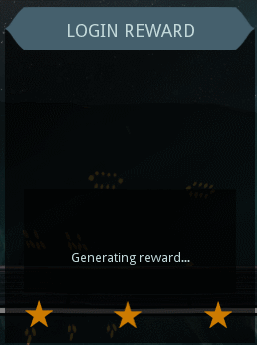 A Login Reward was a randomly selected item given to a player once a day for logging in. If a player was eligible, they would receive a login reward window when they logged in, which would roll for a few seconds before stopping on a random item. The reward was available once a day, where the "day" resets at Greenwich Mean Time's midnight.
Random Selection
The rewards that a player could receive were based upon the number of consecutive days on which a player had logged in at least once. Three tiers for these rewards existed: common rewards for players having logged in for 0 to 2 consecutive days, common to uncommon rewards for 3 to 6 days, and common to rare rewards for 7 or more days. The counter did not reset after day 7. A single day spent offline would reset the counter to 1 day.
Rewards were weighted, meaning that certain rewards would appear far more rarely than others (anything that is very difficult/unlikely to obtain without the use of platinum tended to be rarer, such as Orokin Reactors).
Notes
Platinum discounts reduce the cost of your next purchase of platinum, they do not reduce the platinum costs of items.
Platinum discounts are not available on the PS4 and Xbox One version. However, in-game market discounts are available of 25%, 50% and 75% are obtainable through login rewards. They are single time use, last 48 hours, and don't apply to bundles.
To receive the 30 free platinum from the "Honor of the Lotus" reward you have to log in to your account at warframe.com and go to the page where you can purchase platinum. On the right side, there will be a button to claim the 30 free platinum. You do not need to purchase any platinum to receive the 30 platinum reward.
Weapon Affinity rewards would not apply on any Special Weapons that the player has equipped, so that they remained viable for Trading. This would only apply if the weapon(s) in question have no affinity, Forma or Orokin Catalysts installed beforehand.
Trivia
The Secondary Weapon Affinity reward was represented by two different icons; the 600 affinity reward showed a  

Lato Prime

in standard Tenno weapon colors instead of Orokin colors, while the 1,200 and 2,400 affinity rewards showed an unknown sidearm that bears some similarities to the  

Sicarus

.
Patch History
Fixed an issue that would occur when receiving the Sentinel Experience login reward if the player did not have a Sentinel.
Login rewards now have 'Blueprint' descriptor where applicable.
Fixed login reward Blueprints not being properly labeled as Blueprints.
Removed Weapon and Sentinel experience Login Rewards providing experience to a Weapon or Sentinel in the Arsenal if the player logs in with a fully ranked Weapon. We will revisit this as a feature after more testing to ensure tradable weapons are not affected!
Weapon and Sentinel experience Login Rewards will now provide experience to a Weapon or Sentinel in the Arsenal if the player logs in with a fully ranked Weapon.
Fixed login rewards potentially causing a game freeze.
Sentinel & Sentinel weapon XP added to login rewards.
Fix for login rewards not working.
Coupons have returned to the login-reward pool! They are for use on the "buyplatinum" website for discounts!
Added a chance to win discounts on Website Platinum Bundles to the daily login rewards! Reverted until further notice!
Fixed issue where Login Rewards (including Forma) were not being obtained.
Forma can found through Daily Login Rewards.
Fixed login rewards clobbering your current loadout.
Fixed Login reward handing out "0 Shotgun Ammo" boxes.
Gallery
Mechanics
Currencies
 

Credits

•  

Orokin Ducats

•  

Endo

•  

Platinum

•  

Aya

•  

Regal Aya

•  

Standing

General
Basics
Arsenal • Codex • Daily Tribute • Dormizone • Empyrean • Foundry • Market • Mastery Rank • Nightwave • Orbiter • Star Chart
Lore
Alignment • Fragments • Leverian • Quest
Factions
Corpus • Grineer • Infested • Orokin • Sentient • Syndicates • Tenno
Social
Chat • Clan • Clan Dojo • Trading
Squad
Host Migration • Inactivity Penalty • Matchmaking
Gameplay
Basics
Affinity • Buff & Debuff • Death • Damage (Status, Type Modifier, Vulnerability) • Gravity • Landscape • Maneuvers • One-Handed Action • Pickups • Radar • Tile Sets • Void Relic • Waypoint
Mission
Arbitrations • Empyrean • Sortie • Tactical Alert • The Steel Path • Void Fissure
Enemies
Bosses • Death Mark • Enemy Behavior • Eximus • Lich System (Kuva Lich, Sisters of Parvos) • Overguard • Radar
Activities
Captura • Conservation • Fishing • K-Drive Race • Ludoplex • Mining
Stealth
Hacking • Invisible • Noise Level • Threat Level
PvP
Duel • Conclave (Lunaro) • Frame Fighter
Equipment
Modding and Arcanes
Arcane Enhancements • Fusion • Mods (Flawed, Riven) • Polarization • Transmutation
Warframe
Attributes (Armor, Energy, Health, Shield, Sprint Speed) • Abilities (Augment, Helminth System, Passives, Duration, Efficiency, Range, Strength)
Weapons
Accuracy • Alternate Fire • Ammo • Attack Speed • Critical Hit • Damage Falloff • Exalted Weapon • Fire Rate • Melee • Multishot • Projectile Speed • Punch Through • Recoil • Reload • Trigger Type • Zoom
Operator
Amp • Focus (Madurai, Vazarin, Naramon, Unairu, Zenurik) • Lens
Other
Archwing • Companion • K-Drive • Necramech • Parazon • Railjack
Technical
General
AI Director • Dedicated Servers • Drop Tables • EE.cfg • EE.log • File Directory • HUD • Key Bindings • Material Structures • Mobile Export • Network Architecture • PBR • RNG • Settings • Stress Test • Text Icons • Warframe Arsenal Twitch Extension • World State
Audio
Mandachord • Music • Shawzin • Somachord
Mathematical
Calculating Bonuses (Additive Stacking, Multiplicative Stacking) • Damage Reduction • Enemy Level Scaling • Maximization • User Research