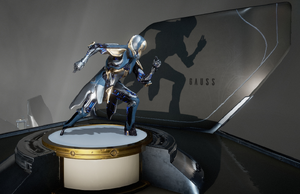 The Leverian is a museum of artifacts curated by the enigmatic Drusus Leverian. These galleries serve to shed light on WARFRAME's lore, typically centered around an individual Warframe along with associated weapons and items of interest.
Accessing the Leverian
Edit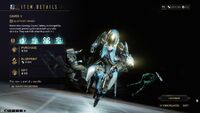 A Warframe's Leverian entry can be accessed through the Codex, via the Leverian button on the lower right hand corner of the screen on the Warframe's codex page. Alternatively, the Leverian can also be accessed on the Market at either the Warframe's individual page or their collection page. Players can freely walk around in first-person view and examine the items on display in each gallery, which will bring up a lore entry narrated by Drusus himself relating to the Warframe's story.
Leverian Galleries
Edit
Gauss: The Saint Of Altra
Edit
Introduction:
Altra Syandana:
Gauss Airfoil:
There is a small donation box beside the first gallery entry, where players can donate Credits. Drusus will comment on the donation, expressing either resignation or excitement depending on the number of credits donated. It is currently unknown what tangible function the donation box offers.
To the right side of the Altra Syandana display, players can interact and loot an item called GAUSS PREX, a tarot card representing Gauss which also acts as an Orbiter decoration.

This requires players to own a Rank 30 Gauss Warframe for it to spawn.
The name "Leverian" appears to be a tribute to the Leverian Collection, a museum established in 18th Century London and named after its curator Anton Lever, who collected creatures and artifacts for public display.
Leverian was initially mentioned in the

Update 25.7

announcement, but all references to it had been removed prior to launch. It did launch as an undocumented feature with the update, however.

Steve Sinclair claimed the removal was to reduce player hype, deeming the Leverian as a small addition.
Patch History
Edit
Hotfix 25.7.2
Fixed edge cases of a UI lockup when accessing the Leverian from a place outside of the Market or Codex.
Fixed appearing as a mini-Warframe when entering/leaving the Leverian as the Operator.
Fixed inability to Transfer out of the Operator when entering/leaving the Leverian as the Operator.
(Undocumented) Introduced.
Community content is available under
CC-BY-SA
unless otherwise noted.