Legs, previously known as Thursby U-2278, is a Solaris merchant who sells and assembles MOA components to build MOA companions, and can help assemble Hound companions (though components must be acquired elsewhere). He uses Solaris United standing as a currency.  He can be found on the left side of Fortuna in an open-fronted shop.
Appearance
[
]
He appears as an orange-colored Solaris. Before Vox Solaris, he has normal human limbs. After the quest is completed, seeing that he was "Augmented", he ends up with no arms and the legs of a Shockwave MOA with a deeper red tint.
Lore
[
]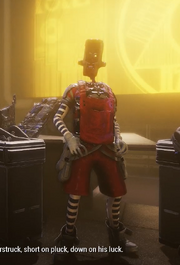 Legs was an enterprising young Solaris named Thursby, who appeared identical to his current self with normal arms and legs. After his parents died in the Deck 12 crackdown that brought down the original Solaris United, he had inherited his family's debt and was attempting to pay it off by selling odds and ends at his shop, but only possesses worthless scrap. To make ends meet, he asks the Tenno to steal Corpus caches. Emboldened by the Tenno's success, he makes a threat to Nef Anyo on an unsecured transmission that the Corpus have tapped into. In retaliation for his thievery, Nef Anyo sends a repo-squad to repossess Thursby's arms and legs. Eudico remarks she is not sure the medics will be able to save him with "so much missing."
Following the completion of the quests introducing Fortuna and Vallis to the Tenno, Eudico and The Business reveal they were able to save Thursby, giving him augmented MOA legs and thus earning his new name: "Legs."
Wares
[
]
Notes
[
]
Trivia
[
]
Originally, the MOA vendor was a child named Boon as shown in the Tennocon 2018 preview of Fortuna. In the release version, Boon would become one of the Ventkids instead as the NPC in charge of the K-Drive races.
Smokefinger seems to take in interest in Legs, wanting to apprentice him. However, Legs is uninterested in mineralogy, commenting that he thinks it is a waste of his time.
Before Update 24.2, Legs was also in the Backroom, standing near The Business, like he was a part of the Heist. However, he is now removed.
Legs' memory fragments suggest that he was planning his own subterfuge against Nef Anyo. Replacing some of Nef's MOA by some that are in the end obedient to Legs.