m

m

(One intermediate revision by one other user not shown)
Line 12:
Line 12:
 
 
 

==Abilities ==

 

==Abilities ==

−

<span style="position: absolute; right: 0px; padding: 0 5px 0 5px;" id="expand-all">Expand All</span><br />

+

<span style="position: absolute; right: 0px; padding: 0 5px 0 5px;" id="expand-all">Expand All</span>

−

{{WFmax|main}}{{:Quiver}}

+

{{WFmax|main}}{{}}

 
+

{{:Quiver}}

 

{{:Navigator}}

 

{{:Navigator}}

 

{{:Prowl}}

 

{{:Prowl}}

Line 19:
Line 20:
 

<span style="position: absolute; right: 0px; padding: 0 5px 0 5px;" id="collapse-all">Collapse All</span>

 

<span style="position: absolute; right: 0px; padding: 0 5px 0 5px;" id="collapse-all">Collapse All</span>

 
 
−

{{customCollapsible|Maximization}}{{WFmax||ivara}}{{customCollapsible/End}}

+

{{customCollapsible|Maximization}}{{WFmax||ivara}}{{customCollapsible/End}}

 

{{AbilityModBenefits

 

{{AbilityModBenefits

 

| ability1 = Quiver

 

| ability1 = Quiver
---
Revision as of 18:29, 2 August 2020
Passive

Ivara has an innate radar that detects enemies within 20 meters and displays their position on the minimap. This effect stacks with

 Animal Instinct or

 Primed Animal Instinct,

 Enemy Radar,

 Enemy Sense, 

 Stealth Drift, and

 Vigilante Pursuit.
With Hotfix 24.6.1 and Baro Ki'Teer's 113th rotation which introduced

 Primed Animal Instinct,

Ivara's passive combined with

 Primed Animal Instinct instead of

 Animal Instinct and alongside every mod above, can stack her Enemy Radar up to 161 meters and even more with squad members due to sharing the aura effect of

 Enemy Radar and mods that can affect the Aura like

 Coaction Drift.
Abilities 
Expand All
Input table not loaded. Javascript Not loaded

ENERGY
25
KEY
1 
Quiver
Cycle through and shoot one of four tactical arrows. Cloak creates a stationary bubble that cloaks Ivara and allies. Dashwire creates a traversable zipline. Noise emits a high-pitched sound that attracts enemies to it. Sleep temporarily puts nearby enemies into a deep slumber.
Equipped with a quiver of tactical arrows, Ivara can selectively launch one of her variety of specialized arrows, by tapping the ability key (default 1 ) to freely cycle the selection wheel between the Cloak, Dashwire, Noise, and Sleep arrows. With an arrow type selected, hold down the ability key to expend 25 energy to charge and then launch the selected arrow toward the direction of the aiming reticle.

Energy cost is affected by Ability Efficiency.
Quiver only consumes energy upon launching an arrow; switching arrowheads will not consume energy.

Up to four different arrow types are unlocked as the ability increases in rank, listed below:
---
Ability Synergy:

Quiver's arrows are considered as projectiles and can be controlled using Navigator.
Quiver arrows can be launched instantly when equipping Artemis Bow, then pressing the alternate fire key to cast the ability.

A special cyclic display located above Ivara's weapon stats in the HUD will show the currently equipped arrow type along with a charge meter that displays the charge state of Quiver before firing. If using Cloak Arrows or Sleep Arrows, the display will also show a countdown timer for the arrow's active duration.

Cloak Arrow cycles to display a barbed purple arrowhead, Dashwire Arrow cycles to display a yellow diamond-shaped arrowhead, Noise Arrow cycles to display a semicircular red arrowhead, and Sleep Arrow cycles to display a crescent-shaped blue arrowhead.

Quiver's arrows do not inflict damage upon impact.
Subsuming Ivara to the Helminth will offer Quiver and its augments to be used by other Warframes.

Subsumed Quiver only features Cloak on tap-cast and Noise on hold-cast. Dashwire and Sleep arrows are unavailable.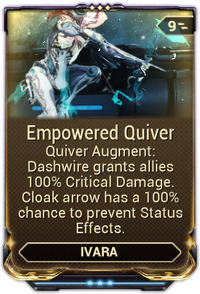 Main article: Empowered Quiver
Empowered Quiver is a Warframe Augment Mod for

Ivara that improves

Quiver's Dashwire Arrow and Cloak Arrow. Dashwire Arrow grants critical multiplier to allies standing on the wire, while Cloak Arrow grants a chance to resist status effects.
| Rank | Critical Multiplier Bonus | Status Resistance Chance | Cost |
| --- | --- | --- | --- |
| 0 | 75% | 50% | 6 |
| 1 | 80% | 65% | 7 |
| 2 | 90% | 80% | 8 |
| 3 | 100% | 100% | 9 |
---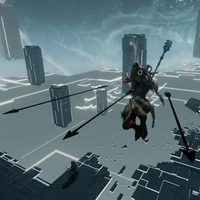 Main article: Power of Three
Power of Three is a PvE and Conclave Warframe Augment Mod for

Ivara's

Quiver that fires three arrows but consumes extra energy.
| Rank | Energy Cost | Cost |
| --- | --- | --- |
| 0 | 50 | 6 |
| 1 | 40 | 7 |
| 2 | 30 | 8 |
| 3 | 20 | 9 |
If you are playing using a controller and use Navigator, then fire an arrow from Quiver, you will be unable to switch arrow types for the remainder of the mission and only fire even if you press 1  when attempting to switch.
When cast on unalerted enemies, melee finisher does not grant stealth affinity bonus on kill.

ENERGY
25
KEY
2 
Navigator
Assume control of any projectile launched by Ivara and guide it to the target.
Energy Drain: (3 + 2t) s-1
t = control duration in seconds
Strength:2x / 3x / 4x / 5x (maximum multiplier)
Duration:0.25x / 0.5x / 0.75x / 1x s-1 (multiplier growth)
Range:N/A

ENERGY
25
KEY
3 
Prowl
Become invisible and steal loot from unsuspecting enemies or take out prey with deadly headshots.


Minimum Energy Drain: 1 s-1
Maximum Energy Drain: 3 s-1

Strength:10% / 20% / 30% / 40% (headshot bonus)
100% (loot chance)
Duration:4 / 3.5 / 3 / 2.5 s (steal time)
Range:2 / 2 / 3 / 4 m (steal range)
Ivara activates her cloak, rendering her invisible to enemies. While active, Ivara gains 10% / 20% / 30% / 40% bonus damage on headshots at the cost of reduced movement speed. Ivara also becomes capable of pickpocketing enemies: if standing beside an enemy with Prowl active, rays of light will shine on an enemy within 2 / 2 / 3 / 4 meters for 4 / 3.5 / 3 / 2.5 seconds before releasing a random item from that enemy's drop table.

Headshot bonus is affected by Ability Strength.
The damage buff is a multiplicative bonus that is applied to Ivara's total weapon damage on headshots (e.g., with a maxed  Intensify and a weapon that inflicts 500 total damage on headshots, a rank-3 Prowl will increase that headshot damage to 500 × (1 + 0.4 × 1.3) = 760).
Steal time is affected by Ability Duration.
The steal time uses the following expression when accounting for Ability Duration:
Modified Steal Time = Steal Time ÷ (1 + Ability Duration)

With a maxed  Continuity, a rank-3 Prowl will have a steal time equal to 2.5 ÷ 1.3 = 1.9231 seconds.

Steal range is affected by Ability Range.
The steal light must shine on the enemy for the duration of the steal time uninterrupted for the pickpocketing to succeed.
Pickpocketing can only be done once per enemy. Only a single enemy can be pickpocketed at a time.
Has a 100% chance to drop an item from an enemy if the Ability Strength is 100% or above; reducing the Ability Strength reduces the chance for an item to drop equal to that of the Ability Strength (40% Ability Strength has a 40% chance of dropping an item). If the attempt was unsuccessful, it will attempt to try again.
Additional loot retrieval stacks with other loot abilities that loot while petrified ( Atlas's  Ore Gaze), loot on death ( Hydroid's  Pilfering Swarm, Khora's  Pilfering Strangledome, and Wukong's Monkey Luck passive), and loot corpse ( Nekros's Desecrate and Chesa Kubrow's  Retrieve).

Prowl drains 1 point of energy per second while stationary and drains 3 energy per second while walking. Additionally, melee attacks consume 2 energy per hit, and taking damage consumes 10 energy per hit. Prowl will end if Ivara runs out of energy, if certain maneuvers are performed that break the cloak, or if deactivated by pressing the ability key again (default 3 ).

Activation cost, melee cost, and damage cost are affected by Ability Efficiency, and the minimum and maximum energy drain are affected by Ability Efficiency and Ability Duration.
Ivara cannot replenish energy using Team Energy Restores,  Energy Siphon or the Rift Plane while Prowl is active; however, Energy orbs,  Rage and  Hunter Adrenaline,  Sharpshooter,  Arcane Energize, Orokin Void Death Orb energy restores, and Trinity's Energy Vampire can still replenish energy even while the ability is active.

Most maneuvers do not interfere with Prowl. However, Sprinting, Sliding, and Bullet Jumping will break the cloak. Ivara will not re-cloak until the ability is used again.

More specifically, the cloak will be exited when the corresponding keys for Sprinting, Sliding and Bullet Jumping are pressed, not when the maneuvers are actually executed.
Rolling will increase the energy drain to its maximum value, even if no directional keys are used.
Prowl does not suffer movement speed penalties when moving through ziplines, and sprinting or sliding on zip lines will not break Prowl's cloak.

Firing a non-silent weapon (i.e., weapons with an "alarming" noise level) will temporarily break the cloak. Ivara will re-cloak shortly after firing the weapon.

Changing a weapon's noise level from "alarming" to "silent" with a max ranked  Hush,  Suppress, or  Silent Battery will prevent the weapon from breaking cloak when fired. Additionally the Javlok's alt-fire throw attack is regarded as "silent" and will not break the cloak when thrown. Despite being regarded as "alarming", the Nagantaka's alt-fire and the Redeemer's shotgun will not break the cloak, though they will still alarm enemies.
Despite the cloak being disabled, Prowl itself is not, and will continue draining energy and remains capable of pickpocketing enemies.
The re-cloak delay is affected by the weapon's Fire Rate.

Will not disrupt Shade's  Ghost or a Huras Kubrow's  Stalk.
Prowl is a one-handed ability and can be used while performing various maneuvers and actions without interruption.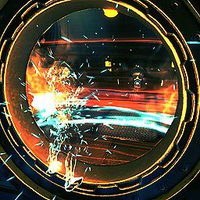 Main article: Infiltrate
Infiltrate is a Warframe Augment Mod for

Ivara that allows her to pass through Laser Barriers unharmed, and increases her movement speed while

Prowl is active. The movement speed bonus scales with Ability Strength.
| Rank | Movement Speed Increase | Cost |
| --- | --- | --- |
| 0 | 10% | 6 |
| 1 | 15% | 7 |
| 2 | 20% | 8 |
| 3 | 25% | 9 |
Can be used to safely bypass most enemies.
Your energy levels can be maintained through the constant theft of energy orbs.
Rolling is actually a viable alternative to Sprinting, allowing you to move quickly without breaking your invisibility. Keep in mind, however, that if you press Shift , (or whichever key you have bound to activate Sprinting with), it will immediately deactivate Prowl.
Combining Prowl with silenced, high-damage, single-shot weapons, or certain types of appropriately-modded melee weapons, can be an effective play style for higher level missions which require stealth.

Some melee weapons well-suited for this method of hunting would be among the following:

A Sword with the  Crimson Dervish stance (due to the stealth finisher for that stance being a very fast animation).
A Hammer weapon with the  Finishing Touch mod equipped. Hammers already have the highest damage multiplier for stealth finishers, so this mod makes it even more powerful: the damage-multiplier of hammers used for stealth-finishers goes from 2400% weapon damage to 3840% weapon damage.
Any Dagger weapon with the  Covert Lethality mod equipped.

Firing a non-silent weapon will allow the use of the otherwise not permitted Maneuvers like Bullet Jumping during the brief uncloaked time window without deactivating Prowl.
Combining Prowl with a melee weapon equipped with  Dispatch Overdrive will allow for a large increase in movement speed if you are able to kill the enemy with a Heavy Attack.
Void Dash can be used to cover a great distance in a short amount of time without deactivating or breaking Prowl.
Repeatedly performing the backspring maneuver is the fastest way to move without breaking Prowl besides dashwire jumping.
Firing gunblades, e.g. Redeemer or Sarpa, will alarm nearby enemies but it won't break Prowl's invisibility.
Be cautious when using Prowl during Disruption missions as Ivara's energy could be drained quickly under some conditions.

Energy drain and health drain have similar effect to taking damage, draining extra energy everytime the effect ticks.
Electrifying conduit can deplete Ivara's energy within a few seconds as it rapidly ticks damage.

ENERGY
50
KEY
4 
Artemis Bow
Summon a mighty bow and unleash a volley of devastating arrows.


Energy Drain Per Shot: 15

Strength:50 / 80 / 120 / 160 (damage)
Duration:N/A
Range:N/A
Misc:3 / 4 / 6 / 7 (arrows)
1.5x (damage multiplier)
Ivara wields her Artemis Bow as her primary Exalted Weapon, allowing her to fire a spread of 3 / 4 / 6 / 7 arrows fanning in a vertical orientation. Each arrow inflicts 50 / 80 / 120 / 160 damage which is further increased by a 1.5x damage multiplier.
Damage multiplier is affected by Ability Strength.
Arrow damage is affected by most primary and bow mods, and outside buffs.
Charged attacks will only reorient Artemis Bow's arrow spread and will confer no changes to Projectile Speed or damage. Charging speed is affected by fire rate mods.
Arrows kills will push back and continue to travel, carrying the enemy's body and nailing them to the surface behind them.
Artemis Bow is affected by and can trigger Warframe and Exodia Arcanes.
While Artemis Bow is active, each shot will consume 15 energy. Artemis Bow will end if Ivara's energy falls below the energy cost per shot or if deactivated by pressing the ability key again.
While Artemis Bow is active, Ivara's other weapons and abilities can still be used normally.
Using the secondary fire button will make Artemis Bow instantly fire the currently equipped arrow type from Quiver. If used to fire arrows from Quiver, Artemis Bow will only shoot a single arrow, and each arrow will use Quiver's energy cost.

Using Quiver with the alternate fire method won't count as using an ability.

Artemis Bow's arrows can be controlled by Navigator. Only one of the arrows fired will be selected at random for manual control.
Artemis Bow's arrows can damage enemies across the Rift Plane.
Main article: Artemis Bow (Weapon)
The Artemis Bow is

Ivara's and

Ivara Prime's signature Exalted Weapon, which can only be used upon activating the ability of the same name. It fires seven arrows at once in a vertical spread, which can be reoriented into a horizontal spread by holding down the fire button.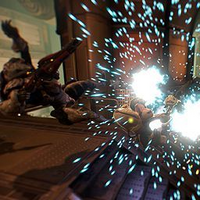 Main article: Concentrated Arrow
Concentrated Arrow is a Warframe Augment Mod for

Ivara's

Artemis Bow that replaces
Artemis Bow's multiple projectiles with a single arrow. On headshots, the arrow has added critical chance and explodes. The single arrow is incapable of utilizing punch through.
With the majority of Grineer and Corpus enemies being humanoids that stand upright, firing the Artemis Bow uncharged to fire the spread vertically will allow it to deal the maximum amount of damage possible by ensuring all of the Artemis Bow's shots hit against them. In addition, this also has a high chance of dealing headshots, further enhancing the potential damage.

Due to the spreading nature of the shot, the Artemis Bow deals more damage at close range if used akin to a shotgun, which is useful for dealing massive damage to heavy units like Techs and Bombards.

Firing fully-charged horizontal spreads is ideal for taking out multiple enemies in clustered groups, or fast moving enemies.
 Reflex Guard works while Artemis Bow is active.

Collapse All
Result table not loaded. Javascript Not loaded
| Strength Mods | Duration Mods | Range Mods |
| --- | --- | --- |
| | | |
| | | |
| | | |
| | | |
Community content is available under
CC-BY-SA
unless otherwise noted.