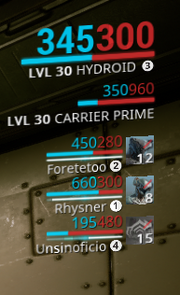 Health represents how much damage an entity can sustain before becoming incapacitated. Warframes, Kubrows, Kavats, Rescue targets and Alad V will enter "bleedout" upon running out of health, while all other entities will be killed. A Warframe's health is indicated as a red number at the top right of the screen. The health of other entities can be displayed over their heads, should the player aim directly at them. While a Warframe is losing health, the screen's edges will begin to flash red at a pulse. Once the Warframe reaches 10% health or below, a loud, heartbeat-like sound will play, and a slight ringing can be heard. This sound also plays when bleeding out and when dead.
Most attacks will only damage health after the entity's shields have been fully drained, but there are a few exceptions.
Toxin damage, which is commonly dealt by units like Toxic Ancients, Toxic Crawlers and Venomous Eximus, will bypass shields and strike the target's health directly, which can also proc a
Toxin damage-over-time effect.
Viral procs, such as those dealt by Grineer Powerfists, will temporarily increase the damage to the victim's health (+100% with 1 stack, up to +325% with 10 stacks) even if the attack itself is absorbed by shields).
Health Types
Edit
There are nine health types, three shield types, and four armor types—these seven act differently from health and are covered on the Shields and Armor pages. The nine health types are partitioned into four standard Factions, the Corrupted faction borrows from these.
*Tenno Flesh and Object Health have no resistances or vulnerabilities
Increasing Maximum Health
Edit
Like most attribute values, Health is increased by single multiplier formed from effects that additively stack with each other. The health gained from leveling does not interact at all with these multipliers.
Total Health = Base Health × (1 + Modifier) + Health Gain From Leveling
Base Health refers to the Warframe's health at Rank 0.
Health Gain From Leveling will be the difference between your rank 30 health and your rank 0 health. Zephyr, for instance, has 450 health at rank 30 but 150 health at rank 0, so her health gain from leveling would be 300 health.
 Vitality and  Vigor increase your Modifier by 4.4 and 1.2 at their maximum ranks, respectively. The  Physique aura mod increases it by 0.90 at maximum rank. Each additional squad member that brings Physique will increase your Modifier by an additional 0.90, to a maximum 3.6 addition in a four-player mission, which can be further increased with  Coaction Drift. Lastly, the bonus from some Arcane helmets contribute to the Modifier of this equation.
Main article: Category:Healing
Unlike shields, health does not naturally regenerate over time, except when the

 Rejuvenation aura mod is equipped by at least one member of the squad. Otherwise, damage inflicted upon health must actively be healed either by picking up a Health Orb (and Energy Orbs with

 Equilibrium) or directly by a few certain Warframe abilities.

Trinity and

Oberon are the two Warframes with an inherent ability to explicitly restore health to all Warframes within the squad, and

Nekros can

Desecrate nearby corpses for a chance to spawn more health orbs. A

Chroma in
Heat can raise both players' current and maximum health temporarily with

Elemental Ward, and when the effect runs out, only the maximum health returns to its original value; effectively, the affected players have restored that much health. Additionally,

Inaros's

Scarab Swarm ability is capable of healing allies that are near enemies being affected by the ability. Some weapons have an innate ability to provide health restore to either self or allies.
Hirudo is able to absorb 5% damage of every critical hit dealt on an enemy, and
Sancti Magistar is able to heal on charged attack, affecting allies, companions, cryopods and hijack objectives. Heal amount is based on damage dealt, while the healing range is affected by melee weapon range mods, with a baseline of 15 meters.
Warframe Abilities
Edit
---



ENERGY




50




KEY


2 

Elemental Ward


Depending on Chroma's elemental alignment, an offensive area-of-effect is created. Chroma and his nearby allies are imbued with defensive energy.



ENERGY




50




KEY


4 

Mend & Maim


In Night-Form, allies' Shields are replenished with each nearby enemy killed. In Day-Form, enemies are inflicted with the Bleed Status Effect. Deactivate to cast a wave of slashing force, or restore Health and Shields to Equinox and allies in Night Form.
Energy Drain: 3.5 s-1



ENERGY




50




KEY


2 

Blood Altar


Impale an enemy on an altar of talons and siphon health for Garuda and her allies.

Strength

:

15 / 17 / 20 / 25 %/s (health per sec)

Duration

:

10 / 15 / 15 / 20 s

Range

:30 m (pounce range)
4 / 4.5 / 6 / 8 m (heal radius)

Misc

:8 m (stagger radius)
1%/s (damage per sec)
3 (limit of active altars)



ENERGY




50




KEY


2 

Nourish


Inflict

Toxin

damage on Feasted enemies in Grendel's gut one by one, absorbing nourishment to buff allies. Tap to cycle through buffs and hold to cast.


Cycle select energy cost: 0
Activation prerequisite: 1 eaten enemy

Strength

:1000 / 1500 / 2000 / 2500 (

Toxin

damage on digestion)
20 / 30 / 40 / 50 (self heal on cast)
1.1 / 1.15 / 1.2 / 1.25 x (Nourished Energy multiplier)
100 / 150 / 200 / 250 (Nourished Armor

Toxin

damage on hit)
1.2 / 1.3 / 1.4 / 1.5 x (Nourished Strike

Toxin

damage multiplier)

Duration

:

10 / 15 / 20 / 25 s (buff duration)

Range

:10 / 15 / 20 / 25 m (buff radius)
5 / 6 / 7 / 8 m (splash radius)

Misc

:1 s (splash cooldown)
?% (speed boost for Pulverize)



ENERGY




50




KEY


2 

Penance


Sacrifice shields to boost reload, and fire rate while converting damage inflicted on enemies into health for Harrow and nearby allies.


Shield Cost: 100% of shields & overshields on cast

Strength

:5% (lifesteal on hit)
20% / 25% / 30% / 35% (fire rate bonus)
40% / 50% / 60% / 70% (reload speed bonus)

Duration

:4 s (base time)
1.25 / 1.33 / 1.43 / 1.54 s (bonus per 100 shields)

Range

:

N/A

Misc

:

50 m (affinity range)



ENERGY




25




KEY


1 

Desiccation


Blast enemies with a wave of cursed sand that blinds them and steals their health.

Strength

:75 / 100 / 125 / 150 (initial

True

damage)
2 / 4 / 6 / 8 (

True

damage/sec)

Duration

:

3 / 5 / 6 / 8 s

Range

:

10 / 12 / 13 / 15 m

Misc

:

25 % (lifesteal)



ENERGY




50




KEY


2 

Devour


Hold power to trap target in quicksand and draw them in for devouring; this steals health and ultimately creates a friendly Sand Shadow.

Strength

:25-50 / 50-100 / 75-150 / 125-250 (

True

damage per tick)

Duration

:

15 / 20 / 25 / 30 s

Range

:

20 / 30 / 40 / 50 m (cast and tether range)

Misc

:2 s (damage ramp-up)
5 (damage ticks per second)
≥ 15 s (Sand Shadow duration)



ENERGY




25




KEY


4 

Scarab Swarm


Charge to transform health into hardened scarab armor. Discharge to blast enemies with a scarab swarm; survivors have their health drained and bestowed on allies.


Energy Cost to Charge: 0
Health Drain per Armor Percent: 29 HP
Scarab Armor Cost per Cast: 25%

Strength

:100 / 150 / 175 / 200 (

Corrosive

damage/sec)

Duration

:

6 / 10 / 12 / 15 s (swarm duration)

Range

:20 / 22 / 25 / 30 m (cast range)
6 / 10 / 12 / 15 m (heal radius)

Misc

:2,900 HP (total health cost)
2 HP (min. health threshold)
100% (armor bonus cap)
∞ (armor bonus duration)
5 m (spread radius)
100% (spread remaining duration)



ENERGY




0




KEY


3 

Venari


Command Venari to focus on a target. Hold to cycle between Attack, Protect, and Heal postures. If Venari is killed, use this ability to revive her instantly.


Command Energy Cost: 25
Revive Energy Cost: ≤ 50

Strength

:1.05x / 1.1x / 1.12x / 1.15x (speed multiplier)
350 (snare damage)
50 HP/sec (health regen)

Duration

:

N/A

Range

:

N/A

Misc

:120 s (mark duration)
45 s (respawn time)
2.5 s (snare duration)
5 (hits per snare)
3 s (Attack & Protect cooldowns)
< 90% HP (missing health threshold)
10 m (Heal aura radius)
65 s (Venari self-heal mark duration)



ENERGY




10




KEY


3 

Desecrate


Forces fallen enemies around you to drop additional loot.


Energy per Corpse: 10

Strength

:

N/A

Duration

:

N/A

Range

:

10 / 15 / 20 / 25 m

Misc

:

22.5% / 32% / 42.5% / 54% (drop table chance)



ENERGY




25




KEY


2 

Blazing Chakram


Hurl a flaming ring that sets enemies ablaze making them vulnerable to any damage. Flaming enemies drop Restorative Orbs on death. Charge to amplify the power of the ring, and reactivate to instantly travel to the ring's location.

Strength

:100 / 150 / 200 / 250 (damage)
400 / 600 / 800 / 1000 (boosted damage)
60% / 75% / 85% / 100% (vulnerability)

Duration

:

10 / 11 / 13 / 15 s

Range

:

N/A

Misc

:50% / 65% / 80% / 100% (health orb chance)
20% / 25% / 30% / 35% (energy orb chance)
30 m (uncharged throw distance)
70 m (charged throw distance)



ENERGY




0




KEY


4 

Ravenous


Gluttonous

maggots

swarm nearby enemies, feasting until they burst with Infestation. The maggots benefit from Mutation and each enemy consumed adds to the Mutation stack.


Mutation Stacks Cost: 3

Strength

:100 / 110 / 125 / 150 (explosion damage)
10 / 13 / 16 / 20 (health regen per second)

Duration

:

25 / 30 / 35 / 40 s

Range

:

4 m (explosion radius)

Misc

:8 m (ability diameter)
9 (number of maggots)
1000 (maggot health)
10 (maggot toxin damage)



ENERGY




25




KEY


3 

Renewal


Healing waves of energy flow outward from Oberon to his allies, regenerating health over time.
Energy Drain: 2 s−1
Energy Drain per Target: 3 s−1

Strength

:2 / 3 / 3 / 4 s (wave duration)
125 / 150 / 175 / 200 (armor buff)
50 / 75 / 100 / 125 (initial heal)
15 / 20 / 25 / 40 (health per second)

Duration

:20% / 25% / 35% / 45% (bleedout slow)
20 s (buff)

Range

:

10 / 15 / 20 / 25 m



ENERGY




100




KEY


4 

Reckoning


Quickly lifts enemies into the air and then hurls them down with conviction. Enemies who succumb to this power have a chance to spawn a Health Sphere.

Strength

:10% / 15% / 20% / 30% (armor reduction)


500 / 750 / 1000 / 1250 (damage)
100 / 225 / 400 / 625 (extra damage)

Duration

:

1 / 2 / 3 / 4 s (blind)

Range

:2.5 / 3 / 3.5 / 4 m (blind radius)


8 / 10 / 12 / 15 m (cast radius)

Misc

:

25% / 35% / 45% / 50% (health orb chance)



ENERGY




75




KEY


3 

Dispensary


Deploys a device that generates 3 pickups after a short delay: empowered health orb, universal ammo pack and energy orb.

Strength

:

10 / 15 / 20 / 25 % (extra pickup drop chance)

Duration

:

10 / 15 / 20 / 25 s

Range

:

N/A

Misc

:3 s (initial pickup drop delay)
100 HP (empowered health orb restore)
10 % (universal ammo pack restore)
5 s (pickup replenish cooldown)
1 (limit of active caches)



ENERGY




50




KEY


3 

Reave


Dash through enemies as a wall of Sentient energy, leeching shields and health from any encountered, enhanced for thralls.


Energy Cost (Danse Macabre active): 25

Strength

:2% / 4% / 6% / 8% (hitpoints drain/restore)
10% / 20% / 30% / 40% (thrall hitpoints drain/restore)

Duration

:

0.25 / 0.5 / 0.75 / 1 s (duration)

Range

:

3 / 4 / 5 / 6 m (current width)

Misc

:

1 (Mesmer Skin ally buff charge)



ENERGY




25




KEY


1 

Well Of Life


Create a well of life on an enemy. Allies will gain health when damaging the target.

Strength

:30% / 35% / 40% / 45% (lifesteal on hit)
150 / 250 / 350 / 400 (max health leeched)

Duration

:

7 / 9 / 10 / 12 s

Range

:

100 m

Misc

:100% (target health restore)
10 x (target health multiplier)
1 (max target limit)



ENERGY




100




KEY


4 

Blessing


Restore the health and shields of allies within Trinity's Affinity aura while giving them some damage resistance.

Strength

:40% / 50% / 75% / 80% (shield/health restoration)
25% / 30% / 40% / 50% (damage reduction)

Duration

:

3 / 5 / 7 / 10 s (buff duration)

Range

:

N/A

Misc

:50 m (affinity range)
75% (damage reduction cap)



ENERGY




25




KEY


4 

Hysteria


Valkyr is imbued with energy and becomes a ball of vicious rage, capable of unleashing a torrent of deadly claw attacks on unsuspecting foes.


Minimum Energy Drain: 2.5 s-1
Maximum Energy Drain: 15 s-1

Strength

:

100 / 125 / 200 / 250 (damage)

Duration

:

N/A

Range

:

N/A

Misc

:1% / 2% / 4% / 5% (lifesteal)
5-20 m (aura radius)